Thank You! Gracias! Merci! Danke!
Do you ever wish your 'thank you' presents to someone lasted that bit longer?
Want to give a special keepsake gift?
It's often easy to misplace your gratitude for something someone has done for you or to be complacent with someone that has been a great support to you. I quite like the saying 'There is always something to be thankful for' because whether you're grateful for the smallest of things or those special people in your life who do so much for you, it is important to always be appreciative of those people. Studies have even connected gratitude to higher levels of happiness and lower levels of stress.
Like many others, when I come to think of buying a little token of appreciation for someone who has helped me out or has been a great support to me (particularly mum!), I instantly think of FLOWERS. However, as beautiful as a bouquet of tulips may be, the reality is that they'll only last a week at the maximum, meaning that beautiful thank you gift turns into nothing more than money down the drain (or in the bit literally.) The next most popular go-to 'thank you' gift is commonly a box of chocolates, which makes a great gift but again will only last until the recipient decides to eat them!
For me, if I'm going to give someone a gift, I like to give something special; something that I know the recipient can cherish and keep for as long as possible (and frankly won't be a waste of money). This is where personalised thank you gifts come in. We love a personalised gift, and why wouldn't you love something that has your own name or a special message on?
So, I thought I'd round up 5 of our best personalised gifts – perfect for saying "thanks" and everything else you want to say!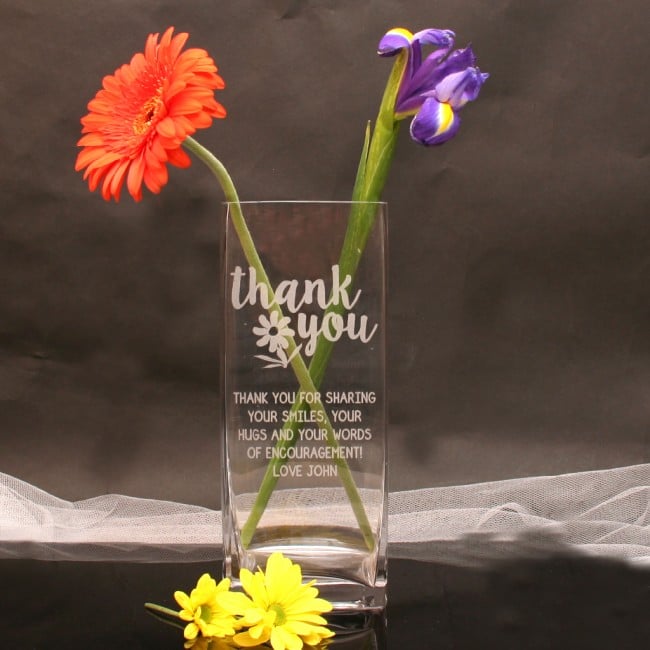 Engraved Vases
Think flowers? Think vases! Yes – the flowers are the pièce de résistance, but what would they be without a beautiful vase to display them in? Not only is it a frequent struggle to find a vase when you need one, but its finding the right shape too! These 'thank you' themed engraved vases with a modern shape, are the perfect size for holding a small bunch of flowers and they come engraved with floral 'thank you' motifs. There is even space underneath for 5 lines of text (that's 150 characters worth!) which means you can get a lengthy personal message on there if you wished.
Whilst you could buy an engraved vase for anyone, I think these make particularly wonderful gifts for the women in your life – perhaps for mum's, nan's, girlfriend's or wives!
Why give flowers that will last a week when you can give a gift that will bring joy and memories for many years to come?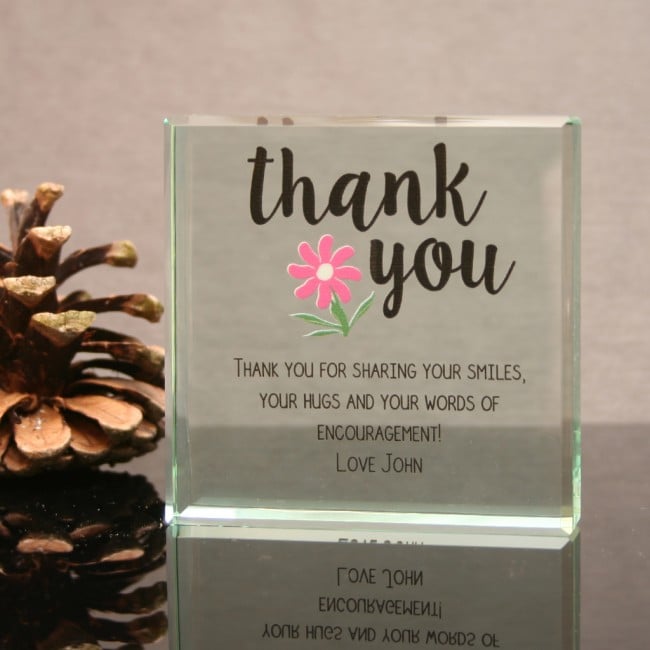 Personalised Glass Blocks
Want to thank someone who's gone that 'extra mile' for you? These are great little token gifts for any recipient – but make particularly nice gifts for teachers at the end of the school year. Teacher gifts have come a long way since the days of a shiny apple and now there are plenty of fun and affordable gifts to give as tokens of appreciation.
Alternatively, you can give one of these to a friend or a family member who has been especially supportive, just as a little memento of how much you've appreciated them being there – and are ideal for displaying around the home.
Personalised & Engraved Pens
You want to give a gift to that special man in your life – perhaps its dad, grandad or your husband? Engraved Pens are fantastic personalised thank you gifts for the professionals in your life! It could even be a gift for your favourite school teacher but whether they're writing letters or marking school reports, it is sure to be a gift they'll treasure for a long time.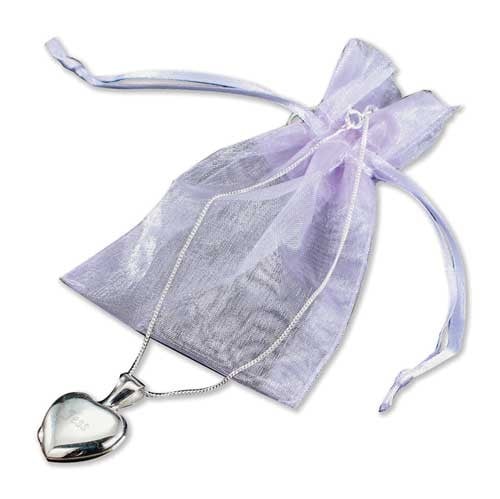 Personalised Jewellery
Who doesn't love being gifted jewellery? I sure know I do! But unlike any normal jewellery, try personalised jewellery such as a necklace or bracelet engraved with that special person's name.
This Engraved Heart Locket necklace is a stunning and elegant gift – perfect for showing any special lady just how grateful you are. From your girlfriend, to your daughter, your sister or a friend; this beautiful piece also holds two photo's which really helps add the sentimental factor!
So, if you're looking for ways to show someone you really appreciate them or you're really grateful for all they've done then consider personalised gifts! What better way to say "thanks" than with unique gift ideas they certainly won't have received before?
Save
Save
Save
Save