If you've got a special occasion coming up, Christmas, a birthday or an anniversary, you might be wondering what to buy for a certain man in your life. There's always at least one guy on your present-buying list who is ridiculously tricky to buy for. In the end, no matter what you end up picking, he never ends up using it and it sits unloved in a draw alongside last year's gift. It's time to stop buying unwanted and unloved gifts and start buying things he'll actually use.
Photo by Icons8 team on Unsplash
So, instead of buying men presents you think they'll like because you do, buy engraved gifts for him that he'll actually in his day-to-day life. Now, we don't want to group all guys together here, because obviously not every guy is into the same stuff, but we think there'll be at least one thing in this list that could be perfect for that awkward gift-recipient in your life!
Here's how to wow your boyfriend with something he will absolutely love – and he won't see coming. Below, five gift ideas for things we think that men will actually use:
Alcohol Gifts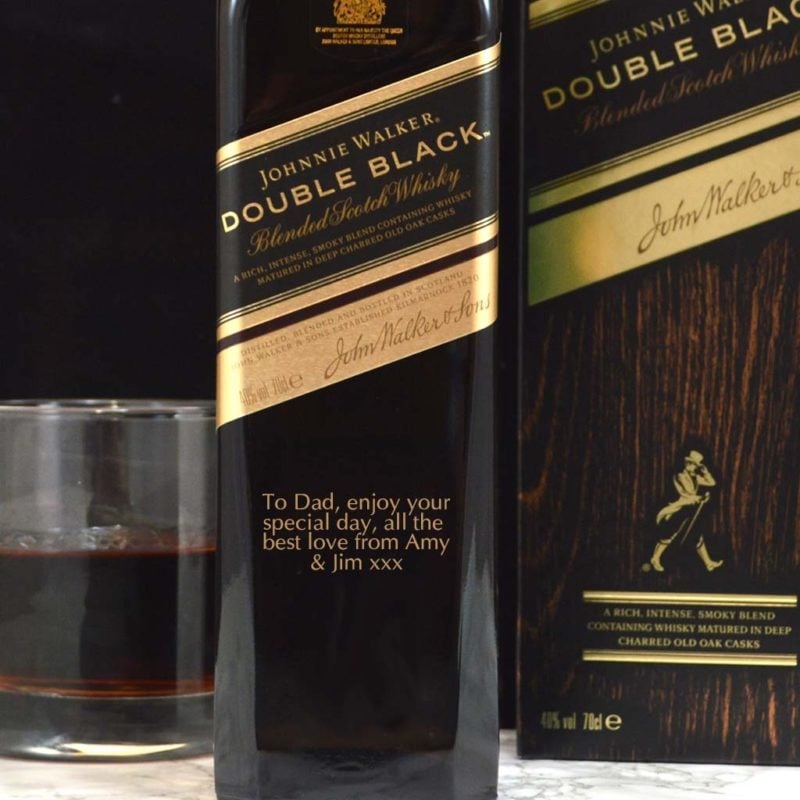 Buy Personalised Johnnie Walker Double Black – £59.99
Ok, so you've resorted to buying him his favourite tipple every gifting occasion, and so what… at least you know he'll drink it and enjoy it. Alcohol is always a fail-safe option for the man who has everything. No man ever has enough alcohol. Whether you opt for something classic, or give him something he's never tried before, alcoholic treats are a sure-fire way to give him a gift present he'll love!
Make it personal this year with personalised alcohol gifts engraved with your special message for free. Whisky lovers are sure to love this luxurious bottle of Johnnie Walker Double Black!
Personalised Watches
Buy Engraved Mechanical Wrist Watch – £69.99
A nice timepiece can greatly improve any man's style, which is why it's the perfect present for any guy on your shopping list. Classic, traditional or modern – Take your pick from hundreds of watches engraved with any special message of your choice. The dream combination of practical, wearable and special makes it one of the best gifts you can give!
Engraved Multi-Tools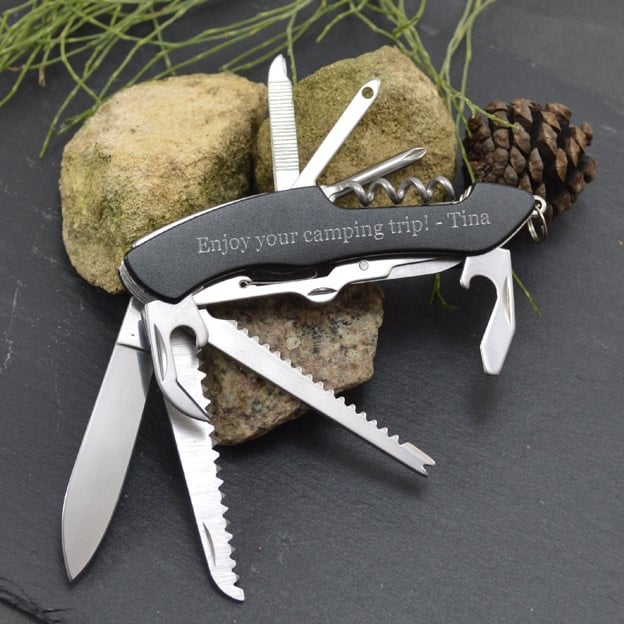 Buy Personalised Pocket Tool Penknife Gift – £21.99
A new tool or gadget makes the house chores feel more fun and enjoyable but personalised with his name or message, will make the gift all that more exciting. The best part is that he'll actually use them, instead of treating them like those long-forgotten tie and sock sets.
How about this multi-purpose pocket tool and torch set? We just love the versatility of this unique gift for him with 11 different tools from screwdriver and scissors, to corkscrew and bottle opener.
Personalised Glassware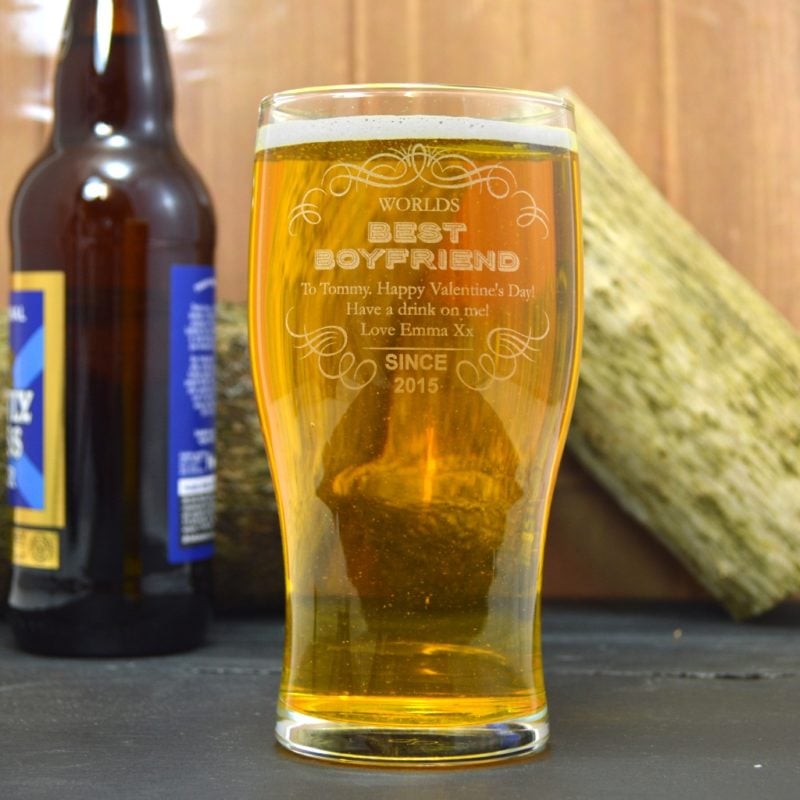 Buy Best Boyfriend Engraved Pint Glass – £18.99
Help him sip and savour his favourite drinks in style with his very own personalised glass. Whether it's spirits, wine, beer or ale that's tickles his fancy, there's a whole range of glassware ready to be engraved with your own message. A practical gift with a personal touch!
Personalised Wallet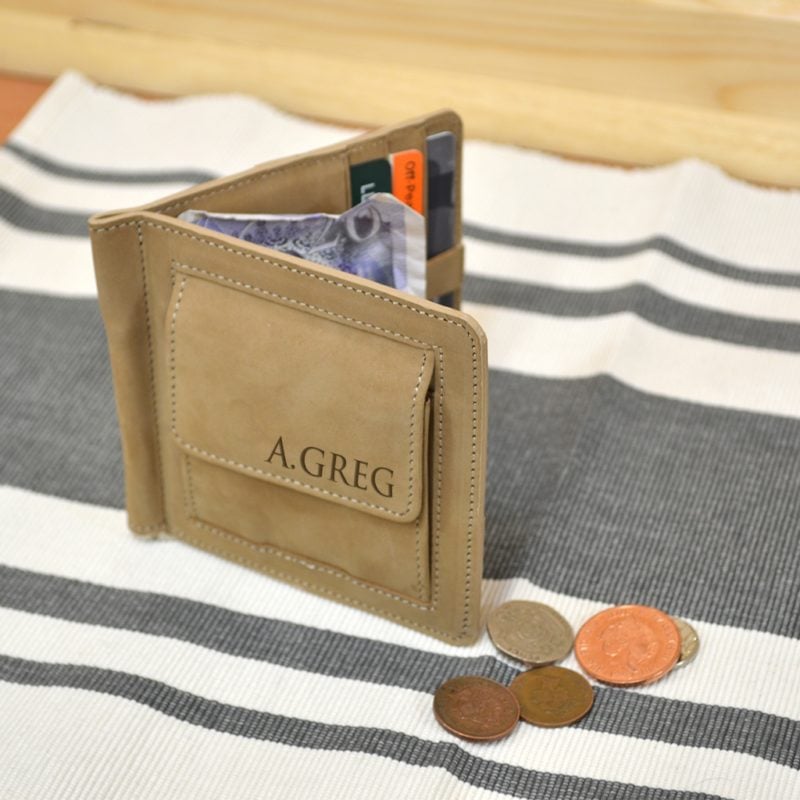 Buy Personalised Leather Wallet Gift for Men – £34.99
A wallet is a thing that he carries everywhere with him every day. Even if he already has a wallet, he'll love being upgraded to this customised version with his name or monogram on it. This sleek hand-made wallet has a perfect compact design with 3 card slots, a sprung money clip to keep paper notes together and stud fastened coin compartment on the front. He won't waste any time transferring his things over to this sleek number.
Shopping for cool ideas for boyfriends becomes dramatically easier with our list of 5 thoughtful personalised gifts above. You'll find a unique men's gift idea in your price range that will make him incredibly happy to receive… because it'll be useful, personal, and fun!
If you're still looking for gift ideas, click here for our handy guide on how to shop gift for boyfriends including some great engraved gifts for him from stylish accessories to personalised alcohol gifts. Know his zodiac sign? Then why not shop our top presents based on his zodiac sign!