Getting Married? 50 Best Questions To Ask A Wedding Venue
I'm Sabina and I've been working for the GiftsOnline4U team for 13 years! I got engaged to Sebastian (who also worked for the company for 4 years) in June 2018. Excited, we planned to get married within the year.
Although finding brilliant wedding gifts was never going to be a problem, finding the perfect wedding venue was a real struggle. A village hall and our local wedding venue weren't going to be an option, since we wanted a more unique location similar to where our friends and family members got married. Despite spending hours and hours searching, I just couldn't find 'the one', even though we were looking for a wedding venue with a minimum capacity of around 50 people.
Months later, in February 2019, my mum, who took pity on us and helped us in our search for a lovely venue, came across the most perfect place for our wedding in an absolutely stunning location in the heart of Bedfordshire.
We fell in love with it at first glance and booked it immediately with a large deposit. At the same time, since we didn't have much time before the June 2019 wedding date, we organised to give our notices with Bedfordshire County Council for which we paid £500. We were over the moon!
Unfortunately, a close family member died in March 2019 and, out of respect, we decided to cancel the wedding for the time being. It turned out, we had lost the deposit on the day we cancelled, as it was the day after the cancellation period had ended.
I was devastated. I hadn't ever considered cancelling a wedding venue and equally hadn't thought that I'd lose £1,500 for doing so, especially at such a sad time in our personal lives. I think I was probably a bit naive in booking the venue without really considering or asking any important questions. Though to be completely honest, I didn't really know what the important questions would have been that I would have needed to ask before booking the wedding venue. I really wish I had thought about it though beforehand to avoid losing out on the deposits.
My unfortunate experience actually made me want to see what else was important to other people when booking a wedding venue, with the view of helping others to avoid the same problems that we had and so, via GiftsOnline4U, I carried out a survey 'what is important to you when booking a wedding venue?' We had 55 responses.
Results
I was interested to see that, like us, 20% of respondents felt the venue location and the uniqueness of the wedding venue was important, including 28% who also thought that having somewhere local for the wedding party to stay was also quite high on the list.
A couple of the other highest priorities for people were the cancellation options that the venue may have, along with options for outdoor facilities and backup options in-case of a power outage.
The diagram below shows the top 9 things that were important to our survey participants. Take a look, are these things important to you too?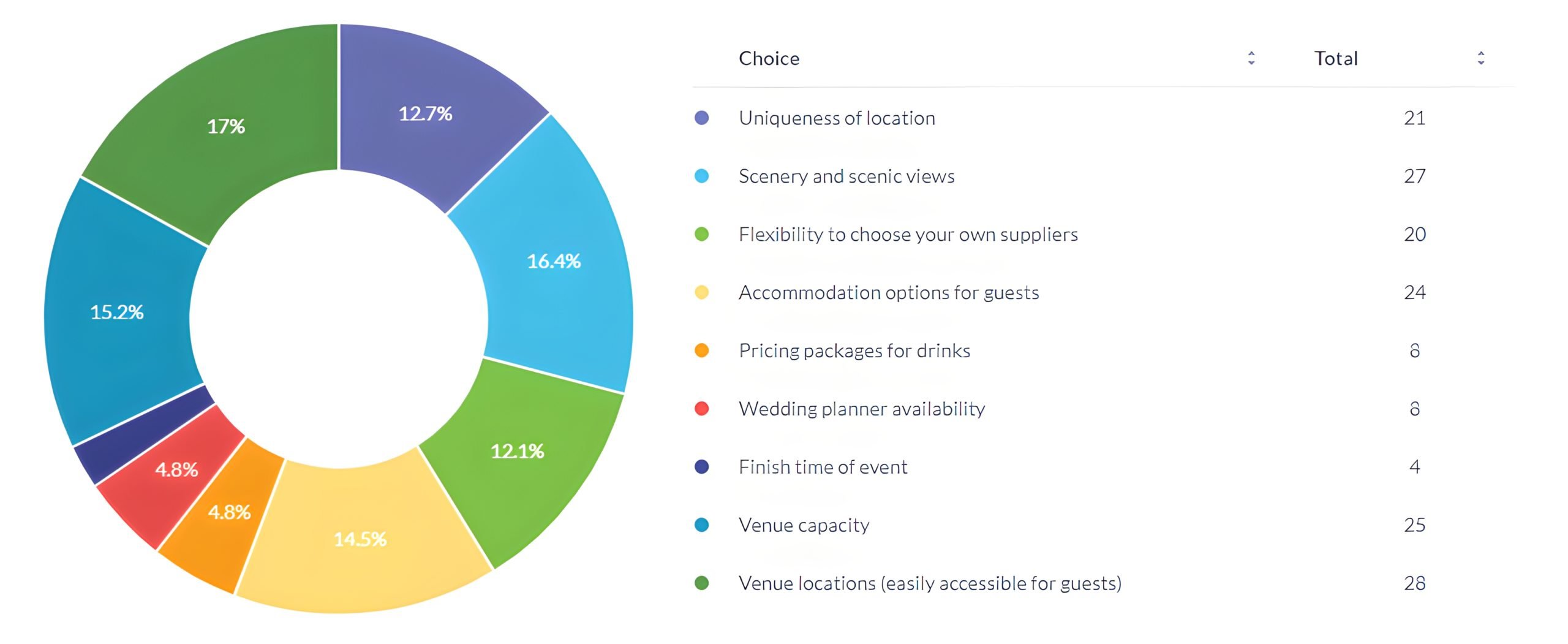 Whilst you're here, if you're planning a wedding soon or know someone who is, why not download our '50 Questions To Ask Before Committing To Your Wedding Venue' to potentially avoid wasting your hard earned cash! It's free and could save you disappointment and help you out with your wedding planning.