Historically used to mark special occasions, champagne naturally goes hand in hand at weddings. Whether you're serving it for toasts, using to decorate your tables or gifting it as wedding favours, there's no shortage of creative ways to share this fizzy favourite at your reception. Think beyond the champagne bottles chilling on ice at each table, waiting for the toasts to finally be made, because there are so many unusual ways to serve this celebratory drink at your wedding reception. We believe the trick to serving champagne with a difference, starts with personalisation and presentation.
So, pop the bottles and get ready for your big day with 8 genius ideas for incorporating champagne into your wedding.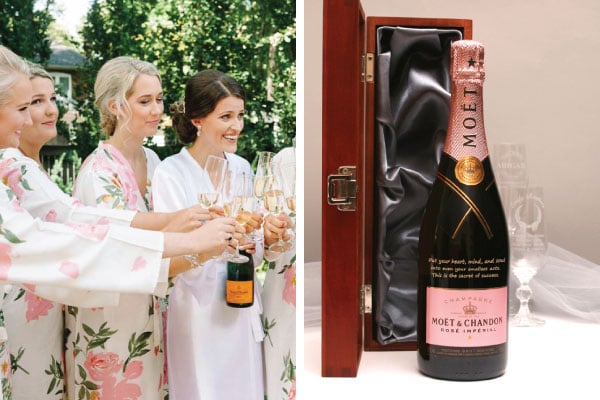 Image Credit – Left: Laura Olsen Events / Right: Personalised Pink Moet – GiftsOnline4U
Raise a Wedding Morning Toast
Sipping champagne is a wedding morning must to calm your wedding day nerves and initiate a toast with your girls before you walk down the aisle. Pop open a bottle of Rose Moet – perfect in pink for a girly morning getting ready, personalised with your own message thanking the girls for you being with you on your special day. Most importantly, don't forget to share a toast to your last morning as a single lady! Clink your glasses together in celebration of your life and love so far and let those with you wish you luck for your next step.
---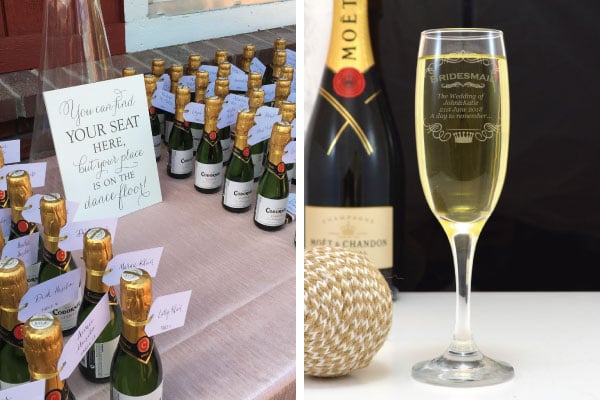 Image Credit – Left: Cloud9Bliss.com / Right: Personalised Champagne Flute – GiftsOnline4U
Treat your Guests to Personalised Wedding Favours
Leave your guests with an everlasting memory of your big day by presenting them with an amazing bespoke wedding favours to take home. Make these little token gifts even more special by adding a personal touch with mini champagne bottles or personalised champagne flutes, engraved with your names, wedding date and a message making them feel ever more important.
Or if you're looking for those all-important wedding gifts for members of your wedding party, consider champagne flutes personalised with each wedding members name. Whether it be for your bridal group, your parents, your soon to be in-laws or groomsman – a personalised champagne glass engraved with their name is sure to make a lasting impression.
---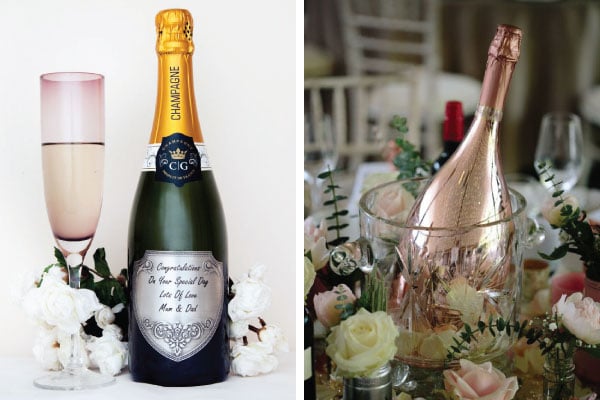 Image Credit – Left: Personalised Champagne – GiftsOnline4U / Right: Bride Magazine
'Wow' with Champagne Centrepieces
Everyone loves adding a bit of glitz and glam for their wedding décor, and it's those unique touches that make your wedding every bit you. Put your very own stamp on your big day with table centrepieces that ooze luxury like personalised champagne bottles at the centre of every table. Engraved with your names and wedding date, why not add each table number to the customised bottle? These make eye-catching wedding centrepieces and provide a real talking point amongst your guests.
---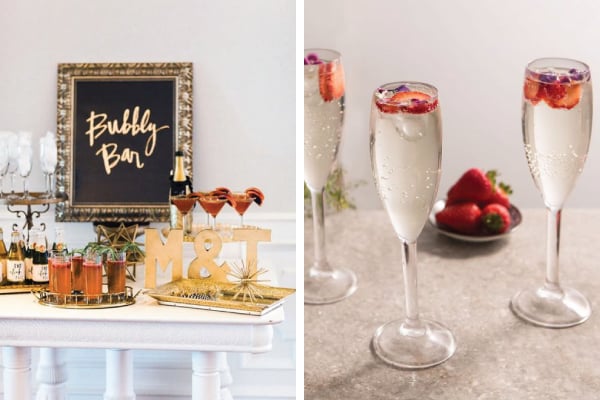 Image Credit – Left: HappyWed.com / Right: GreatBritishChefs.com
Serve-Yourself Champagne 'Bubbles Bar'
Sure, you've heard of a 'Pimp my Prosecco' stand, but why not up the ante with a 'Bubbles Bar' instead? Gone are the days where serving your weddings drinks meant waiters circulating with champagne and an over-crowded open bar, it's now all about the creative self-serve stations. Display a table with champagne flutes, a selection of champagnes and a selection of fresh fruits and syrups. Mimosa and Bellini galore!
---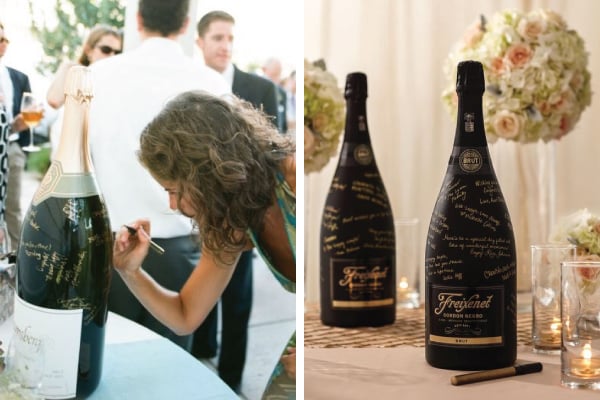 Image Credit – Left: stylempretty.com / Right: TheKnot.com
Memorable Champagne Guest "Book"
Who likes conventional anyway? We're all about unique ideas and unusual gifts that'll put a twist on your wedding day. Ditch the traditional wedding guest book for a magnum personalised champagne or even a jeroboam size. Have your wedding guests sign it with their best wishes and keep it until you hit a milestone anniversary such as your 10th, 15th or 20th anniversary and break it open to celebrate. Once it's empty, you can treasure this keepsake bottle by displaying it in your home and using it as a sentimental piece of decor.
---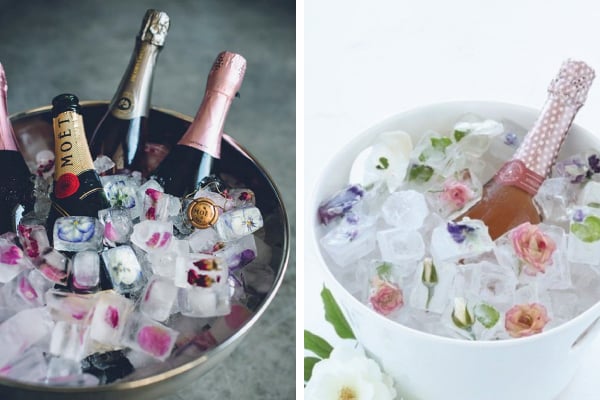 Image Credit – Left: Nouba.com.au / Right: marthastewart.com
Break the Ice with Floral Ice Cubes
Give your guests something to talk about whilst brightening up your beverages with ice buckets filled with beautiful ice cubes made with edible flowers. Not only for decoration, these stunning floral ice cubes can add subtle but distinct flavour to any drink, be it a champagne cocktail or some fruit infused water.
---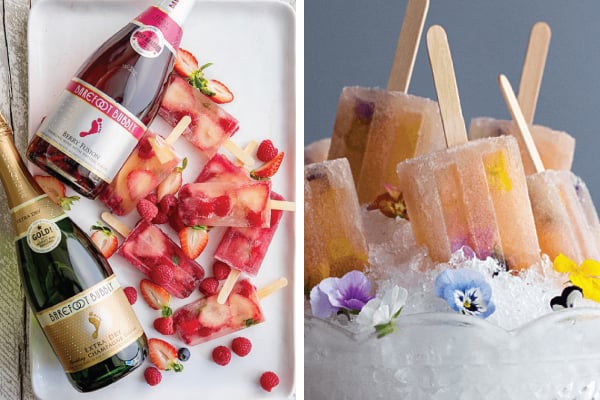 Image Credit – Left: Bakers Royale / Right: thenaturalweddingcompany.co.uk
Champagne Ice Lollies
Who said champagne was just for drinking? Champagne ice lollies are the perfect partners for summer weddings, keeping your guests cool and suitably refresher on a warm day. Pack with berries such as strawberries and raspberries for a fruity combination or better yet, try recreating your favourite champagne cocktails in ice lolly form.
---
Pop Open your Champagne with a Champagne Flute
Everyone's expectations for entertainment at weddings are always so high. One way to make sure that all of your guests are super impressed is to give them a moment to remember, something that'll stay in their memories for years to come. It turns out champagne can be opened in several ways, and we aren't talking about gently prising out the cork. Ever heard of the 'saber' method? Nor had we until we discovered you can open bottles of champagne with personalised champagne flutes! *Yikes*.
Here's how to do it and how not to do it! Watch our video below:
While it won't make your bubbly taste better or pour any smoother, it's a fun way to kick off a ceremony and really impress your guests. It takes a little practice, but if you can get it right, it's definitely impressive and fun too. Just make sure you perform it in a safe environment, away from anyone the cork could potentially hit!
These our 8 amazing ways to serve champagne on your wedding day. From start to finish, make sure you pull of a show-stopping wedding full of memories and lovely mementos to take away from your special day.
What interesting ways would you serve champagne at your wedding?