I found this slightly amusing joke related to engagements and smiled because it was a little different to the traditional method of proposing:
– Man gets down on one knee and says, 'Will you marry me?'
– Lady replies, 'Yes!'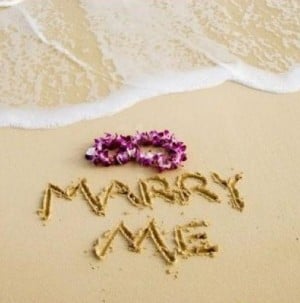 Whilst this is the conventional way to propose in many western countries and a tradition that still works for many people in the 21st Century, you might like to mix things up a bit and go for a more original or out of the ordinary idea when it comes to asking someone to marry you. Whilst the manner in which you propose might not hinge on your other half saying yes/no, the way in which you proposed will definitely come out at some point in the future and so it might just be worth making it that little bit more special, simply for the narrative factor.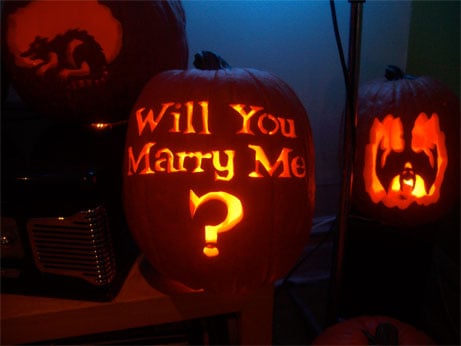 Getting down on one knee is one way of asking but if you're looking for unique ways to pop the question, then our list of 8 Awesome Engagement Gifts which double up as proposal gifts might help you out.
Hand Write It
This really is as personalised as a proposal gets. You don't just have to write: 'will you marry me?' though, you can be creative and write whatever message you want to ask your partner to tie the knot! All of these ideas will double up as personalised engagement gifts because of the thought that you will have put into them. Some of the options leave a physical gift behind, some will leave the memory behind…
1. Say It In The Sand – If you are going on holiday where there is some sand, spell your message out in the sand. If you're near a pebble beach, draw your proposal out using pebbles. Once you've gotten your answer, you can take a photo of the message to put into a photo frame and keep it framed as a memory – this is a way that a proposal can double up as gifts for couples on their engagement.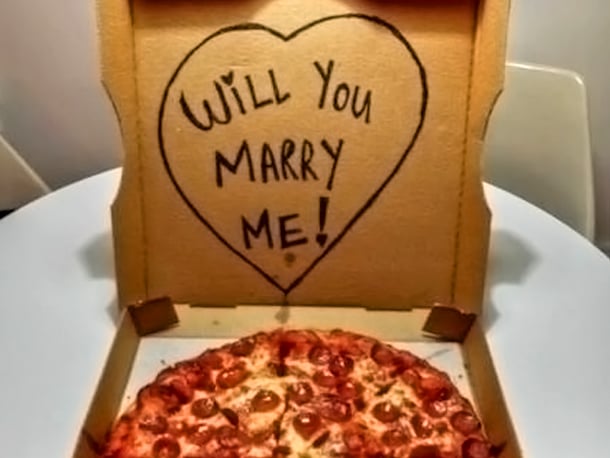 2. Carved Out – Is it nearly Halloween? If you're looking for an autumn proposal, you could carve the message out onto a couple of pumpkins. Obviously, this will take a bit of effort but hopefully he or she is worth it! Again, you could take a photo and get an engraved photo frame to present it in. Alternatively, you might wish to make the print into a canvas and hang it somewhere prominent in your home.
3. Pizza Party? – Does he/she love a bit of pizza? Instead of getting the pizza delivered to you from the takeaway, why not go and collect it yourself and hand-write your proposal message on the inside of the lid? Your partner most likely won't be expecting this so it will be a really nice surprise. Another take on this pizza proposal idea, would be to make the pizza yourself in the shape of a heart and then put the toppings on the pizza so it spells out what you want to say – hopefully the fact that you have made your own pizza will pave the way to an outright 'YES!' This is perfect as gifts for couples too, seeing as most people do enjoy eating some decent pizza.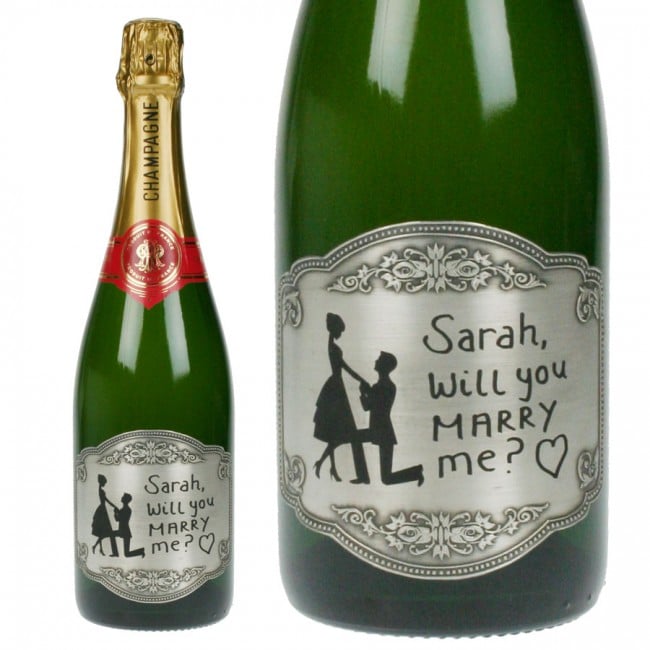 4. Bubbles – Get some personalised proposal champagne onto which you can add a handwritten message that will last. Customised champagne can double up as personalised engagement gifts for when your partner says yes, since you can then open the bottle and drink the contents as a celebration (you may wish to get some personalised champagne flutes and add something like 'Mr Surname to Be' and 'Mrs Surname To Be' in anticipation of a Yes!). You could keep the empty bottle as a keepsake though – so your effort won't go to waste. Check out our ideas for recycling empty personalised champagne bottles.
Your future husband or wife will recognise your handwriting and the gesture will therefore be more personal. If you go for a pizza or a bottle of personalised champagne, they can also be double up as personalised engagement gifts that can be enjoyed once your partner has (hopefully) said yes!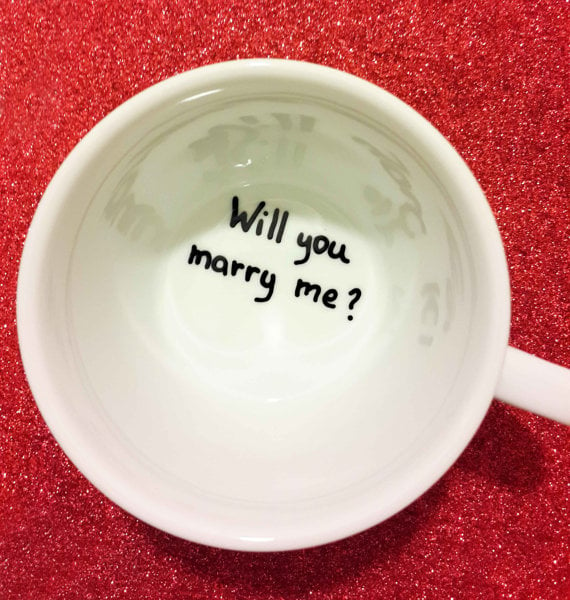 Print It
If you have the budget and the time, why not spend a bit more time on the personalisation element by having your message of proposal printed on something he/she loves? It will show that you have put a lot of thought and time into your proposal and will also be a key player when it comes to telling your proposal story!
5. Personalised Ice Cream – This is a fab way to ask someone to marry them. Who doesn't love a bit of Ben & Jerry's? If your other half doesn't normally tend to look at the front of the tub, why not hand the ice cream tub to them with the message right in front of their face?
6. Personalised Mug – If he/she is a tea or coffee drinker, then how about adding your 'marry me?' message to the bottom of a cup? This idea will probably only work if your other half does actually drink their beverage to the very end – otherwise, your moment will most likely be lost!
7. Personalised Marry Me Sweets – If your love has a sweet tooth, then a 'marry me?' tube of sweets might do the trick. Lovehearts are a fab idea but M&M's also offer this option printed onto the shell of their chocolate sweets. Make sure your other half has 20/20 vision with this option.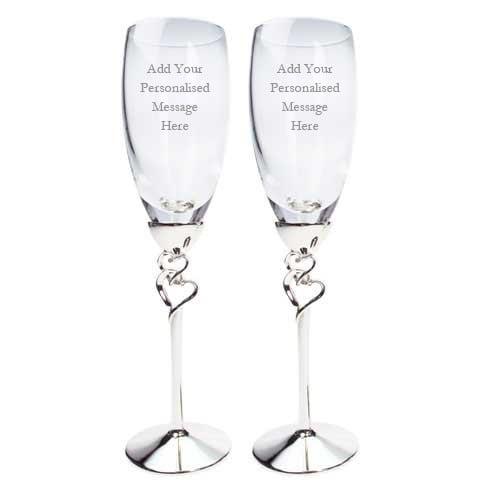 8. Personalised Champagne Flutes – Another way to pop the question is with engraved champagne flutes. You can get a pair of champagne glasses engraved with one of the flutes saying 'will you marry me?' and hopefully he/she will see the message on the glass as you pour the bubbly into the personalised champagne flutes and give you a positive answer.
Whether your proposal is hand written or printed, it should be from the heart. As we have suggested, you don't have to just say: 'Marry Me?', you can customise your proposal to be as personal as you like. Hopefully, one of our proposal gifts which double up as personalised engagement gifts will help you to ask someone to marry you. Let us know how you get on!