The 89th Academy Awards will be taking place on Sunday 26th February 2017 and will certainly be an event full of glamour, glitz and champagne with celebrities, directors and film crews waiting eagerly to see if they have won an award for their hard work over the last twelve months.
Some of these talented people will win an award and some of them will, with regret, lose. Nonetheless, in real terms, there may not be any losers in 2017 if last year's Academy Awards event is anything to go by. That is because in 2016, all nominees were lucky enough to take away an Oscars goody bag with gifts worth over a whopping £186,000 (Harpers Bazaar, Feb 2016). The unofficial swag bag included among other fantastically generous presents, personalised chocolate and personalised vodka, as well as a wallet, lip salve, personalised jewellery and holidays, for example. Not bad, right?
If GiftsOnline4U were to give a complimentary gift that would be put into these swanky goody bags and given to this year's Oscar nominees, we would definitely go for one of our champagne gifts since they would definitely fit in to the glamourous and glitzy style and atmosphere of the 89th prestigious Academy Awards. Perhaps a bottle of 75cl personalised champagne with a photo of the actor or actress in the movie and a message of congratulations or wishes of good luck – Grand Cru champagne, obviously! Alternatively, for a more premium touch the luxury personalised champagne with pewter labels might also work pretty well, especially if we customised the front of the label with the nominees' names and the awards that they are up for…
There are loads of fabulous actors, actresses, film crews and films up for an award this year. My personal favourite is La La Land – who wouldn't love a bit of Ryan Gosling, up for Best Actor, singing and dancing in all seriousness? Denzel Washington is also up for two Academy Awards this year for his part in the film 'Fences' – one award for Best Actor and another award for Best Picture.
Both actors, we are sure, would enjoy drinking their personalised champagne gifts, whilst, with any luck, looking at their Academy Award Trophies. However, in case they don't win and want to keep their champagne bottle after they have consumed the contents as a keepsake of their nomination, what could they do with it?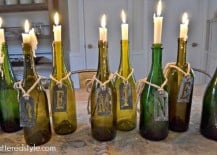 Personalised Champagne Gift Bottles – top three uses for after you've emptied the contents
Okay, so you've enjoyed your bottle of bubbly Ryan, Denzel. What are you going to do with the empty champagne bottle gifts now to keep them as a memento?
1. Keep the bottle as it is but put a tall white candle stick in it to make a decoration for a side table or a mantel piece. Light it up at a dinner party or whenever – this way everyone who comes to visit will know that they were up for an award…
2. Cut the top of bottle off (carefully), sand it down and put in a couple of flower stems to make a personalised vase centre piece for a table or a decoration and reminder of the achievement for a bedside cabinet, even.
3. Give the bottle a quick rinse out and put a hole in the neck. Then add in a couple of clock hands to it to form an Academy Award nominee personalised clock – handy for keeping the time.
Wishing all the nominees at the Oscars plenty of luck this year. We hope that they have some decent champagne gifts in their goody bags so they can use our tips (whether they win or lose!) and, Academy Award goody bag people, if you have not got yourself organised with some personalised champagne in the treat bags, you know where to come and we can help you out next year!