Father's Day is an important day of the year. It is the day where we celebrate what our dads, grandads, stepdads, or carers do for us. In normal circumstances, we might choose to go out and celebrate somewhere other than home, but in these uncertain times, doing something special within the safety of home is the best. Here, we talk about what you can do to make this year as special as possible.
When is Father's Day in the UK?
Father's Day is on Sunday 20th June 2021. It always falls on the third Sunday of June, following the tradition in the U.S.
It originates after Sonora Smart Dodd helped organise the first Father's Day celebration on June 19th, 1910. This led to the tradition of the day falling on the third Sunday of June.
What should I write in a Father's Day card?
One of the main gifts that we buy our dads on Father's Day is a card. They can come in all shapes and sizes, and they can have anything on them, from a humorous to a more serious and sentimental design.
Whether or not you have put a lot of thought into the card itself, the message inside should be something personal and meaningful. This doesn't mean it has to be a long, well-written story or poem. Sometimes short and sweet messages such as "Because of you, I am me. Happy Father's Day!" or "I'm so proud to have been raised by you.", can have a huge impact and make dad feel special. Here you can see more examples to inspire you.
Some dads are more suited for a more light-hearted and comical message, such as "You're one of my favourite parents!" or even something more direct and possibly rude!
Only you know what the right thing to say to your dad is, but whatever you decide, the main thing is to remember to make him smile.
Explore Our Range of Father's Day Gifts
What to get a dad that has everything?
Dad always claims to have everything but something you can almost guarantee he doesn't have is an unusual and unique personalised gift. There are plenty of Father's Day gift ideas, ranging from a Barolo wine gift to an engraved pocket or wristwatch.
If he is a whisky drinker, then an personalised bottle of Johnie Walker could be the perfect present. With so many different bottles and gift boxes, it is cool, thoughtful, and sure to put a smile on his face.
A personalised photo watch would be a sentimental and practical gift to make Dad feel special every time he uses it.
Fun things to do at home with your dad:
During these difficult times, it might not be possible to go out and do something with your dad, or you might choose not to. Whatever the reason may be to stay at home this year, there are always ways to make him feel special on this important day.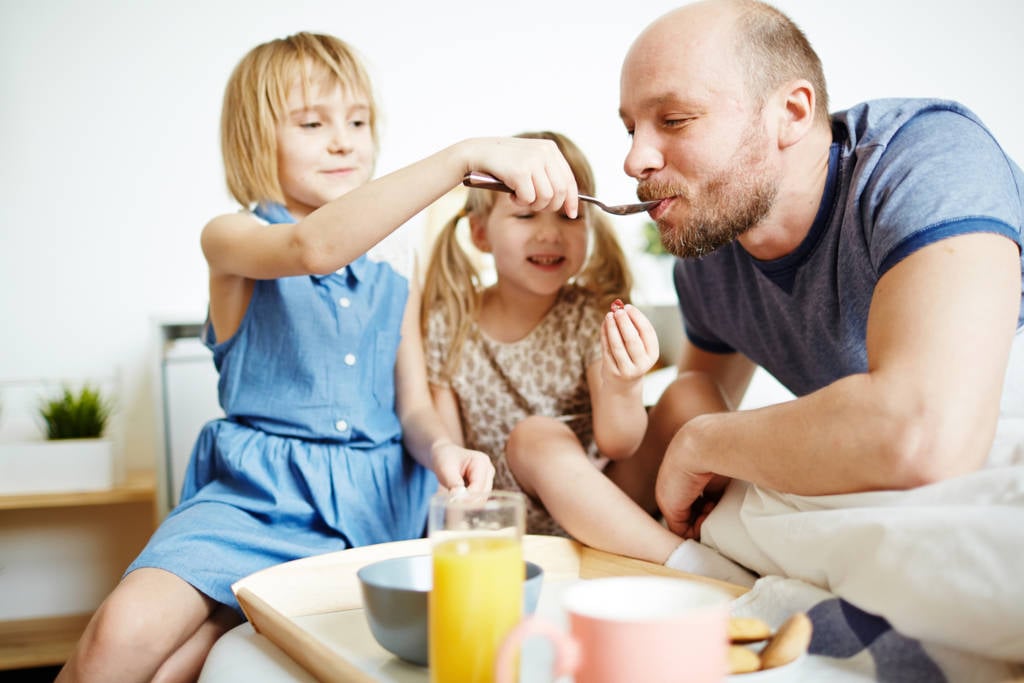 Make him breakfast in bed
More often than not, Dad is there to look after you in the morning. From making you a hot drink when you wake up, to making breakfast to help you get ready for the day ahead. On this special day, why not switch roles and make him feel special by cooking him breakfast in bed.
While doing so, you could present him with your thoughtful and personal card and gifts, to make him feel extra special. For all dads do for us throughout the year, make the effort on Father's Day. Here is a mouth-watering recipe to get you started.
Explore Our Range of Gifts for Dads
Learn something new together
Learning something new can be fun, so why not share the experience with your dad on Father's Day? There are many activity ideas online or virtual classes, from cocktail making to learning to play an instrument.
You can print off the course confirmation or to make it truly personal, you could create your own "ticket" to include in your card. This is an amazing way to show you have put time and effort into creating the best present that you can. Dad would be sure to enjoy the activity even more with this extra touch.
You can also attend a class in person, to create new, fun, and possibly embarrassing, memories!
Cook a homemade meal
Everyone loves a homecooked meal, so why not treat the head chef to one of your own. Give him a break and cook a meal from scratch. Whether trying a new recipe or making a family favourite, he will be sure to love it.
In the height of summer, there is no better feeling than being outdoors and cooking a BBQ. Dads are notorious when it comes to the grill, so a personalised chef's hat or apron to show who is in charge, would be a great added touch to the party. Even if you're taking the responsibility for this day only, a sign displaying the BBQ rules would be an eye-catcher for everyone.
Watch an old movie together on TV or Netflix
Sometimes, the best things you can do are the simplest. Sitting together and watching one of your dad's favourites would make him feel special. Even if it's an old one and you hate it! Relaxing together and talking through the best (or worst) parts of the film is a great way to spend time together. You can see some of the best films to watch on Father's Day here.
Play a game together
Board games aren't just for Christmas! Getting the classics out for a family game can bring everyone together and have a good time. Monopoly is a favourite for many, and dads always think they have the best tactics to win, so why not show him that he doesn't!
If he plays video games, then challenge him to see who is the best gamer. With games such as FIFA you can play one v one to see who is the champion. Or a family game, such as Wii Sports, can get everyone involved and having a great time.
Explore Our Range of Father's Day Gifts
Take him to the cinema
Some of the best memories of bonding with your dad can be the times you share together, such as going to the cinema. Seeing the latest blockbuster can be an extraordinary, magical experience, and there is no better day to do so than Father's Day. Treat dad to a ticket to the latest film and make him feel special, while creating new memories. If you're feeling extra-generous, then you could also buy him some popcorn or a drink!
Whether you stay at home or go out on Father's Day, do something that will make him smile and remember the day for many years to come.