7 Personalised Gift Ideas For Father's Day!
Father's Day 2020 is going to be a unique one.
Let's think back to Mother's Day earlier this year in March – we were advised by our Prime Minister not to visit out mum's. It had just been announced that our vulnerable over 70s, had to stay in doors and not go out for at least 12 weeks and a lockdown for the rest of us was imminent. Did we really celebrate our mums properly this year? Personally, while we love Mother's Day as a day to mark the special bond that we have with our mother's… it's important to remember that everyday should be Mother's Day. Be kind to your mums.
Father's Day is a little bit different comparatively, or at least it could be. While we all have our own opinions on the easing of the 'lockdown' one that is for sure is that through all of the uncertainty around what the new normal looks like – Father's Day is in the midst of that.
We've thought about our range of Father's Day gifts quite extensively this year because of that very reason. However, let's first discuss the great deal that we have available for Father's Day this year. We're offering a site wide 15% off gifts, just use the discount code: FD202015 to redeem your 15% off (terms and conditions apply, not valid on branded champagne gifts).
Here are some of our top Father's Day gifts this year: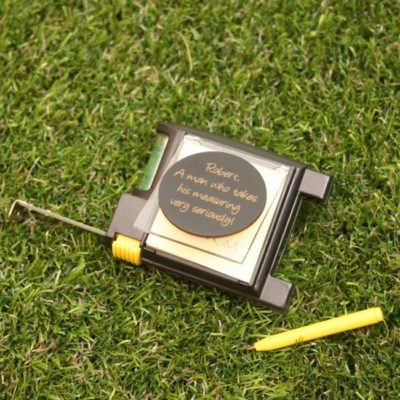 Let's be honest. I'm sure we've all been doing a lot of DIY during lockdown but a personalised tape measure is going to go out of style when it comes to giving it as a gift to a DIY fiend! This exceptional personalised tape measure gift is multi-purpose and comprises a 2 meter tape measure (in centimetres) with tape locking, a spirit level, an integral note pad and pen with a belt hook on the back to keep it handy while you work. Your personalised message will be engraved on the disc on the integral note holder and can be up to 64 characters over 4 lines (16 characters per line including spaces.) Your message will be engraved in our house font (pictured) but other font styles are available in the drop down box should you have a preference.
Also, if you want to encourage that special man in your life to get some extra jobs done around the house – this might just be the perfect gift to do it! There's nothing like a useful gift that acts as a subtle hint to get some shelves put up too!
Sticking with the theme of handy tools. Everyone man needs a hammer in their toolbox and what could be better than one that is personalised with their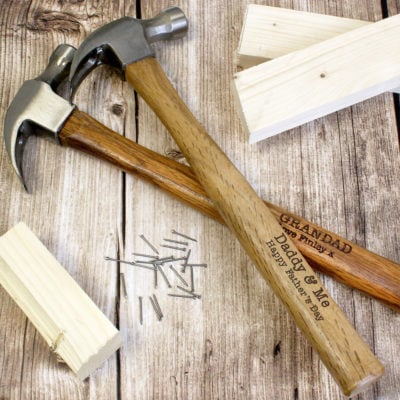 name and a special message. Firstly, it is a nice idea and secondly, no one will be able to steal their hammer! This Hammer can be personalised with a name or role on Line 1 up to 12 characters and a message up to 25 characters on line 2. This gift isn't just great for dads though, it's also a nice simple gift idea for grandads too.
Thinking about this gift makes us feel all warm and fuzzy inside. This is a great gift for those dads with young grandchildren or young children. It's a great gift to firstly pass some time but also as a keepsake too. It is simple yet thoughtful.

Give the gift of time this Father's Day with one of our personalised Father's Day watches? It's a simple gift idea but an ideal keepsake. You can personalise this particular one with an engraved message of your choice and also upload a treasured photo to create something truly timeless. Each of our wristwatches is hand crafted in our workshop. There's a lot of love that goes into them and we know that the special man in your life is going to absolutely love it if they receive one of these beautiful watches.
Our pocket watches as just as incredible as our personalised wrist watches. You can choose from the huge range of engraved pocket watches that we have but we've selected this one as we think it's simple and classic.
No celebration is complete without chocolate! With us 'being apart' during the COVID-19 pandemic, there is nothing more special than receiving a box of personalised chocolates in the post! To be fair, who doesn't love chocolate. This personalised gift comes with eight of your favourite chocolate bars and a personalised message to boot!
If you've got a special drawing that your child has made and you want to turn this into a forever keepsake then our personalised watch is exactly what you need. This is a simple gift idea that will leave any dad feeling rather sentimental.
Of all the Father's Day gifts we have in our range, this is my personal favourite. As a father myself, I've always treasured all the drawings and paintings that my kids did. However, all of them have ended up in a shoe box in the attic now! There wasn't anything around like this when my kids were young (they are now in their 30s!). I think any chance that you get to 'keep' something special like this, it's worth it! I certainly would have been happy if I had received this on Father's Day.
Here's some of the other gifts that we like! You can find them all on our Father's Day page.
Don't forget that you can get 15% off our range of Father's Day gift (terms and conditions apply), just use the discount code: FD202015 to redeem your 15% off.