Costumes, spooky decorations, and parties, let's admit it, no matter our age, we all love Halloween and the treats that come with it. 
From creepy cakes to spider web treats, here at GiftsOnline4U we have got more than enough spooky recipes to make you wish Halloween was every day of the year!
Whether you're planning a quiet night in, or a larger festive get together, these Halloween recipes will allow you to get the kids involved. Scare, entertain, and satisfy your friends and family all at the same time!
Also, be sure to check out our personalised Halloween gifts to make the day even more special.
Bewitched Biscuits 
Bake these terrifying bewitching biscuits for a Halloween party or 'trick or treat' gift. These tasty biscuits allow the whole family to get involved with creative decorating, we're sure the kids will love them!
Recipe
You will need…
250g Butter, Softened

140g Caster Sugar

1 Egg Yolk

2tsp Vanilla Extract

300g Plain Flour
Method
Mix the butter and sugar with the egg yolk.

Add the vanilla extract and beat to combine.

Sift over the flour and stir.

Roll out your dough and cut into spooky shapes.

Bake for 15 minutes at 180 degrees, then leave to cool.

Mix water, icing sugar and food colouring for your icing.

Decorate your biscuits to your individual liking.
Bog Balls 

These are a must for your Halloween party and the kids will really love these bog balls!
These are a Halloween twist on Italian meatballs, that although look absolutely gruesome are super moist and flavoursome. Team these bog balls with garlic bread and spaghetti to take them to the next level!
Recipe
You will need…
500g of Beef Mince

1 Small Red Onion

2 tbsp of Breadcrumbs

1 tbsp of Mixed Dried Herbs

1 Egg

Olive Oil

250ml Passata

A handful of Basil Leaves 

Parmesan Cheese
Method
Preheat your oven to 200 degrees/gas mark 6.

Dip kitchen roll in oil and coat the baking tray.

Put your mince into a mixing bowl.

Finely chop the onion.

Break the egg into a bowl and beat until smooth.

Add the onion, dried herbs, breadcrumbs and egg to the mince.

Mix everything together.

Take small amounts of the mixture and shape into balls.

Cover all the bog balls in oil evenly.

Cook for 20 minutes and chop up your basil leaves.

Heat up some passata and simmer the meatballs.

Serve up with spaghetti and a sprinkle of parmesan cheese.
Creepy Cakes 
These cakes are guaranteed to be a hit at parties, we know that Halloween is all about trick or treating sweets and chocolates, but that doesn't mean you can't have your cake and eat it, too.
Recipe
You will need…
Flour

Baking Soda and Powder

Cinnamon, Ginger, Nutmeg, Cloves

Pumpkin Puree

Oil

Sugar

Eggs 

Vanilla Extract

Cream Cheese

Unsalted Butter 

Powdered Sugar

Vanilla Extract
Method
Whisk together flour, baking powder, baking soda, spices and salt.

In a separate bowl, mix puree, oil, sugar, eggs and vanilla extract until combined.

Mix all the dry and wet ingredients together to make the batter.

Evenly divide between cake liners in a baking tray of twelve.

Cook for 17 to 22 minutes, 180 degrees.

For the icing mix the cream cheese until smooth then add butter.

Once combined add powdered sugar and vanilla extract.

Mix until smooth and ready for decorating.

Once cakes are cool, add the icing to make them spooky!  
Spooky Spider-Web Treats
If you're looking for a non-bake dessert that's perfect for your Halloween parties, then look no further than these five ingredients Rice Krispie spooky spider-web treats. These delicious treats are sticky, crispy and oh-so-spooky, which both children and adults will love.
Recipe
You will need…
Marshmallows

Unsalted Butter

Food Colouring 

Rice Krispies 

Your Choice of Sweets
Method
Add marshmallows to unsalted butter.

Microwave the marshmallows for 45 seconds and stir.

Microwave for a further 30 seconds and stir again.

Add the food colouring and mix.

Add Rice Krispies and mix once more.

Add the spooky mixture to a sprayed baking dish.

Leave it to cool and set for one hour.

Heat some more marshmallows for the webbing.

Once the mixture is cooled and sliced, add the melted marshmallows.

 Decorate with spooky sweets.
Ghoulish Games
At GiftsOnline4U we want to make sure you have Halloween completely covered, so whether the parties are at home or school, these silly (and frightening!) activities will always be a hit.
Stick the spider on the web 
Draw or print a giant spider-web and add a blindfold and see how close to the middle you can stick the spider.
Boo Bowling
Draw spooky faces on toilet paper and then use them as bowling pins! This simple game will surely put smiles on the kids' faces and keep them busy for hours! How many can you knock over?
Pumpkin Drawing
Kids can get creative and draw freaky and scary faces on pumpkins. Pumpkin carving is not only extremely fun, it's a great opportunity for sensory learning, encourages critical thinking and develops motor skills.
Colouring sheets 
Another great activity for children during this spooky time of the year are colouring sheets, they help lower your child's stress levels, improve their mood, and boost their ability to concentrate. And let's be honest, they're really fun!
Make your children's worlds more colourful with these terrifying Halloween colouring sheets. 
We want to make sure your kids really enjoy their Halloween, so we have a range of designs! Try some trick or treating, colouring in a scary witch or adding some much needed colour to the pumpkin design.
We're sure you'll take inspiration from our Halloween recipes and party games and we're excited to see more! Make sure to share your Halloween treats and party games with us! 
And now it's competition time!
Share your bakes with us on social media using the hashtag #GO4USCARYBAKES and be in with a chance of winning your own personalised Halloween book!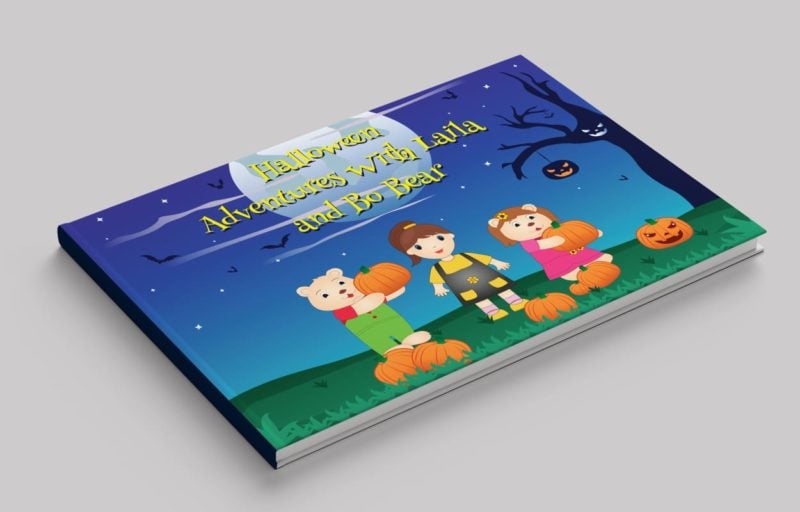 The book is personalised with your child's name and avatar. A great present for all little book lovers! 
Competition Terms and Conditions
This competition is under GiftsOnlne4U regular terms and conditions
1) Entries must be submitted by the 28th of October 2021.
2) Judging will take place on the 29th of October, with the winner being announced on the 29th of October.
3) There are five personalised books to give away and these will be delivered within 28 days after the announcement of the winner.
4) Only one entry per person.