The compact mirror dates back to the early 1900's, where women would conceal these hand-held mirrors within accessories such as walking sticks, jewellery and hatpins as wearing make-up was not yet socially accepted within society. However, from the 1920's onwards, compact mirrors became must-haves and much like today, were the perfect accessory for checking their appearance and preserving their looks throughout the day.
These beautiful yet practical accessories were also often given as gifts from husbands, suitors or friends and with varying designs, soon became extensions of women's personalities. Styles varied from oval to square shaped, and designs varied from ornate Art Deco, to vintage styles and diamante encrusted detailing. Even now with our personalised and engraved gifts, can an Engraved Compact Mirror become a part of our individuality, with our own names and personal messages being integrated into these everyday handbag essentials.
Often these are given as treasured keepsake gifts to those who collect compact mirrors, as wedding favours (particularly bridesmaids), as token thank-you gifts, or as birthday keepsakes to mark those momentous occasions. These are even great gifts for that person that has it all!
Known for being a practical and portable gift, this got me thinking about other ways in which a compact mirror could be useful. Surely there's more to these gifts than just enabling us to check our appearance throughout the day?
There was once a case where a compact mirror was modified to contain coding on the mirror, which was designed to be used by CIA operatives and when tilted in the right light, the coding became visible. But how would a compact mirror be helpful in a survival situation? According to survival guides, a mirror is one of the most helpful objects you could have to hand if you found yourself in a life or death situation. So here are several ways an Engraved Compact Mirror could save your life.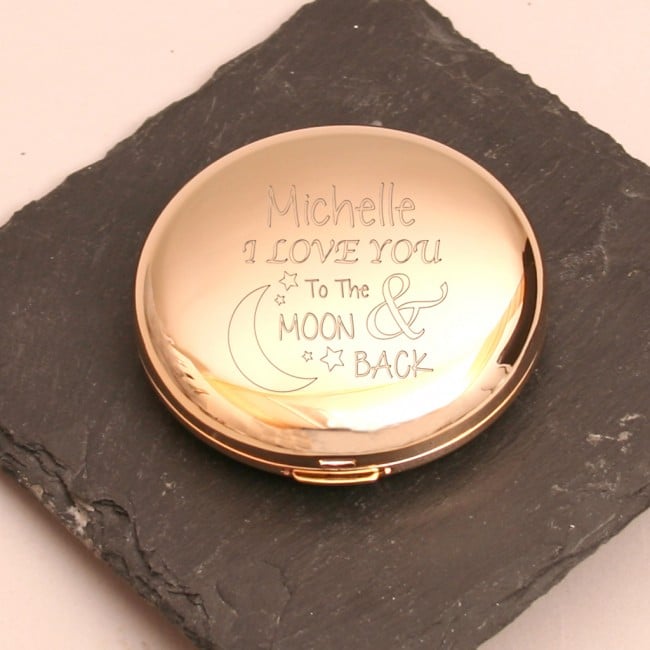 A Silent Emergency Beacon
Without a whistle to make an emergency beacon and although you wouldn't be able to make much noise with one of these mirrors, you could use it both during sunlight and moonlight to reflect light in the hope of potentially signalling to passers-by. It has even been suggested that using a mirror is more effective than using a flare!
To Start a Fire
With the right angle of the mirror aiming a beam from the sun to some dried grass for example, you could successfully create a fire using a compact mirror.
To Check for Wounds
If you found yourself in a situation where you've been injured and cannot visually check your entire body, then a compact mirror would come in handy to check those hard to reach places.
To Create a Make-Shift Knife
Although the last thing you'd want to do is to break your mirror into pieces, if it was your only resort, you could smash your mirror to get a sharp edge and use a piece as a knife.
There you have it – 4 ways in which your compact mirror could save your life should you ever find yourself in a survival situation. Hopefully you'll never have to use your special engraved gifts for any reason other than to treasure them as unique keepsakes but when considering gifting one of these to a loved one – remember it's amazing life-saving qualities too!