Locking down on love; UK hasn't let the pandemic get in the way of finding their soulmate
Finding 'the one' can be a bit of a minefield, from dodging exes on Tinder and trying to figure out if you're being catfished or not. That's before you even manage to secure a date. 
Not all of us find blind dates from your friend's recommendations to be the best way to find love, and the idea of figuring out who will be splitting the bill at the end of the night can be daunting.
Add in a pandemic, and you're probably losing interest in the idea of dating pretty quickly! How on earth are you supposed to make conversation with a stranger when the most exciting thing you've done in the last month is a food shop? 
Some of us have even been experiencing a new phenomena, known as Fear of Dating Again. FODA is really setting in for some people, as getting back out there after being out of practice for so long, can be really scary. 
But, even though 2020 had us further apart than ever, a new year is here. 2021 is all about sharpening up your flirting skills and remembering all of your chat up lines.
So, don't give up on love just yet, not all hope is lost!
Valentine's Day is nearly here, and even though Zoom quizzes and Netflix parties aren't the most romantic settings, you can't put a lockdown on love!
To give you some inspiration for finding love in the new year, we decided to look into how successful the UK has been at finding love in the last five years. It turns out that us Brits are on a mission to find our soulmates. In fact, according to Statista.com, there were over 67.9 thousand Tinder downloads to android devices in March 2020 alone!
But exactly how loved up is the UK?
Methodology
We analysed Office of National Statistics data from the past five years to determine the UKs relationship status (2015-2019). The data showed the relationship status and living arrangements of couples across the UK.
Of course, the search for love doesn't stop just because of a pandemic, so we wanted to take a closer look at dating trends during the Coronavirus. So, we also analysed Google Trends data to see who was searching for terms relating to dating in a pandemic. In addition to that, we used a OnePoll survey, questioning 2,000 UK adults, to find out more about how people feel about living together during the pandemic, and if couples were moving in together, or staying apart.
Relationships
2020 might have had us separated from each other, but it also brought plenty of people together too. In fact, Google Trends data reveals that searches for 'Lockdown date' peaked towards the end of April. This shows that as us Brits got used to staying indoors, we started getting creative when it came to looking for love.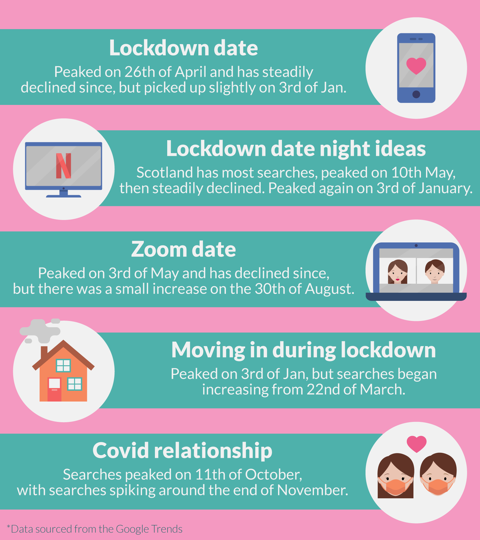 But who actually turned the idea of romance into reality? Well, it seems that some couples were ready to take the next step in their relationship during the pandemic, as 20% of 25-34 year olds were the age group moving in together during the lockdown. The highest figure out of all age groups!
According to our survey, those in London were most likely to move in together during lockdown as 19% found themselves a home to share with their partner. Followed by couples in the East Midlands (14%) and Northern Ireland (10%). 
Not everyone wants to have to share a living space with their partner, as 9% of couples in Yorkshire and Humber and 7% in Wales have no intention of moving in together!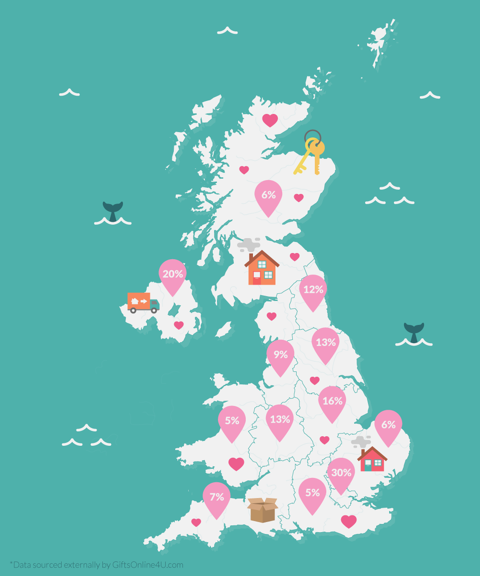 Not everyone has been the most successful with finding their pandemic partner, as the ONS data show that the number of singletons have been on the increase since 2015, but Gen Z have definitely been making up for that.
Taking the opportunity of their advantage over technology, they've been getting creative and searching for new ways to find love. In fact, 20-24 year olds had the highest number of singletons in 2015, but since then their numbers have steadily decreased, showing that they're well on their way to finding love!
It's not just the younger generation who are all loved up though. People over the age of 85 were on average, the age group with the lowest number of singles over the last five years, showing that love really does stand the test of time. 
But which gender saw the most success when on the lookout for their soulmate? When analysing the ONS data, we found that every year had more single males than females, so single girls, don't give up hope. If you're looking for the man of your dreams, there's plenty of single guys out there for you to choose from!
Moving In
Love might be in the air, but after being confined to our homes for the best part of a year, how many of the UK's couples are looking to move in together?
ONS data suggests that couples cohabiting is on the rise! The year of 2019 saw the highest figure to date, with 5,070,145 cohabiting couples. Compared to 2015, with just 4,459,054 cohabiting couples. 
Of all the couples we surveyed, East Anglia residents are most likely to live in a couple out of all the regions across the UK, with 61% of couples living together. However, it's the North East region that has the most singletons (34%).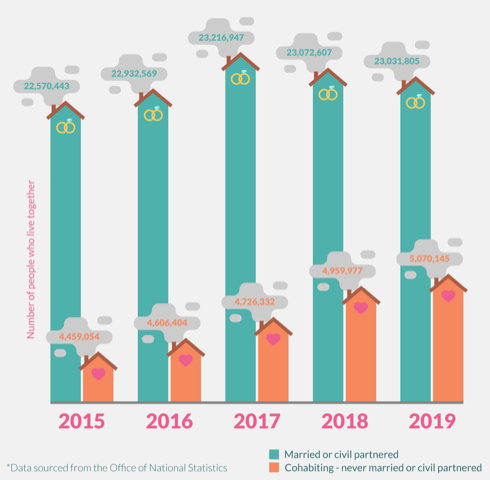 Searches for the term 'Moving in during lockdown' were on the rise at the beginning of the first lockdown and have recently peaked at the beginning of 2021.
2020 saw 12% of couples moving in together across the UK. In fact, it turns out that even a pandemic can't stand in the way of love either. According to the survey, over half (58%) of those couples couldn't stand to be apart and moved in together during lockdown.
Who can blame them? Home comforts are key, and who doesn't love putting their feet up with a brew next to their partner during a cosy night in? 50-64 year olds would definitely agree, as they are the age group with the most cohabiting couples.
Not moving in
But for some couples, distance makes the heart grow fonder. Sharing a bed isn't always the most romantic scenario, and who really wants to have to keep picking up their partner's socks off the bedroom floor?
We've all heard the stories of that one couple that had their own separate homes and stayed together for a lifetime. Clearly us loved up Brits have taken some inspiration from them…
According to ONS data, figures of couples living separately have been on the rise since 2015 across all age groups, with the highest number being in 2019 (23,111,367).
However, it seems that women are the ones who most like to have their own space, as there are more women than men that are living alone after previous marriages/civil partnerships.
Was 2019 the year of break ups?! Across all age groups, 2019 had the highest number in the last five years of people not living in a couple, but previously had been married or in a civil partnership. 
But it's the 40-44 year olds who are deciding to live on their own the most. The data revealed that there has been a clear decrease over the last five years in people of this age bracket not living in a couple after being married or in a civil partnership.
But where in the UK are people choosing to not share a bed with their partner? OnePoll data suggests that Londoners prefer to have distance from their loved one. But, it's York that has the least amount of couples living together in the last five years, as well as the most amount of people not wanting to move in with their partner at all!
So, if you're wanting to get back into the dating scene, and resume your mission on finding the perfect partner, why not hop onto a dating app and get looking? Or take some inspiration from this success story, because who says a pandemic has to get in the way of your search for love?
Case Study – Beth and Anthony
A young couple in Manchester have managed to keep their relationship strong throughout a pandemic, and despite everything, have fallen in love and moved in together.
Beth and Anthony now live together after having to be apart for the majority of the first part of their relationship.
Beth said: "Back in December 2019, he messaged me on Tinder, but I originally ignored him! One day I ended up serving him at my workplace, and we started chatting and we really clicked. Just an hour after I got home and told my friend about the whole thing, he had already messaged me on Tinder again. It really was a "meant to be" moment!
"A couple of months later in February 2020, we went out for drinks and clicked really well. He was so interesting to me and had such an amazing personality. In fact, after our first date lasted two whole days, which really is a sentiment to our relationship.
"Once lockdown hit, we ended up doing loads of zoom dates with glasses of wine, asking each other 20 questions to get to know each other. Once restrictions eased, I included him into my bubble, so we began meeting up more and enjoying time together.
"Unfortunately, Tony had to move to Ramsgate in Kent, because he had to leave his student house. So, I went down in the summertime, and we had such a lovely time in Ramsgate.
"We used to tell each other that we loved each other in silly ways by using quotes from tv shows and films. But, it was in Ramsgate where we first properly told each other we loved each other. It was at a bar on the beach whilst we were watching the sunset. It was so idyllic and cute! 
"During the lockdowns, we couldn't see each other that much, but when it's been possible, he's always been in my support bubble. Whilst we've managed to work around the restrictions to see each other, we know that many people out there haven't been that fortunate. So we always feel really grateful that we've been able to stay together, where others have been separated. 
"It's really paid off for us though! 
"We moved in together at the end of January 2021, and we're finally all settled now. We're celebrating Tony's birthday and even though we can't see friends and family, I have made a birthday cake out of his favourite beers!
"It still doesn't feel real that it's our place and we just love it! We're renting an apartment right next to town. We can finally be together, and not be separated by another lockdown, so we're just so happy!"
If you've already got a special someone, but you're looking to make it official, why not have a look at some of our personalised gifts for him or her?