Halloween is nearly upon us, and even though this year has thrown some obstacles our way, we can still enjoy a spooky evening of fun.
Whether it's a fun and festive evening with the kids or a simple cosy couple's night in, spooky snacks, frightening films and DIY decorations can make this year's Halloween one to remember!
You can start getting into the festive spirit by decorating your home as spooky as possible! Get creative by making your own DIY Halloween decorations, and you can get the kids involved too. 
Make a creepy spider web wall by pulling apart sheets of cotton wool and draping across shelves, light fittings and window sills. Place (fake!) spiders in the 'web' to give it the creepiest final look!
For a more simple DIY decoration you can do with the whole family, why not give the 'paper cup ghosts' a try. They also make fantastic Halloween gifts for children!
Take white crepe paper and cut it into strips, and stick one end of each piece on the inside of the white paper cup. Punch a hole into the top of the cup, thread a piece of string through and tie a large knot at the end in the inside of the cup. Finish up your ghost by drawing eyes and a mouth, and then attach the string light fittings to dangle from the ceiling!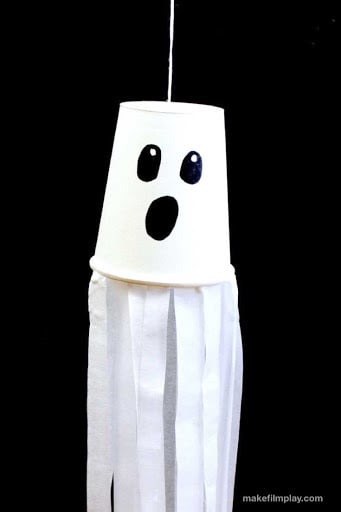 A Halloween Candy Wreath is a decoration that is good enough to eat! It's also the perfect Halloween gift for adults with a sweet tooth!
Wrap a foam wreath in white ribbon and attach the sweets to the ribbon with a hot glue gun, layering as you go. Choose black, orange and white sweets for a Halloween themed wreath, or more autumnal colours such as yellow, orange and red.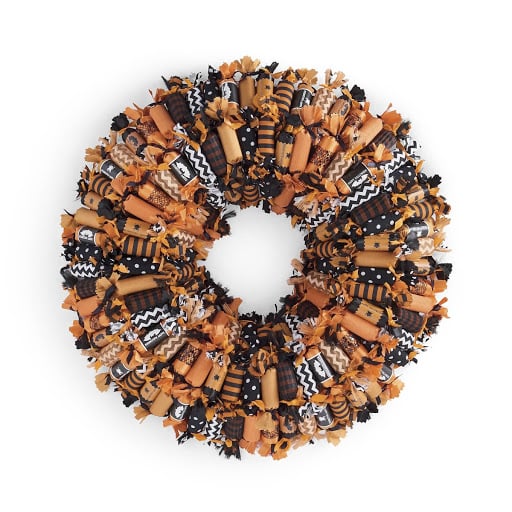 If you don't have much time, but still want to decorate your home, why not grab yourself a Spooky Personalised Halloween Lantern to add a terrifying atmosphere to your windows!
Carving pumpkins is a longstanding tradition for many households when celebrating Halloween. They're also a great decoration choice, and if you're looking to challenge yourself, we have three impressive designs you and your loved ones can give a try!
But no pumpkin carving party is complete without a petrifying playlist to accompany it. ''The Monster Mash' and 'Thriller' are classics that are sure to get everyone up and dancing, but these playlists have got hours of great Halloween tracks.
Deciding what film to watch can be the cause of many arguments, some people want an action packed movie, whilst others might love a psychological thriller. But no matter what preferences you and your loved ones might have, these top ten Halloween movies will round off your spooky evening perfectly!
If you're looking for a family friendly Halloween classic these films should be your top choice!
Hocus Pocus;

a classic comedy film for all ages, where a young boy accidentally awakens a trio of witches that want to wreak havoc on the town of Salem. 

The Nightmare Before Christmas;

Jack Skellington, king of Halloween Town, discovers Christmas Town, but when he tries to bring Christmas to his town, he's met with confusion.

Halloweentown;

A young girl living with her witchy grandmother discovers she also possesses powers, and she must help her grandmother save Halloweentown from evil forces!

The Addams Family;

A family of con artists plan to con an eccentric family out of their money, using an accomplice who claims to be their long-lost uncle. 

Beetlejuice;

The spirits of a deceased couple are harassed by an unbearable family that has moved into their home, so they hire a malicious spirit to drive them out! 

Casper;

After a family moves into a deteriorating mansion, they meet a friendly young ghost as they attempt to rid the home of wicked spirits. 
Maybe you're not looking to entertain kids, and perhaps you want something that will definitely give you a fright to remember once they've gone to sleep! If so, these terrifying movies are definitely for you.
Hereditary;

When the matriarch of the Graham family passes away, her daughter and grandchildren begin to unravel cryptic and increasingly terrifying secrets about their ancestry, trying to outrun the sinister fate they have inherited. 8/10 on the Spookometer!

The Shining;

Jack and his family move into an isolated hotel with a violent past. Living in isolation, Jack begins to lose his sanity which affects his family members in menacing ways. 6/10 on the Spookometer!

The Conjuring;

A young family moves into a farmhouse that is plagued by paranormal phenomena so they contact demonologists to help them rid their home of the evil entity. 9/10 on the Spookometer!

Get Out;

An African-American man decides to visit his Caucasian girlfriend's parents during a weekend getaway. Although they seem normal at first, nothing could prepare him for the horrors that lie ahead. 7/10 on the Spookometer!
We know that no movie night is complete without delicious snacks, so we've found some of the best ones you can whip up with whoever you're enjoying Halloween with! 
Don't worry though, we know not everyone has the time to spend hours in the kitchen, so these snacks are quick and easy, and sure to impress. 
You can also put some to one side (if you can resist) to make the perfect Halloween gifts for kids.
White chocolate strawberries make the perfect ghosts, just dip them in white chocolate and use milk chocolate chips for the eyes and mouth!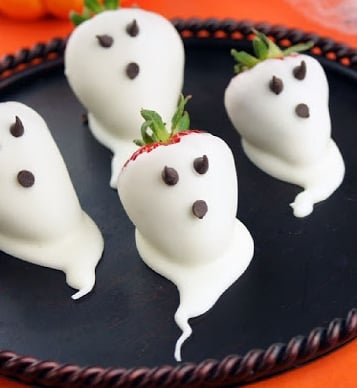 Decorate ring donuts with black icing, eyes and black biscuit wings for brilliant bats! Use the cut out holes to make little mice, using bright coloured sweets for their noses and ears.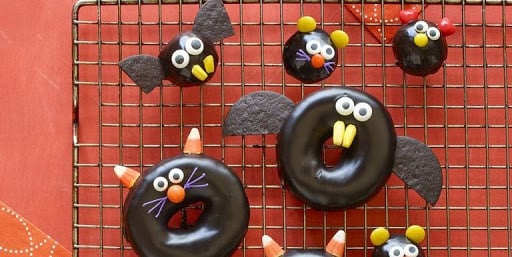 If you don't have much of a sweet tooth, there are plenty of options that also work well for Halloween gift ideas.
Wrapping mini hot dog sausages in a long strip of puff pastry, and using mustard, decorate evil glowing eyes!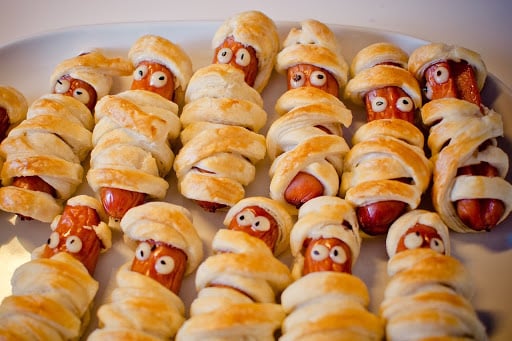 Using just three ingredients, you can fill pre-made dough with mozzarella cheese and pepperoni slices to fold calzones into the shape of a witch's hat!
If you've tucked the kids into bed, or if you're having a more romantic Halloween night, a few drinks might be on the menu.
If you have a sweet tooth, grab 25ml of creme de menthe, 25ml of white creme de cacao and 25ml of single cream. Shake it up with some ice, pour into a glass and garnish with some mint for a grisly green cocktail!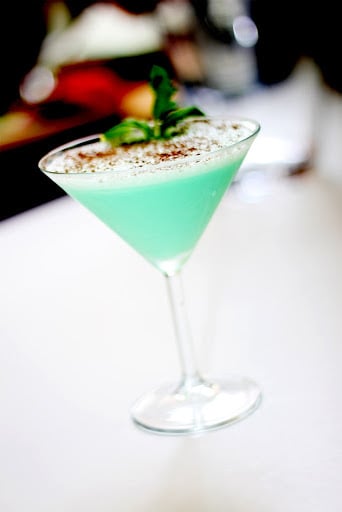 If mint isn't for you and you have a few more ingredients to hand, this haunting Halloween cocktails will do the trick.
Prep chilled glasses by covering the rim in honey and dip into black sugar. Then pour 125ml of black vodka, 100ml of regular vodka, orange bitters and 250ml pomegranate juice into a shaker with ice, and divide between chilled glasses. Thread blackberries onto a cocktail stick and scatter pomegranate seeds into the drink.
For something a bit more simple, and with a different twist, try this blood red, beetroot cocktail.
Grate 200g of beetroot, juice 8 lemons and mix in 200g golden caster sugar, then leave to steep in the fridge for an hour. Then, pour the mixture through a sieve to remove the pulp. Add 25ml of the lemonade into a glass, then add 50ml of Aperol and top with Prosecco to serve.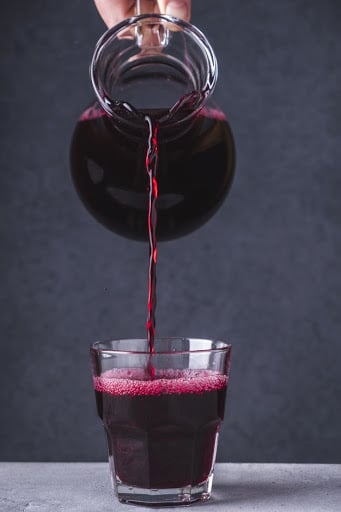 With all of these different activities and spooky food and drink to indulge in, your Halloween might not feature trick or treating this year, but it will certainly be one to remember!
Sources:
https://www.imdb.com/list/ls000091321/
https://www.bbcgoodfood.com/recipes/collection/halloween-drinks-recipes 
https://www.makefilmplay.com/kids-crafts/paper-cup-ghost/ 
https://www.thegreenhead.com/2018/07/halloween-candy-wreath.php 
https://www.flickr.com/photos/21980648@N08/29459761403 
https://www.womansday.com/food-recipes/food-drinks/a23460042/black-cat-bat-spider-and-mice-doughnuts-recipe/ 
https://www.pinterest.co.uk/pin/210684088806292004/?nic_v2=1a6IY3MwP