Want to find a way of prolonging the memories of a memorable holiday?
Want a way to keep a photo of that special someone close at all times?
Or do you want to find the perfect personalised gift to give to a loved one?
Photo gifts tend to be very well appreciated with friends and family, but what makes a photo gift personalised? At GiftsOnline4U, we produce personalised photo gifts that allow you to include your own photos, text and even specially engraved message. We have a range of personalised photo watches and a personalised wine that are customisable using this software – taking those every day gifts to something that extra bit special. So if you are looking for one of a kind gift's that'll make them smile and bring back special memories, then choose personalised gifts that are sure to preserve a memory and message for a lifetime.
Our easy-to-use customisation software lets you upload that special photo, company logo or custom artwork straight from your device on to our design system. Then you can add text on top – perhaps names, dates or a special message to the recipient. With fully adjustable sizing and rotation features, you can arrange the layers of the photos, graphics and text to create a picture-perfect product. Our straightforward 'customise it' software also lets you neatly arrange your design using a blank canvas watch face or wine label so you really can envisage your final product.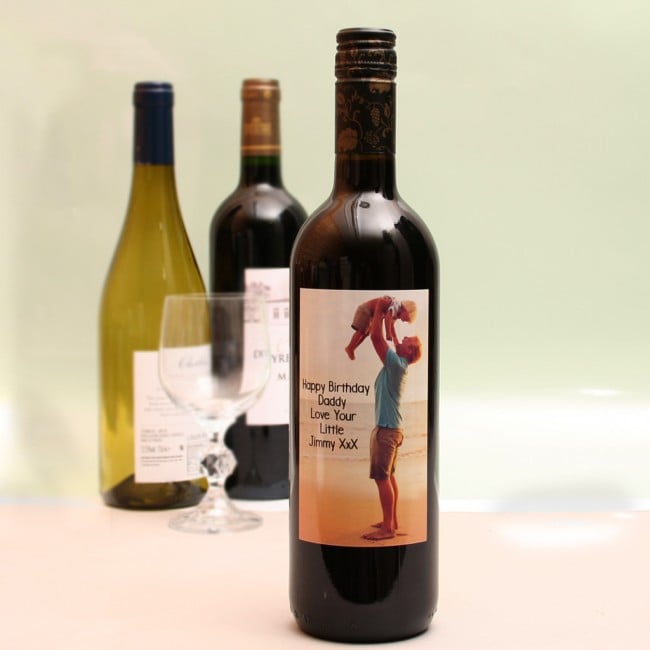 Personalised Photo Wine
Giving wine for any occasion is a classic yet fantastic present for family, friends and business colleagues and even for those hard to shop for people in your life. Whether it's to say thank-you, well done, happy birthday or I love you, wine is always certain to impress. Why not take your wine gifting one step further with a bottle of personalised photo wine? With 13 different types of wine to choose from, you will be sure to pick up a wine to suit all recipients before putting your design skills to the test through our 'Customise it!' tool.
Remember your best friends 30th birthday that ended up in fits of giggles and an album full of embarrassing photos? Well it's celebration time again, and you can't think of any good gift ideas but this is a great opportunity to relieve the good times with a bottle of personalised wine!
Personalised Photo Wrist Watch
Have you got a special memory, person or place that you hold dearly to you? Or maybe you know someone who would love a sentimental gift? Within our large collection of personalised watches we have a selection of personalised photo watches which can be customised with photos and text – Perhaps with special photos of loved ones or places. You can add your special message to the watch face too as well as having a personal message engraved on the back.
Alternatively, if you know someone who loves their artwork or owns a company with their own graphics or logo, then this can make the perfect unique gift. There are a range of choices available from watch body colour to strap colour making your gift that bit more bespoke.
Personalised photo gifts show just how much thought and effort you've put in to designing and creating an original present for that special someone – perfect for giving at any time of year and on any occasion.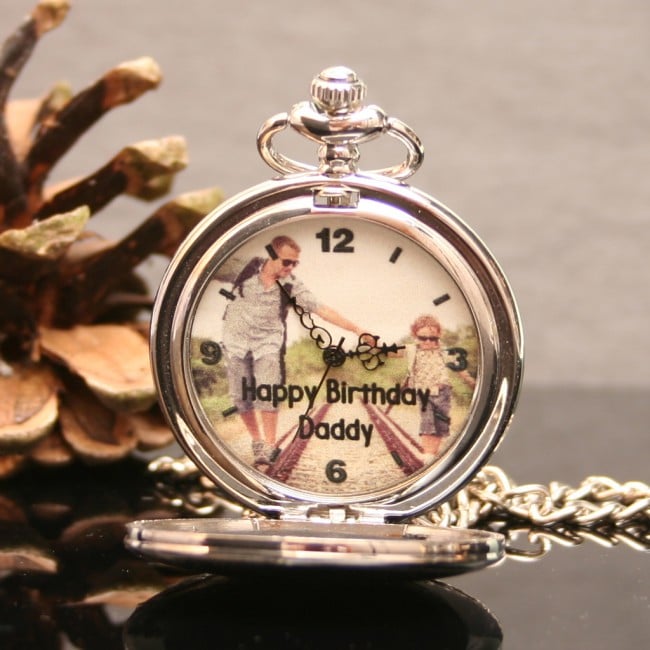 Personalised Photo Pocket Watch
Do you know a traditional gent that'd love a pocket watch? Go one step further with a personalised photo pocket watch for a totally unique yet classic timepiece. Customise it with your own photos that'll bring back the memories and a special message as a reminder of your love – then top it all off with an engraved message on the back! Our design system shows an example pocket watch face with pre-set dials so you can really put together your creation with perfection. These make particularly good gifts for men for birthdays, Christmas or Father's Day to include pictures of the kids, beloved pets or just about anything else they love!
With these photo gifts starting at prices of just £22.99, you really can't go wrong when adding that extra bit of thought by taking personalisation to the next level.