After such a tough year, we'd all dreamed of being surrounded by loved ones for Christmas 2020. Plans surrounding opening presents, a delicious dinner and slightly too competitive board games had to be cut short, and in some cases, cancelled completely. 
It's not how any of us imagined enjoying the festive season, with all of our favourite things being off limits. No Christmas market visits, Christmas film marathons in the cinemas or in-person Boxing Day sales to take advantage of.
But that doesn't mean we can't still enjoy all the things we love about the 25th of December.
Halfway through 2021, the UK can now begin enjoying shopping indoors and outdoors, meals out with six people from two households, and outdoor gatherings of up to 30 people.
These currently eased restrictions have opened up a unique opportunity for those who didn't manage to see their loved ones in time for the festive season in 2020.
Explore Our Range of Christmas Presents
Christmas in the summer is fast becoming a popular trend for those who want to extend their celebrations into summertime, and who can blame them? 
There might not be any snow for sledging or Christmas deals, but that hasn't stopped some people from turning up the Christmas tunes and getting into the spirit of things.
Families are beginning to dig out the tree from the loft and getting ready to decorate their house, to bring Christmas early… or late?
Either way, they're hanging up the stockings and even putting the outdoor Christmas lights on the house to enjoy everything they missed out on last year. We wonder if they'll still be sending out Christmas cards to their loved ones.
We wanted to hear more about people who don't feel committed to a specific date and are happy to enjoy Christmas, and all the fun things that come along with it, at any time of the year.
To find out, we surveyed 2,000 people across the UK, quizzing them on whether or not they'll be celebrating Christmas at an unconventional time this year.
The survey revealed that some people have actually already managed to find the time to celebrate Christmas in 2021! 10% of the people we surveyed told us that they'd gathered their loved ones earlier on in the year for Christmas dinner, presents and all the goodies.
That's quick action on their part too, but why wait to celebrate the most wonderful time of the year? 
Gifts can be given at any time of the year, and a lovely Barolo wine gift set will always hit the spot for those who enjoy a tipple. Or perhaps you can get your friends and family some summer themed gifts to really get into the spirit of Christmas in the summer!
Our survey also showed us that 8% of the people we asked about celebrating a delayed Christmas told us they'll be feeling festive this summer. 
Explore Our Range of Personalised Wine Gifts
Opting for a slightly out of the ordinary Christmas, these people told us that the festivities will begin once the sun starts shining and the temperature turns up. Quite different to the cold days and dark nights that us Brits are used to during our festive celebrations.
We don't know if anyone's tried to barbecue a whole turkey before, but we hope to see some success stories of an al fresco Christmas dinner this summer. Just maybe leave the Christmas pudding off the grill! 
An ice cold drink is a great way to cool down during the summer Christmas festivities. So whilst some people may be stuck for present ideas, a personalised Bollinger champagne gift or a bottle of personalised Moet Champagne will always be a great way to cool off during the occasion! 
Our survey also showed us that 3% of people across the UK will be wrapping presents and singing carols before December 2021. Maybe a hot summer's day isn't their ideal setting for delayed Christmas celebrations?
Taking a closer look at the survey results, we found that people in London are the most likely to be sitting down for a Christmas dinner this summertime, with 15% of people saying so.
13% of people in the North East would agree, as well as 11% of Wales.
However, families in Northern Ireland will be sticking it out instead, with just 2% of those surveyed in the region, saying they'll celebrate Christmas this summer. 
14% of those in the East Midlands told us that they've already managed to celebrate Christmas this year, as well as 10% of those surveyed in East Anglia and the West Midlands.
Meanwhile, 5% of people in Yorkshire and the Humber will wait until after the summer is over.
We're starting to feel more on board with the idea of Christmas in the summer this year, but perhaps everyone getting involved will have to get creative. Shops don't usually stock any Christmas cards or decorations around this time of year, but you don't have to miss out.
To help us all get into the festive spirit, we've launched a brand new 'Christmas in the summer stocking', complete with a snowman's face and jolly red material.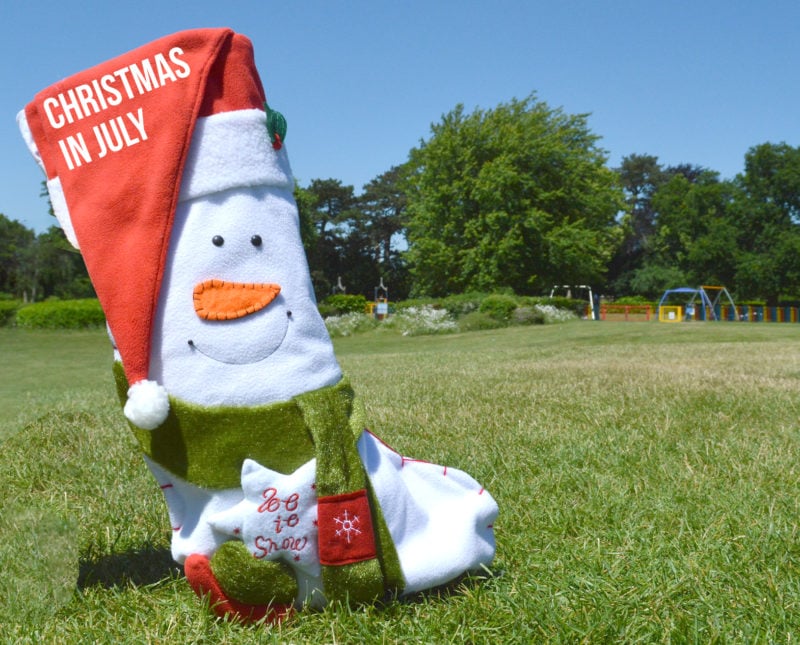 Price: £19.99
What better way to celebrate a summertime Christmas than with a brand new stocking to stash all of your presents in? 
We know that this year has been particularly tough for everyone, especially following the rollercoaster that we know as 2020.
It makes perfect sense that people across the UK are ready to feel festive with their loved ones, and we're in full support of people ready to celebrate at any opportunity.