Pocket watches have a long-standing history of being traditional timepieces, worn by ladies and gentlemen alike. Today they are often given as a lasting keepsake gifts that are aesthetically pleasing, practical and very personal too. An Engraved Pocket Watch is an increasingly popular gift as they offer something traditional yet sentimental that can be given for any occasion, particularly for milestone birthdays, graduations and special anniversaries, however the most popular occasion is to gift these is for weddings. Weddings offer the perfect opportunity to gift something out of the ordinary, as a thank you to your best man and groomsmen or to the groom himself to remind him not to be late for the big day!
Our Engraved Pocket Watches make up for a large part of our Personalised Gifts for Men as we believe in creating gifts that'll last a lifetime and put a smile on the recipient's face. With a variation of styles, colours and designs with every price range in mind, we're certain we have the perfect pocket watch for the traditional gent to the modern-day man.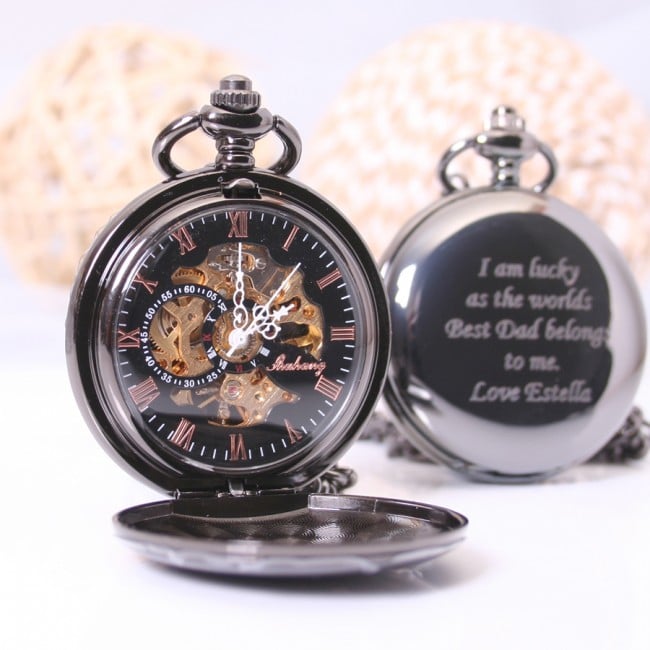 Black Engraved Pocket Watch Single Opening – £54.99
This black personalised pocket watch is a real stunning timepiece featuring a skeleton dial. Upon releasing the front opening lid, a black dial is revealed with copper coloured numerals, giving it a fantastic modern feel. This engraved watch also features a cutaway dial revealing the inner brass mechanisms at work and would make for an interesting addition to any watch collection. Take this gift to the next level, by engraving your own personal message on the outer lid face.
Personalised Bronze Pocket Watch – From £39.99
If your budget is time but you're still looking for that fantastic keepsake gift that'll mean so much, then our bronze pocket watch range offers a large collection of uniquely different watches. It's a good place to start by shopping for a gift related to the recipient's interests. Perhaps you know an avid motorcyclist or a train buff? What a better gift than an engraved pocket watch with 3D relief design, with everything from trains to motorcycles, horses or even just beautiful intricate designs.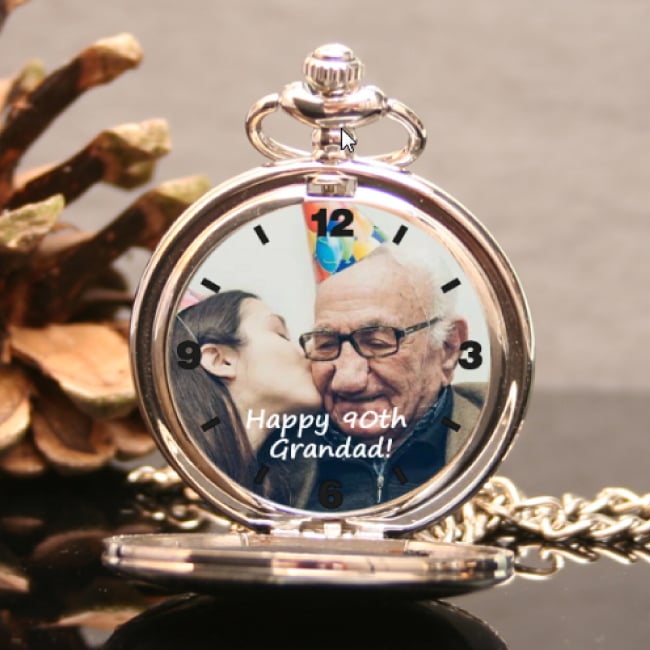 Prices for these start from just £39.99 and that includes personalisation too! So, personalise your gift with special words to engraved straight onto the back of the watch.
Personalised Photo Pocket Watch – £59.99
Traditional in style with a choice of silver plated, gold plated or rose gold plated metal to choose from, this is a totally unique and truly one of a kind gift. Create your very own dial face with your own photos, text and graphics using our easy-to-use 'customise it!' feature, enabling you to play about with colours, fonts and layout. This is the perfect gift for that special gent in your life who's celebrating a special birthday, for an important anniversary or even if their wedding day. It can then be engraved with the message of your choice to mark that special occasion in style.
Personalised Family Crest Pocket Watch – £59.99
Recently graduated? Fulfilled a big achievement? Or just extremely proud of their family name – this pocket watch is engraved with the recipient's coat of arms alongside your requested name and message, and even includes space for up to 4 lines of text on the back too. This classic design pocket watch will make for a perfect keepsake item or family heirloom that can be passed down for generations to come.
These are just some of our favourite Engraved Watches that really stand out from the crowd, but don't take our word for it, why not go and check out the full range and find something perfect for that special man. Don't forget we have an extensive range of engraved wrist watches too for the more modern and fashion conscious male!