Personalised Valentine's Day Gift Ideas For Him and Her
What Valentine's Day gift do I get him?
What present should I get her for Valentine's Day?
People ask themselves these simple, yet significant recurring questions in the lead up to the majority of gift giving occasions throughout the year; whether it be for birthday gifts, anniversary presents, Valentine's Day gifts or just random thoughtful gifts to show how much you care and appreciate the people in your life during the year. Hopefully, it's not just me who has these dilemmas, anyway…!
If you, like me, find it difficult to think of the perfect gift to give your friends, family, colleagues throughout the year then consider gifting something personalised – something like personalised champagne or personalised champagne flutes. It shows you have put some thought and time into what you're giving and then message that you could add to a customised present can really show what you think of the gift recipient. You might give a pint glass to your partner, husband or boyfriend who loves drinking – yes, this is a fab idea, as you have thought a bit about what they enjoy doing and the present you have selected relates to that. However, anyone can go to a shop, pick up a glass and wrap it up; it really doesn't take that much time or effort. Instead, why not go for a personalised pint glass? This shows you have considered what your husband, boyfriend or partner likes doing, namely, drinking! But, adding a custom message, such as the following, shows you have put a little more thought, time and perhaps even a few extra funds into the gift:
Liam, Happy Valentine's Day! You are my love, my heart and my joy. Enjoy this gift for drinking the first love in your life!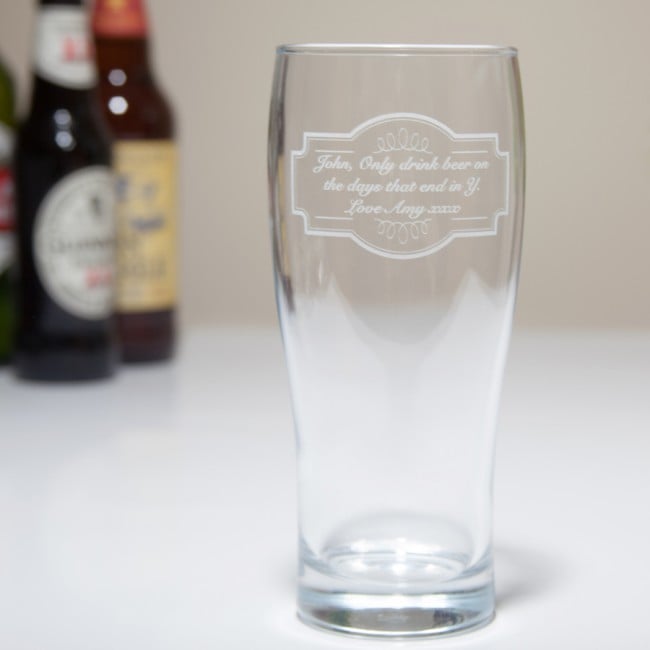 Obviously, a personalised pint glass isn't going to cut it for all boyfriends, husbands or partners. So for those who prefer a bit more sparkle in their beverage, such as ideas for wife, girlfriend or other partners, you may wish to treat her to a bottle of luxury personalised champagne with a customised Valentine's Day label with your words on, or how about going a bit upmarket and choosing personalised champagne with an embossed pewter label and your special message added on to it? If you are on a slightly tighter budget then some gorgeous personalised champagne flutes might be better suited – particularly if she already has some bubbly to enjoy from the highly regarded champagne region in France!
A personalised pint glass and engraved champagne glasses aren't necessarily going to break the bank so, as you can see, the personalised Valentine's Day gifts don't have to be extremely expensive. Glassware is an excellent idea because it can be used over and over again, especially if you have selected a glass which holds a drink that they love. Each time the gift recipient uses it, they will think of you, the occasion and the effort and thought you put in to their special gift.
So, don't get stuck thinking about what do I get him? and what do I get her? for any further upcoming occasions – personalised glassware is a fabulous and fairly inexpensive idea that is suited to both him and her. Choose from wine glasses, champagne flutes, vodka and whisky tumblers, shot glasses, pint glasses and lots more! The actually thing that's going to take the most time now though is what customisation to add to your Valentine's glassware gift! A little tip to help you out with that – keep the message short, simple, occasion related and from the heart.