Does anyone else ever have the panic of what to buy for the bride and groom as wedding presents? Whatever your involvement in the wedding, whether you're the mother of the bride, the bridesmaid, the guest or even the bride or groom yourself– you are not alone as it is often a struggle to think of special and unique gifts that no one else would have thought of.
Now, whilst it's not expected of you to buy wedding gifts for the newlyweds, it is a nice gesture as a way of expressing your support and best wishes to the couple and their future together. And similarly if you are the bride or groom yourselves, it is a wonderful idea to surprise your betrothed with a keepsake gift.
This ultimate guide to personalised wedding gifts for the bride and groom is sure to give you some much needed inspiration!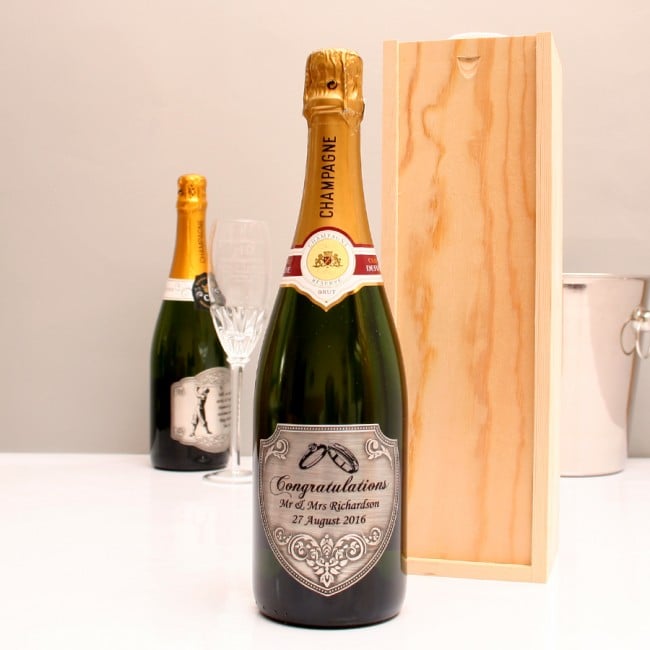 1. Personalised Champagne
A bottle of fizz has long been the traditional celebratory drink and is always a classic choice when it comes to wedding gifting. But nothing says thoughtful more than a bottle of Personalised Champagne, which you can engrave with a personal message for that extra special touch. To make your bottle even more luxurious, why not go for a Pewter Labelled Champagne? There are several styles of pewter label to choose from 'With Love' to 'Congratulations' – so you definitely won't be stuck for choice. Champers always makes a great impression and memorable gift which can keep on giving. One of our recent ideas for making this type of gift give for longer, is to buy a box frame alongside the bottle of champagne so once it has been enjoyed, the newlyweds can frame and keep their first cork popped as a married couple!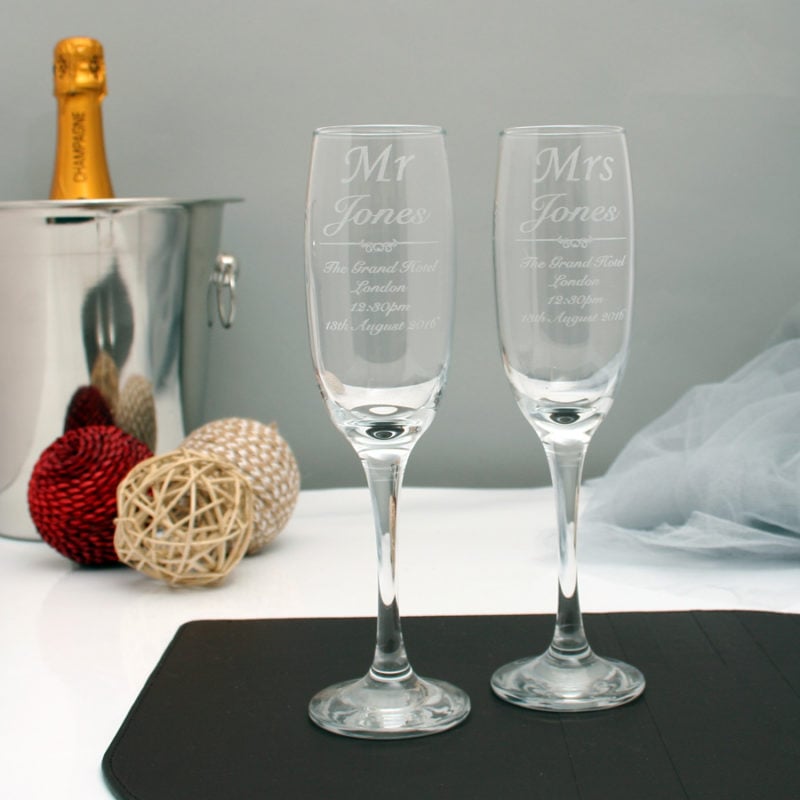 2. Personalised Champagne Flutes
This gift is another great addition to a bottle of Personalised Champagne as the two go hand in hand. Champagne flutes also make fantastic keepsake wedding presents as its likely the couple will use them for many more celebratory events in their years to come. For a more bespoke touch, have a special message engraved – perhaps some well wishes, helpful advice or a simple congratulations. They'll never forget that Auntie Sue gifted them those fantastic flutes and they'll be sure to think of you every time they pop open a bottle of champers.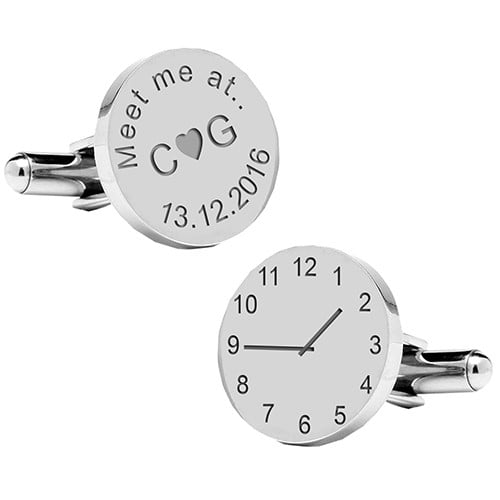 3. Personalised Cufflinks
If you're the bride to be and you're looking for personalised wedding gifts for your husband to be, then personalised cufflinks would be a perfect idea! A little token of thoughtfulness on your wedding morning will not go a miss and you can't go far wrong something traditional and stylish such as a pair of cufflinks. Have them engraved with 'Meet me at' followed by the time and date of your ceremony and even with both of your initials. Then he'll have no excuse to turn up late or ever forget your wedding anniversary!
4. Engraved Trinket Box
And equally if you're the groom looking for a personalised wedding gift for your wife to be, why not consider giving her an engraved trinket box on the morning of your wedding. Engraved with her name (or even pet name), personal message or just 'Open me' – You can write her a note that she can read pre-ceremony (and pre-makeup!) and conceal it inside her own intricate trinket box. Again as a gift that keeps on giving, she can use it in years to come to store her favourite jewellery or wedding rings on her bedside table or even just to keep your little letter in from the morning of your wedding.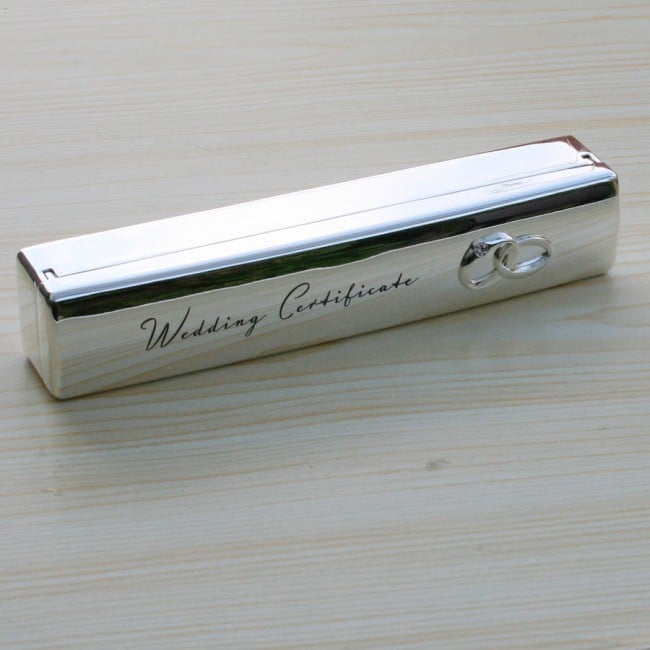 5. Personalised Certificate Holders
A unique gift perfect to mark the momentous occasion is a personalised certificate holder engraved with the couple's name and wedding date. Not only will it serve the purpose of protecting their wedding certificate and keeping it safe, but it will also look equally as fantastic on display such as on a shelf or the mantelpiece.
6. Personalised Photo Frames
Yes they may already own many photo frames and yes, other guests may also buy the couple photo frames as wedding gifts, but will they be personalised with their names or a special message? I doubt it. Though photo frames seem to be quite common gifts to give to newlyweds, a personalised touch always goes a long way and by gifting them a frame with their own names or wedding date on, it instantly becomes a stand out present. Perfect for capturing their wedding day or even honeymoon moments.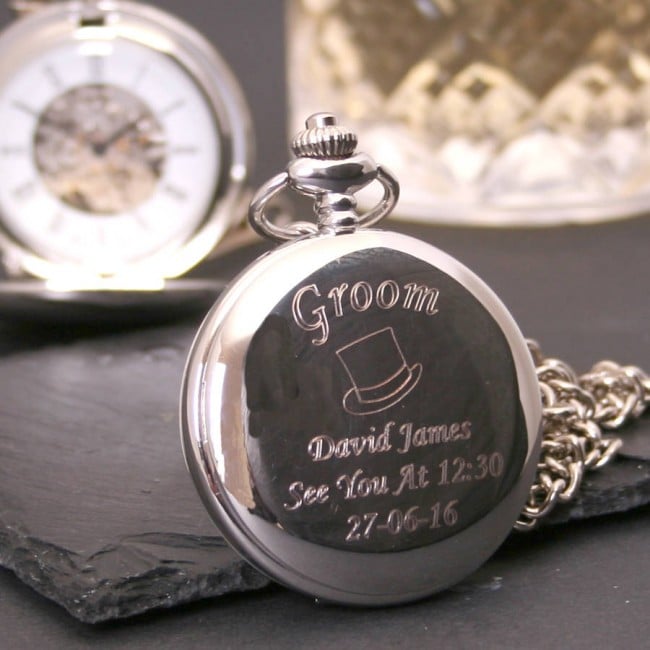 7. Engraved Pocket Watches
Another gift idea for the brides to their grooms is engraved pocket watch. Not only do these make fantastic gifts for the groom, but they make ideal thank you gifts to the best man, father of the bride or father of the groom. These are classic timepieces that can be treasured for years to come after your wedding and look great engraved with a thoughtful message to thank those who were played a part of your big day.
8. Personalised Mr & Mrs Spoons
Possibly the sweetest keepsake gift for the bride and groom is a personalised set of spoons. With Mr and Mrs engraved into the centre of the spoon's head and personalised on the handles with their last name, this is a lovely little gift idea that is both unusual and useful.
There you have it – 8 unique personalised wedding gift ideas perfect for giving to the bride and groom. These gifts will be sure to put a smile of their faces on their big day!
Save