It can be argued that the Christmas table is the most important tablescape of the year, this is why we all like to plan ahead on what the table will look like. 
The centrepiece of any Christmas table should have the 'wow factor' and capture the attention of relatives and friends when they arrive for Christmas dinner. 
You want to ensure your table makes a lasting impression and for your guests to really remember how beautiful your design efforts were. This is why here at GiftsOnline4U we have created our top tips on creating statement creations for the Christmas table.
If you're hosting Christmas this year, read on for our top tips to really make your Christmas table stand out and entertain the kids at the same time!
Add a Table Runner
To really highlight the beauty of your centrepiece add a table runner to your Christmas table. A table runner adds colour, texture, and interest to your Christmas table and is the foundation for your table decor. A white table runner is a classic, but red and green are traditional Christmas colours and they add a layer of colour and dimension to your table. 
You don't always have to have a tablecloth on your Christmas table, sometimes it looks just as beautiful to leave a textured wood table bare and simply use a table runner in the centre.
Add candles
Add candles to the centre of the table as they denote elegance and style and will add a cozy and comfortable touch to your Christmas table. Candles and their flickering glow are the perfect way to add impact and atmosphere to your Christmas table, especially if you're on a budget as they are usually cheap to buy. 
Add group pillar candles of different heights to really add drama to the table.
Add flowers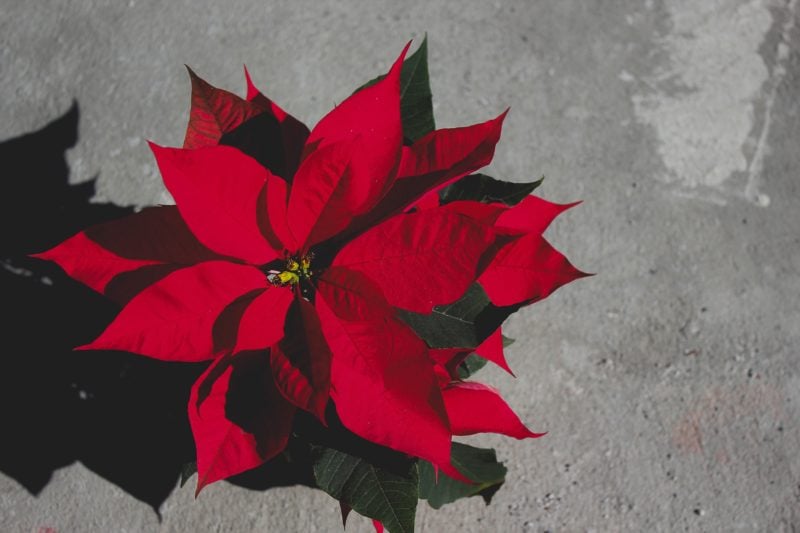 For an elegant winter centrepiece that really captures the beauty of nature, add Christmas flowers to the centre of your table. Christmas flowers are a wonderful addition to your decorations and bring fresh and natural Christmas wintry beauty to your home.
Some examples of typical Christmas flowers are:
Amaryllis

which is an extremely popular Christmas flower as they bloom with festive bright red flowers.

Poinsettia

which is an iconic Christmas plant. Red varieties are the most popular, especially at Christmas time, but they come in other colours such as white and pink.

Azaleas

are perfect for brightening up your home, red and white are the most popular colours during Christmas.
Red roses aren't just for Valentine's day, they can also be used as stunning centrepieces. Their vivid red colour perfectly matches the traditional colours of Christmas time.
Add a small, real Christmas tree
Christmas trees don't have to just be for the living room, they can also be a beautiful addition to any Christmas table. You can make a real statement by adding a small real Christmas tree to the centre of the table. 
You don't even need to buy another smaller Christmas tree for this, all you need to do is simply take cuttings of branches from your main tree and then place in a tea light votive. 
Add a further touch of Christmas magic by adding mini baubles to the small Christmas tree.
Use garland
Garlands of fresh flowers and foliage have long been used to decorate mantels, doorways and railings at Christmas time. Garlands were previously pretty basic holiday decor, but now they are now considerably more versatile and can also be used as a beautiful centrepiece to capture any guests attention. 
You can wind the garland along the tabletop, but make sure to place a runner underneath to ground the decoration and keep scratches off your table. 
If you want to add more colour and texture to your centrepiece, find garland that has multicolored bows, berries or pine cones.
Place a gingerbread house in the centre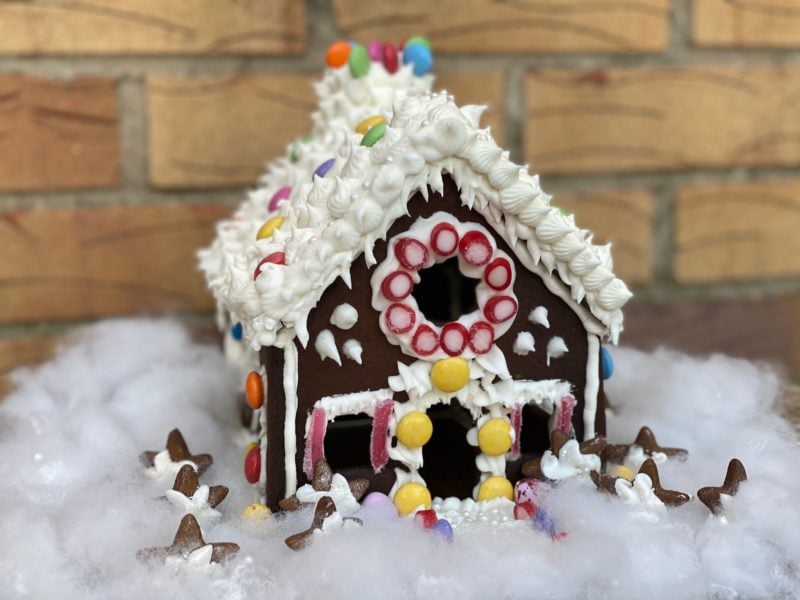 The addition of a gingerbread house in the centre of the Christmas table, is a great way to add that homemade rustic touch to the Christmas table and is definitely a conversation starter. The tradition of decorating gingerbread houses began in Germany in the early 1800s, popularised by the fairytale of Hansel and Gretel. 
Plus making gingerbread houses together as a family is fun and creative, and the perfect way to create lasting memories. Constructing a gingerbread house together allows for conversation and creates deep bonds with your children, which enables you as parents to learn more about your children as individuals.
Whichever sweets you decide to add to the gingerbread house, you're guaranteed to have lots of fun building these sugary creations.
Just look at those cheeky, smiling faces, we promise your kids would love this activity!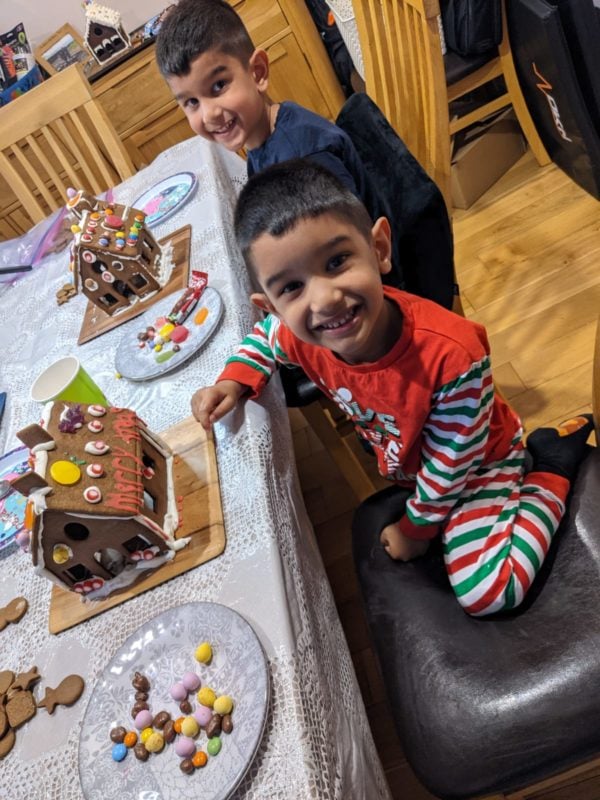 If you'd like to try making the gingerbread house yourself and create some magical Christmas memories for both you and your children, then make sure to check out our simple recipe below:
Include fruit
There are a range of fruits that can be added to the centre piece to brighten up even the simplest of table settings. Berries, pomegranates, clementines and physalis will add impact to a plain table runner and neutral table linens.
Fruits and berries make a superb addition to any other rustic Christmas decorating ideas you may have. You can even add Cinnamon sticks to the fruit as the scent is spicy and sweet and is closely associated with Christmas.
Add a food centrepiece
Food centrepiece ideas are beautiful and creative and make any dining room feel inviting and ready for celebration. Your centrepieces don't always have to include candles and decorations, edible centrepieces can be just as beautiful and won't break the bank. Plus they will add a stylish, eco-friendly touch to table decorations to create perfect holiday tables. 
To make sure that everyone is satisfied and to include all tastes, we recommend the addition of cheese such as Camembert, figs, fruit, olives, pretzels, artisan bread and bread sticks. But it's really up to you, let your imagination run wild. 
If there's going to be lots of children around the table, it could be a good idea to add more kid-friendly snacks, such as cookies in the shape of snowmen or christmas trees, gingerbread men and cupcakes designed as baubles.
We hope that we have made your table centrepiece decisions slightly easier this year and to enable you to host an unforgettable and magical Christmas with your loved ones.
Make sure to check out our other blog posts for information on all things gift related. We also cover a range of other topics, so make sure to have a browse!