Summer is starting, the Sun is shining, and everyone is out doing the gardening. It is certainly the weather for a BBQ, and now we can meet with friends and family, there is no better time than the present to strike it up and start smelling them in the air.
For a lot of us, it will be the first get-together with our families and friends for a long time, so we are sure to be out of practice. Here at GO4U, we have put together a comprehensive guide consisting of 10 things to help you prepare and avoid any mis(steaks)!
1. Food – Arguably the most important aspect of the BBQ. Without good food, the party will be remembered for all the wrong reasons. Having tender cuts of meat, thick, juicy burgers, and enough salad to feed everyone is only the beginning… You also need bold, tasty recipes to impress your friends and family and leave them wanting more and more. 
2. Hat – Who is really in charge of the BBQ? Everyone has an opinion and when it comes to the food – what to cook, how long to cook it for, everyone thinks they are the chef. You need something to show who is boss and it needs to be visible above everything else. The perfect thing is a personalised chef's hat. With your name or a message printed on it, there is no doubt who is the top (hot) dog.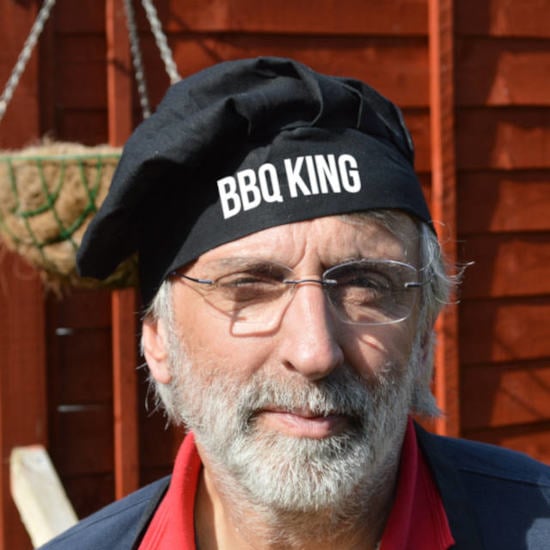 3. Apron – The hat might show everyone who is in charge, but the look isn't complete until you have an apron to go with it. Not only does it protect your clothes from any unwanted spills, but it also shows authority. You'll be sure to stand out from the crowd and nothing stands out more than a green apron with a football pitch design. It is both cool and practical. With holders for the necessary tools, this apron folds into a carry case and is an extremely useful accessory.
Explore Our Range of Gifts for Dad
4. Signage – It's busy and there are people everywhere. Nobody knows where to go and no one is following the rules, but how can they when there isn't a sign displaying them? Don't worry, we have you covered with our brilliant outdoor signs. We have one for everything, including sheds, man caves, and most importantly for us here – the BBQ rules. With one of these proudly on display, everyone will know where to go and what boundaries there are. Remember – My BBQ, my rules!
5. Tools – How many sausages have been dropped while on the BBQ, either through the grill or on the floor? This number is sure to be in the hundreds and it could be down to using the wrong tools for the job. Thankfully, we can help you there! We have the perfect thing to keep everything going smoothly. With our carry case that doubles up as an apron, never turn up unprepared. Available in a football pitch design and plain black, these stylish products are useful and, when personalised, unique. Our coolest is the football design, featuring: set of tongs, spatula, and fork, all with a football-shaped end. Not to forget a cool glove to protect from burns. There hasn't been a better time to celebrate a summer of the Euros.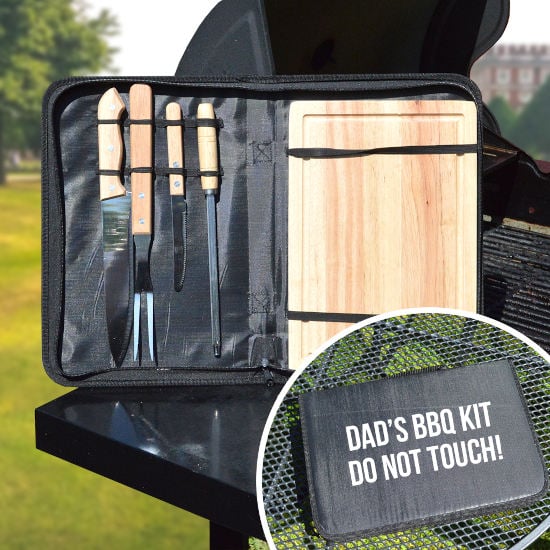 6. Drinks – Eating some beautifully cooked steaks and burgers is great, but food is nothing without a drink to go with it. Whether a whisky, gin, vodka or wine drinker, we have something for everyone. If there is a reason to celebrate then you might want something fancier, such as a bottle of personalised Dom Perignon champagne. An engraved bottle of Moet or Bollinger is a wonderful way to mark a special occasion, like the first family gathering of the year or a landmark birthday. After the busy party has ended, kick back in the summer evening with a glass of Johnnie Walker, fresh from a personalised bottle to give it that extra special feel.
Explore Our Range of Father's Day Gifts
7. Drinking glasses – While enjoying a cold refreshing beer, why not go the extra mile and drink them from a personalised glass, which is unique and special to you? With many different shapes and sizes, from standard pint glasses to tankards made of metal or glass, we have a suitable drinking vessel for everyone! For the football mad loved ones out there, check out our personalised football range, which also include Peroni-style pint glasses. We also have a huge range of whisky tumblers, gin and wine glasses, and champagne flutes, so everyone can drink in style.
8. Chopping board – Presentation can sometimes be as important as the quality of the cooking. Psychologically, we are less likely to feel excited about eating something that looks a mess, compared to something else that is presented well. We can help with that, with our great range of chopping boards. Featuring different designs and customisation options, there is sure to be one perfect for any gathering. Whether preparing the food to be cooked, or just as a board to place the beautifully cooked, tender pieces of steak afterwards, this is an important part of the BBQ set up.
9. Games – Eating, drinking, and socialising are important when hosting or attending a BBQ, but sometimes there needs to be some entertainment. Whether it is a classic card game, a kick about, or something much more cool and unusual, like opening a champagne bottle using a sabre. However the time is spent, the most important thing is that memories will be made and looked back on in years to come.
Explore Our Range of Gifts for Dad
10. Saving the best until last – the most important part of a BBQ is… friends and family! You can't have a party without them and after a year, it's about time to get together and create some special memories. It doesn't matter what food or drinks you have, what glassware you have to drink from, or what games you have to play, without family or friends to share them with.