In August 2006, the Vulcan XH558 came out of the restoration hangar for the first time in 7 long years. There was still much to do, but what a day it was – a new chapter of the aircraft's return to flight project.
Operated by the Royal Air Force during the Cold War, the Avro Vulcan is an iconic example of British aerospace engineering at its very finest. The XH558 was built in 1960 and entered service with the RAF in the role of carrying Britain's nuclear deterrent to the heart of the Soviet Union but despite being built as nuclear bombers, the Vulcans' most famous mission was in 1982 when they bombed the runway at Port Stanley during the Falklands War. This raid has gone down in military history due to the complex multiple refuelling operation needed over such long distances.
Each plane had to fly 3,900 miles from Ascension Island in the South Atlantic Ocean to Stanley in the Falklands, meaning the planes had to undergo air-to-air refuelling, using about 1.1 million gallons of fuel per trip.
Sadly, the Vulcan XH558 was last to fly as an RAF aircraft in 1992 but was brought back into service temporarily in 2008. She flew once again thanks to the generosity of her supporters who gave their time and money to supplement the Vulcan to the Sky Trust; a British charity established to maintain and operate Avro Vulcan XH558. Without this support, she would not have flown again.
Here at GiftsOnline4U, we are particularly passionate about contributing to the future of aviation. With one of our own team members being ex-RAF, we believe it's important to support aviation advancement, helping to preserve aviation history for the future generations to come. As a company, we donate 20% of all net proceedings from sales of our Vulcan To The Sky Gifts range to the Vulcan To The Sky Trust and 25% of proceedings from our RAF Personalised Gifts to the RAF Benevolent Fund. We've created a range of personalised RAF gifts – Perfect for any aviation enthusiast and plane lovers alike, from Personalised Alcohol gifts to Personalised Whisky Glasses.
A Personalised Hip Flask with An RAF Lancaster – £24.99
The Vulcan To The Sky Trust is dedicated to deliver its goals of inspiring innovation and educating in the context of Cold War history and British engineering excellence. They already have a fantastic education programme, working with schools, colleges and other organisations to inspire and educate new generations of young people about the technical skills involved in British design and technology, as well as honouring the history and heritage of the past in British aviation. Not only this but the trust encourages generations to look forward and to inspire the future with emphasis on science, engineering, design, technology and innovation.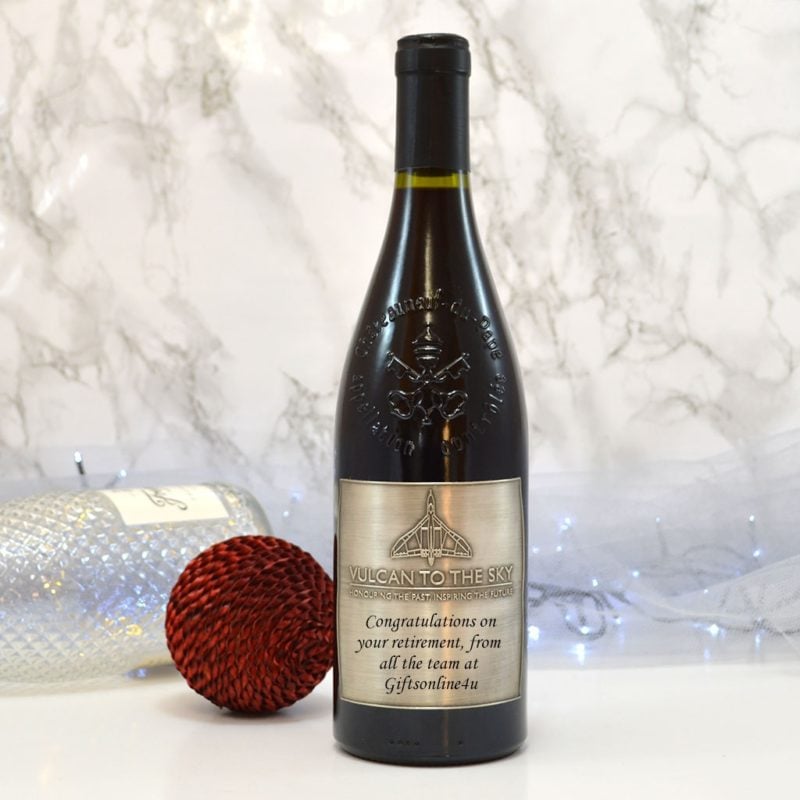 Personalised Chateauneuf Du Pape Wine With XH558 Vulcan label – £54.99
Thanks to a combination of public donations and lottery funding, the Avro Vulcan XH558 was restored to airworthy condition by the Vulcan of the Sky Trust, who successfully returned it to flight. The donations required to reach that point totalled £6.5m. Now the Trust is expanding its horizons with inspirational work to demonstrate engineering excellence in early generation jet-engine aircraft with the planned restoration of Canberra WK163. We at GiftsOnline4U have continued to expand our aviation gifts with a range of personalised gifts dedicated to the Canberra WK163, Spitfire and the Lancaster Bomber.
Spitfire Personalised Pocket Watch – £34.99
Some of our popular gift choices from this range include our Personalised Whisky Glasses that come with an engraved Vulcan motif, completed with your own personalised message on the front. Another popular option is our Personalised Alcohol gifts which include bottles of wine, champagne and whisky, engraved with the Vulcan motif with space for your special wishes underneath. We even have some fantastic pewter labelled alcohol with beautifully embossed Vulcan motif within the plaque.
Vulcan Personalised Whisky Glass – £14.99
So, if you know someone who is part of or ex Royal Air Force, an Avro Vulcan enthusiast, or a supporter of British aviation, then consider Personalised RAF Gifts for that special occasion or just as a keepsake gift. By shopping this range, not only will you discover exclusive gifts, but you'll be supporting these amazing charities too!