Christmas gifts for him can always prove quite tricky. We can all relate to the increasing panic in the run up to the big day, and with only 46 days left to go, you need Christmas gift ideas, fast! But fear not, we've got you covered with the best of our personalised Christmas gifts for him that will suit all budgets.
Whether you're shopping for your husband, boyfriend, dad, best friend, colleague, or a distant relative you've picked from the family Secret Santa, we've got all bases covered which means no more wasted gadgets or presents that never make it out of the box. When we ask the males in our lives what they would like for Christmas, we tend to receive a half-hearted 'nothing'. So where does that leave you? A gift voucher is so unimaginative and those generic shower gel sets are just awful. Consider something unique and special like our Personalised Watches
Take a look at our expertly chosen gift guide below to find the perfect special something that he'd never buy himself but will absolutely love!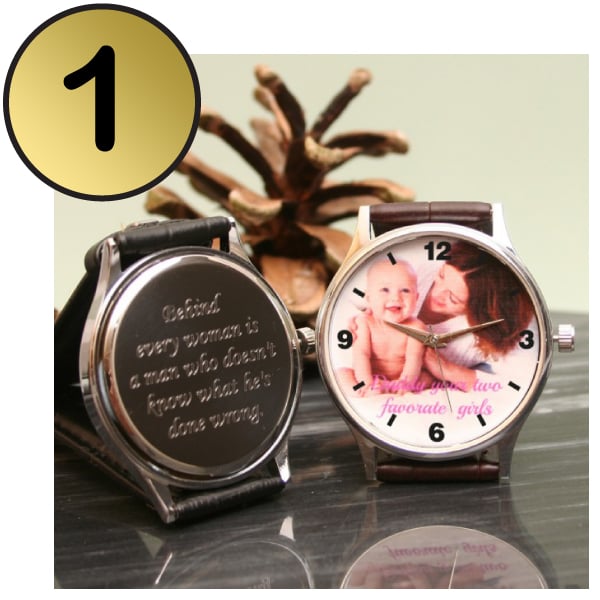 1. Personalised Photo Watch – £59.99
Perfect for dad, grandad, husbands or boyfriends; our Personalised Photo Watch is the GiftsOnline4U teams no.1 gift pick of the year! Add your sentimental image, funny memory or precious photo onto the dial of this wrist watch and personalise to your hearts content with text and icons too. Complete with your engraved message for the back, and you've created your very own personalised gift for your loved one! Your kind and loving words are what takes a gift from ordinary watch to a timeless keepsake that'll hold memories for years to come.
We have hundreds of different Personalised Watches to offer so don't just take our word for it.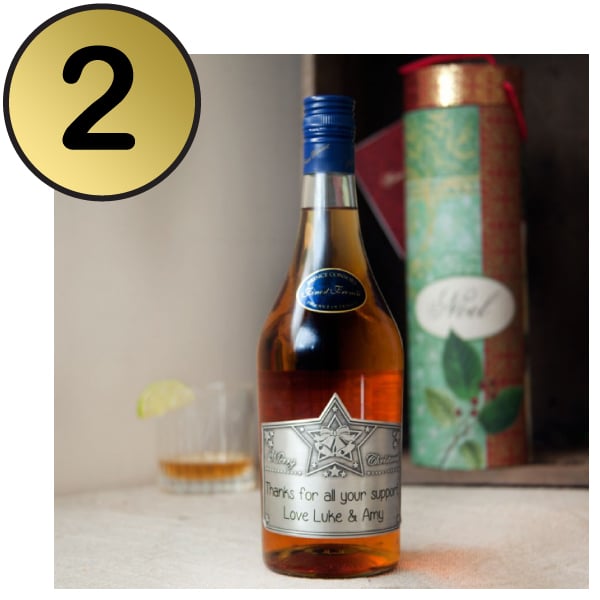 2. Personalised Christmas Brandy – £46.99
Whether it's presents for friends and family, thank-yous for clients or deserving colleagues, you can find a huge range of personalised alcohol from brandy, and whisky, to champagne and plenty of wine offerings too. This Personalised Christmas Brandy with Personalised Pewter Label is the ultimate luxury Christmas gift for those who are fans of a festive tipple.
3. Personalised Football Pint Glass – From £19.99
If he's a devoted footie fan and avidly supports his favourite team, he is bound to appreciate a personalised football pint glass engraved with his name – Perfect for those big Boxing Day match beers!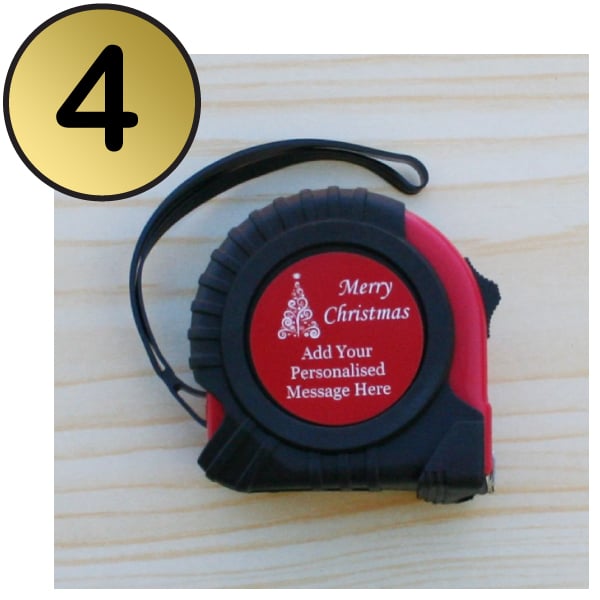 4. Merry Christmas Personalised Tape Measure – £15.99
The handy man in your life can never have too many tools. And we're almost certain he doesn't have any personalised tools! Perfect as a stocking filler gift or as a secret Santa gift for the DIY buff who has everything. Personalise with a funny message or personal quote for the perfect 'little something' to put a smile on his face this Christmas.
5. Personalised Homebrew Kit – £49.99
Let's face it… most men are just big kids! Ever caught the excitement on their faces as they help the kids put together their experiment kit? They LOVE a project! So, why not gift him a little experiment project of his own? This Personalised Homebrew Kit is the ideal gift for those beer loving grown-ups, whether that be dads, husbands, brothers or grandads.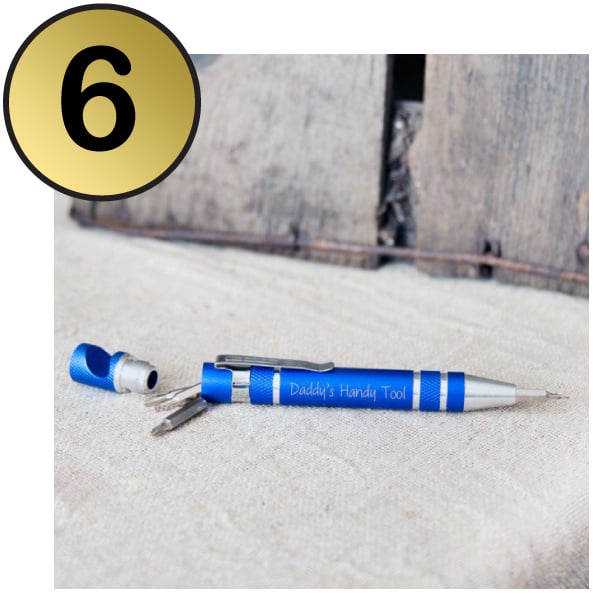 6. Personalised Multi Tool Screwdriver – £16.99
Another little gadget – great for stocking fillers for him (also perfect for all the presents they'll be putting together Christmas morning!) This little tool comes with 6 screwdriver attachments as well as a handy bottle opener on the other end too. Engrave with up to two lines of text to make this gift extra special.
7. Personalised Miniature Gift Sets – From £24.99
Does he enjoy a tipple on special occasions? Perhaps he has a favourite brand of alcohol too, but you want to treat him to something a bit more extraordinary? Our Personalised Miniature Gift Sets are the perfect way to give branded gifts on a budget. With sets starting at £24.99, you can give a special keepsake set including engraved glass and a miniature bottle of spirit or bottle of fizz. What better way to add a little bit of sparkle to their festivities!
8. Engraved Wine Holder and Puzzle 'The Grape Escape' – £34.99
If you are looking for a present for that hard to buy for guy, you may have found just the thing. This cunning personalised puzzle will fox the wine drinker in your life. This fantastically fun wine holder and engraved puzzle has a combination type lock that must be solved before the top can be removed and the wine poured. Now that could be an interesting one to solve around the dinner table!
9. Black Personalised Wallet in a Gift Box – £24.99
Guys love a practical gift. And as wallets tend to be such popular gifts, all you need to do is to choose unique one! We're sure nothing is quite as unique as a personalised wallet with his name or initials printed on the front. Fit up to 2 lines of text on your wallet to make their gift that extra bit special.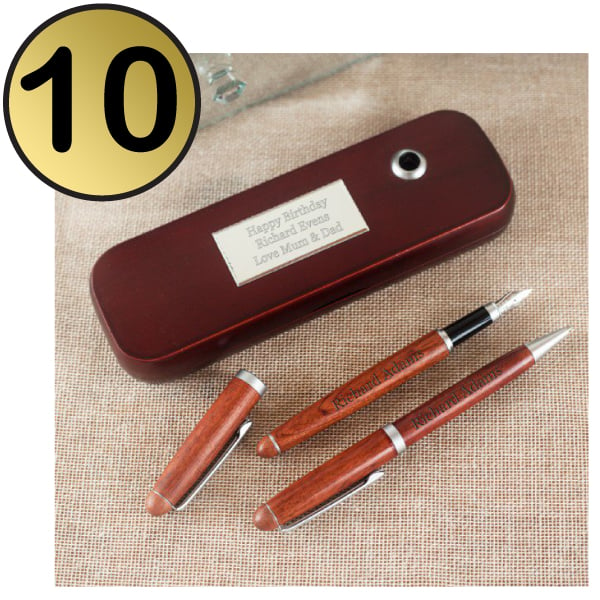 10. Engraved Wooden Pens Set with Presentation Box – £36.99
The perfect gift for the friend, colleague, student or crossword loving relative in your life who is always jotting away. This engraved pen set comes with personalised wooden fountain pen and ballpoint pen, neatly enclosed in a personalised rosewood presentation box. Why not team it with a fun notebook for a gift that shows just how well you know them?
So, there you have it. We've hand-picked the best gifts for him available to buy at GiftsOnline4U this Christmas (don't worry, we'll also be curating a list of the best 'Personalised Christmas Gifts for Her' too, so you're well and truly covered this festive season).