A bottle of port is always a welcome gift. Portwine is always a classy gift option for someone who enjoys the finer things in life and makes a superb present for many milestone occasions such as birthdays, anniversaries and even for retirement. If you're looking for a traditional gift to give to any wine collector or port enthusiast then look no further than our Personalised Port gifts – with each bottle totally unique from the next. By personalising a bottle with your well wishes, you can be sure that the recipient will remember who gave it to them and will serve as a little reminder of that special occasion once they come to savour it.
Port wine typically known at Port or Porto is a Portuguese fortified wine produced exclusively in the Douro Valley in northern Portugal. It is typically a sweet, red wine, often served after meals as a dessert wine to accompany cheese, nuts or chocolate. Port has long been a popular tipple of choice in the UK, with its popularity dating back to as early as the 1700's. Many traditions have formed around port, such as 'Passing the decanter' which involves passing the port to the left travelling around the table from guest to guest in a clockwise direction. It is often thought this originated from the Royal Navy, where the rule was 'Port to Port' meaning that the decanter (most likely a ship's decanter) should be passed to the left. The custom is followed today to quite simply keep the decanter moving in the same direction, meaning every guest can enjoy the wine and no-one is left out!
There are many occasions for which port makes such a fantastic gift – so if you're looking for wine gifts that screams 'special occasion in a bottle' then Port Gifts is a great place to start. Keep reading for the 3 Best Occasions for giving port!
For the Ruby Wedding Anniversary
Celebrating 40 years of marriage? 40 years is really something to shout out! And what better way to commemorate this milestone celebration than with a personalised bottle of Ruby Port? Not only does it tie in with the Ruby Anniversary tradition, but it makes a stunning gift that is best for immediate enjoyment.
Perhaps, you're buying for a couple, in which case our Port Gift Sets are the ultimate gift for two! Choose the LBV Port Gift Set that comes with a 75cl bottle of LBV port along with two beautiful crystal port glasses – all presented in a satin lined gift box!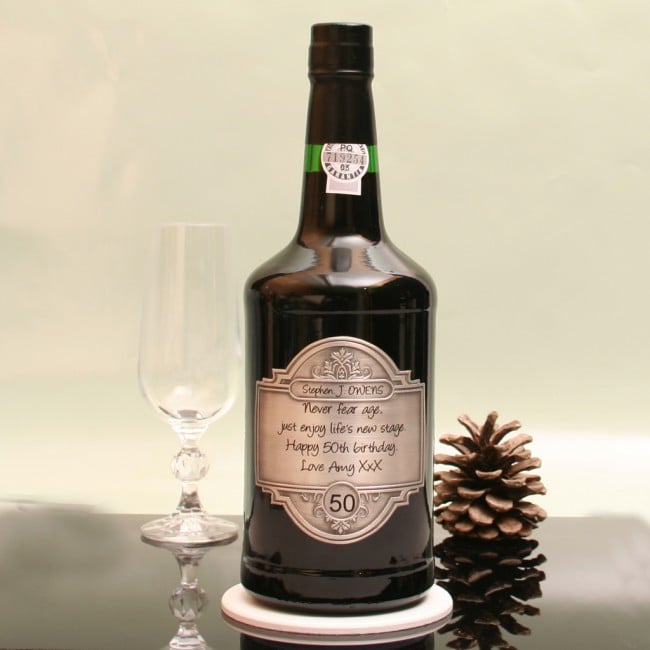 For the Christening/Baptism
Although a controversial gifting option for the arrival of new babies, christenings and baptisms, this is a long-standing tradition that some like to carry on throughout the generations. Popularly given by godparents and grandparents, it is an unusual keepsake gift idea that holds a lot of meaning and purpose.
The beauty of Port is that it ages and can be kept for a long period of time, even if the storage conditions are not ideal, hence the name 'fortified wine' until the child comes of drinking age and way beyond. The best variety to use on this occasion would be a quality vintage port that you know will mature well over time and will be perfect by the time the recipient comes of drinking age.
Want to make that personalised port a gift to remember? Choose a Personalised Wine Box with space to include your special message to the recipient! That way your special port can be stored away for many years to come without losing its special touch and as a reminder of that special day and who gifted it to them!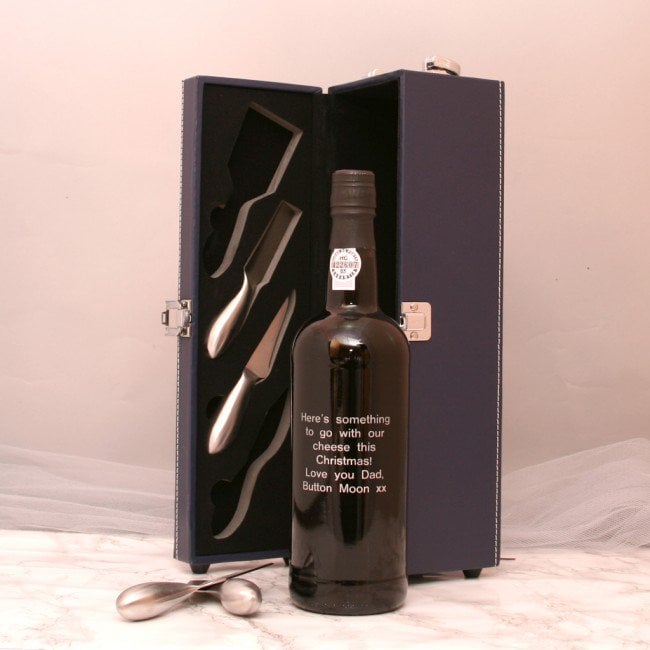 For Christmas
Christmas has got to be the most obvious of all occasions to give port, because nothing quite tops off a good meal (especially Christmas dinner) – better than a warming glass of port! It is a luxurious gift that is best enjoyed with cheese – which has always been a winning combination, with stronger cheeses such as stilton.
If you know a port lover who loves the Christmas tradition of cheese and port, then we've got just the gift! Our Port Gift Set with Engraved Port in Gift Box with Cheese Knives is the ultimate in port gifts; containing a 75cl bottle of ruby port which is engraved on the front of the bottle with your personal message, beautifully presented in a faux leather gift box containing 4 cheese knives. The only thing left to make this gift complete is to add a selection of cheeses!
At GiftsOnline4U, we're all about making our gifts last that little bit longer so once you've finished your personalised wine gifts – don't let your gorgeous personalised bottles go to waste! Put it on display or better yet, turn it into an ornament or decorative feature, for example using it as a candle stick holder as a table centrepiece!