Wedding Favours? Check! ✔️

Gifts for the Parents and In-laws? Check! ✔️
Gifts for the Bridesmaids, Ushers and Groomsmen? Check! ✔️
Gift for your Groom? ❌

Thought you'd got all of your Wedding Gifts sorted?
There's only one more person left to buy for, possibly the most important of them all – your groom. Not only is it the day to promise to love them for better or worse, but it's a day to focus on the forever moments, like walking down the aisle, exchanging vows, your first dance, and to remember that this day is about a lifetime promise you are making to another person.
When it comes to weddings, its often easy to forget that the centre stage doesn't just belong to the bride (although we like to think it does!) You'll be feeling a million dollars in your beautiful wedding dress, your sparkler of an engagement ring, new jewellery and shoes too. Isn't it only fair that your groom gets an extra special treat on your wedding day too? Of course – he gets the gift of marrying you, but asides from that, there are many traditional, modern and unique groom gifts that'll surprise him on your wedding morning. Remind him he is loved and appreciated with a gift from the heart that he won't be expecting and set the tone ready to say, "I do".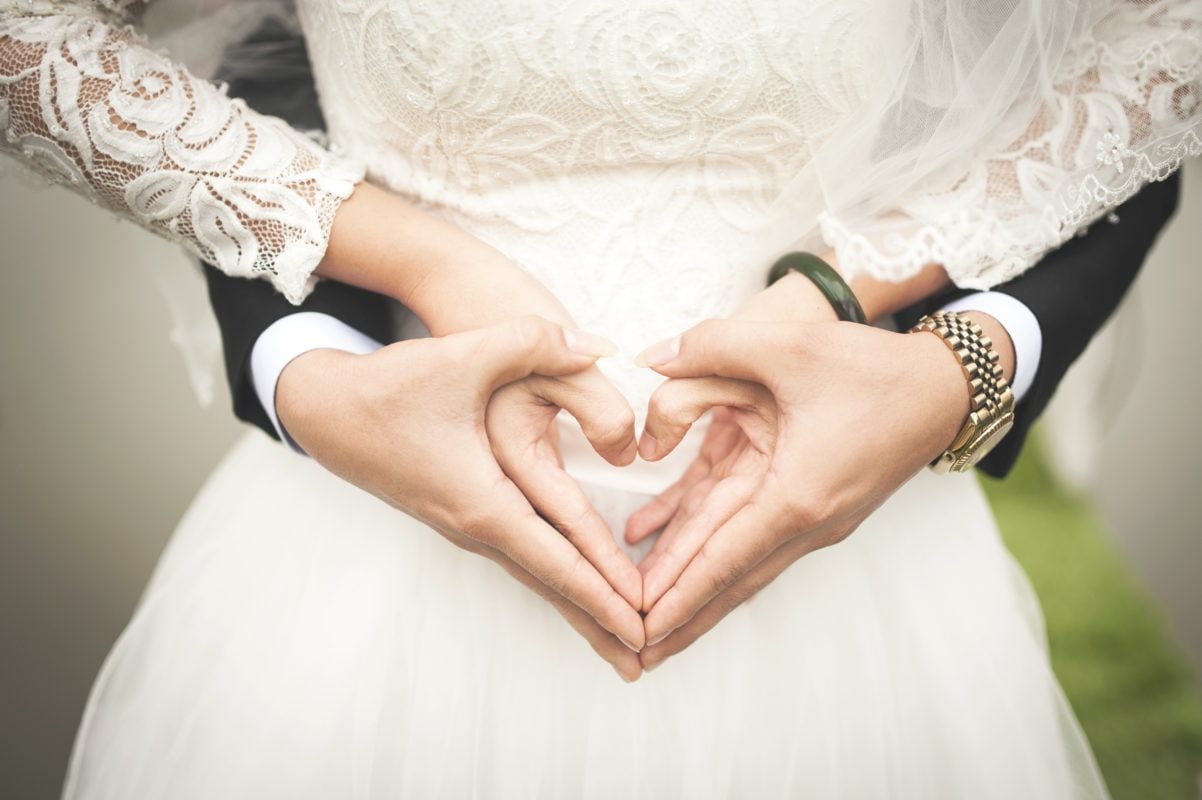 You're probably wondering…Do I have to spend a lot of money? Absolutely not! The most important thing is to put in a little thought and attention to detail in giving the best gift to your groom. To help you pick out the perfect present for your wedding day, we've put together 8 of the best gifts for the groom from the bride to suit all budgets!
A Pocket Watch – Nothing says 'traditional gent' more than a timeless pocket watch. But make sure you pick a timepiece that reflects his style and taste choosing from various designs, colours, finishes and styles to make the gift extra personal. Or go a step further and opt for a bespoke pocket watch inscribed with his initials, your wedding date or choose a specially engraved pocket watch for grooms.
Stylish Cufflinks – When it comes to formal occasions such as weddings, cufflinks are almost a given to be a part of the overall outfit. Treat your groom to a personalised gift he can treasure for years to come. These cufflinks will certainly complete his outfit on the morning of the big day. Personalise with your wedding date and the time to meet you at the alter – Now there's really no excuse to show up late!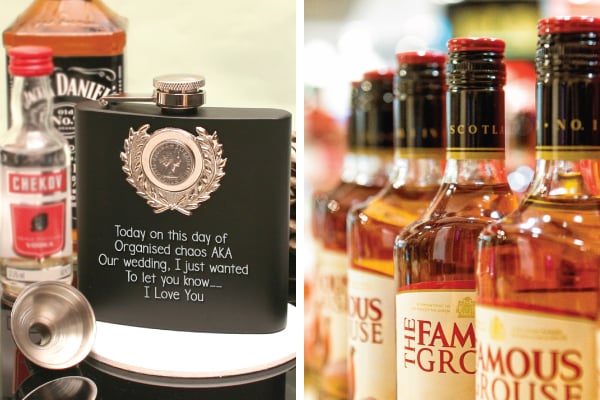 Hipflask – Whilst you enjoy sipping champagne with the girls on your wedding morning, why not send your groom a little something to ease his nerves? Another traditional gift idea for the groom – we particularly love this personalised hipflask. Featuring a sixpence for luck, you can engrave it with your own special message to the groom – and to top it off, fill it with your man's favourite spirit. Just call yourself the best wife-to-be EVER!
A Wrist Watch – Classic timepieces don't have to cost a fortune. Sure – you could spend out on a luxury watch setting you back hundreds or even thousands of pounds, but is it really all that thoughtful? The modern groom is sure to ADORE this personalised watch; one which he is bound to treasure for years to come. Personalise with a sentimental message kept safe for his eyes only. And who knows? It may even become a family heirloom passed down for generations!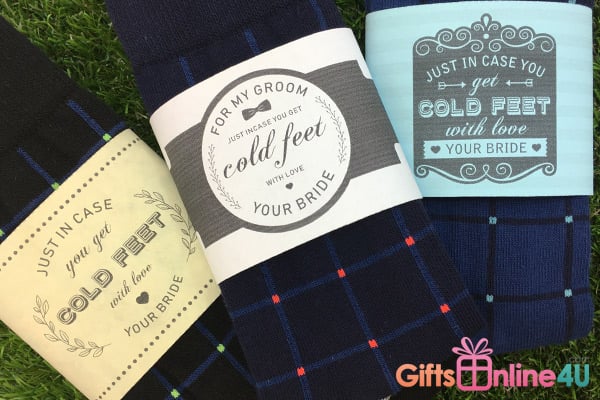 Socks – I hear you…But yes – socks! Not every gift for the groom has to break the bank and in fact it's the little things that often have the most impact. Show your adorable side and create these fantastic DIY sock gifts for your groom on the wedding morning. Help him keep cold feet at bay with our FREE Printable Socks Labels.
>> DOWNLOAD FREE PRINTABLE SOCK LABELS HERE <<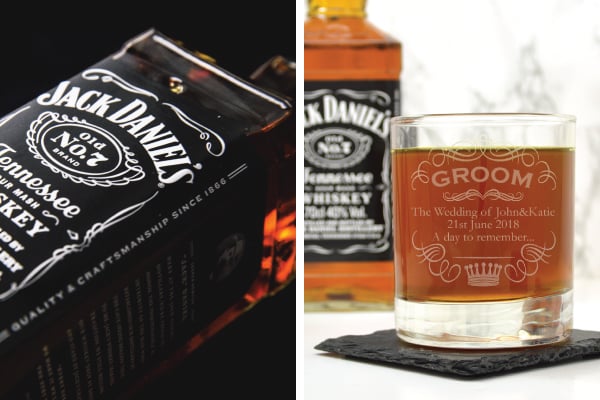 Whisky and Engraved Glasses – Send your groom a stiff drink for Dutch courage to toast the day before him and his groomsmen head out to the ceremony. A whisky gift set including engraved whisky glasses is sure to go down a treat with your man, but don't forget your personalised message – perhaps a gentle reminder to go steady on the drams.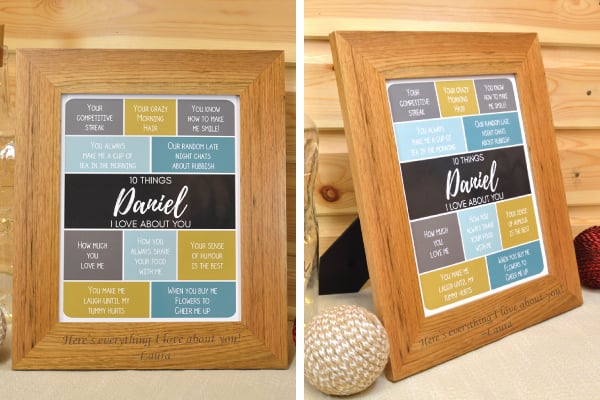 A Thoughtful Framed Print – This '10 Things I Love About You' print can be personalised with 10 quick reminders of things, quotes or inside jokes that mean most to you about your husband-to-be, to create a particularly meaningful present that can be displayed proudly in your home forever more.
Engraved Photo Frame – This sweet photo cube is so much more than just a photo frame. Beautifully engraved with both of your names, there are 4 apertures to fill with your favourite couple photos to date. Then fill the box with any special token gifts you wish to give to your groom on the morning of your wedding. If you're on a budget, fill it with folded handwritten notes of all of your favourite and most precious memories shared with one another to date.
Whilst some of these gifts for the groom from the bride are sure to get emotions running high, they're all sure to serve as reminders of those forever moments. Engraved pocket watches can become treasured keepsakes that are kept safe for years to come, whilst useful gifts such as engraved whisky glasses can remind them of your special day every time they are bought out for any special occasion thereafter.
Will you be treating your Groom to something special on the morning of your wedding? Have you got any great groom gift ideas you can share? We'd love to know in the comments below!
All printables shared here are for personal use only. If you would like to use them for something else, please contact enquiries.
---