Easter – The biggest chocolate gifting occasion of the year. This coming Easter weekend will see friends and family across the UK spending millions on chocolate eggs with a staggering 80 million eggs sold annually! Did you know that Easter makes up for 10% of the UK's yearly chocolate spend? At 4th place on the table of world's biggest chocolate consumers with Switzerland, Germany and Austria just pipping us to the post, it's clear that us Brits LOVE chocolate!
Easter is a rare time of year (except for Christmas, of course) where we find ourselves over-indulging, eating our own body weight in chocolate with absolutely no judgement. But as the UK prepares to loosen waistbands this coming Easter, this got us wondering about would make our annual chocolate-eating fest even more indulgent. I mean, who says grownups have to spend all day prepping Sunday lunch and cleaning up? And after all, why should the kids get all the fun?
At GiftsOnline4U, we have a great passion for wine, and as a company that started by creating personalised wine bottles back in 2005 and specialising in wine gifts, we've learnt a great deal about wines, wine tasting and perfect wine pairings. Our company CEO is the go-to guy. He knows his Barolo's from his Zinfandel's and with a WSET (Wine & Spirit Educational Trust) Intermediate Level certificate under his belt, it's safe to say he's pretty clued up on wines and industry knowledge.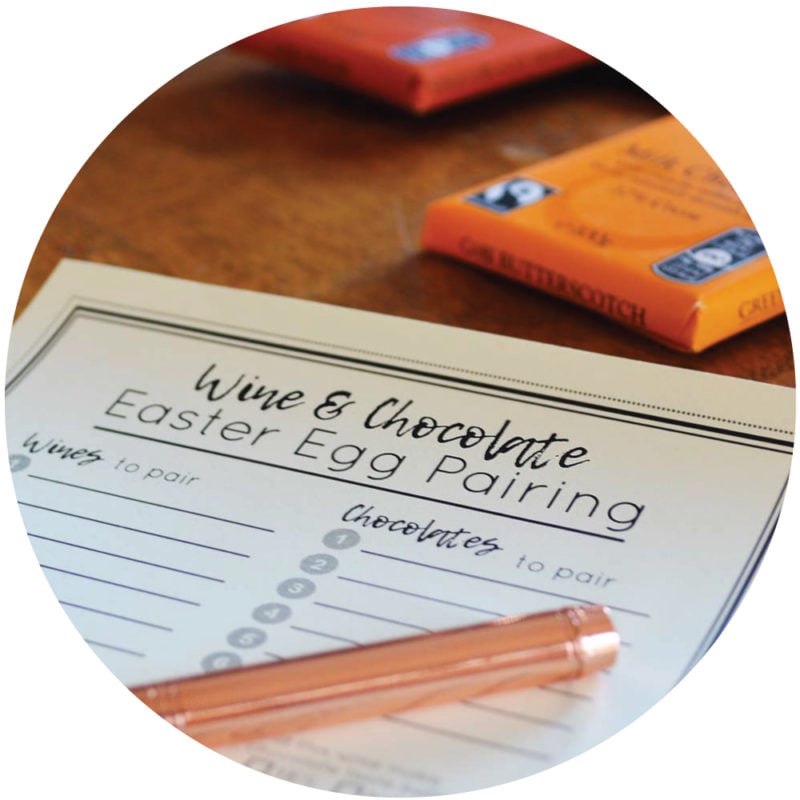 Wine? Love! Chocolate? Love! But wine and chocolate? How can it be that two things seemingly sent from the heavens are so difficult to put together? I know what you're thinking – 'Well I just eat my left over dairy milk and open a bottle of rosé?' and hands up I am equally guilty of this, BUT have you ever thought about how amazing chocolate can really taste if you paired it with the right wine?
At GiftsOnline4U, we held an afternoon tasting session with our in-house wine expert taking the class. We gathered a selection of readily available Easter eggs ranging in brand, price point and type of chocolate from Nestle Rolo and Cadbury Freddo to the more luxurious Green & Black's Organic Eggs. We then hand selected some of our personalised wines ranging from sweet wines to intense and fortified wines.
6 Easter eggs, 5 chocolate bars and 6 wines later – here's the answer one of life's most important questions: Which wines should I pair with my Easter eggs?
---
Morrisons 'The Best' – Belgian White Chocolate Egg
If you're a fan of the sugary sweet white chocolate, then this Easter egg and sparking wine combo is for you. Whilst white chocolate isn't technically a "true" chocolate as it doesn't contain cocoa (the brown part), it ends up being one of the few chocolates that will match with white wines.
Being a sweet chocolate, the general rule of thumb is to make sure your wine is slightly sweeter in flavour. The Prosecco worked well although was a little of the dry side for this chocolate, something bubblier and sweeter like an Asti works much better!
"Wow" Pairing: The white chocolate and sweet fizzy Asti is just the ultimate sweet indulgence!
---
Nestle – Rolo Easter Egg + Cadbury Dairy Milk – Freddo Faces Egg
Ah… the Easter eggs of our youth and some of our favourite chocolate brands of all time! Both eggs are made of a creamy milk chocolate, however are both different to the taste. Again, the general rule applies with making sure your wine is sweeter in flavour. A sweet Riesling is THE perfect match! With a gentle fruity (think apple-y and apricot-y) flavour, this wine compliments the milk chocolate due to the nice balance between the sweet milk and the rich chocolate flavours.
"Wow" Pairing: The Rolo Egg just topped it for us. Who'd have thought a Rolo Egg and a glass of Riesling would make such a great combo?!
---
Green & Blacks – Organic Dark Easter Egg with Bars + Organic Milk Easter Egg with Bars

Long considered an 'old-fashioned' drink, Sherry is not often a wine you'd think of when cracking out the chocolate or really ever. But what if I were to tell you Sherry is to make a revival for 2018? Affordable and excellent for pairing with food, it's perhaps not too surprising the Spanish fortified wine has found itself in the spotlight but for all the right reasons! A sweet Oloroso Sherry was our choice – paired with chocolates from both Green & Black's Easter Egg selections.
"Wow" Pairing # 1: The Sherry combined with the ginger chocolate was the absolute star of the show with flavours resembling Old Jamaica Ginger Beer!
"Wow" Pairing # 2: Teamed with the Green & Black's Anglesey Sea Salt chocolate, the Sherry offered such a contrast in flavour with the fresh saltiness combined with the sweetness of the Sherry. An absolute must-try!
---
Green & Blacks – Organic Dark Easter Egg

The polyphenols in dark chocolate give a somewhat bitter taste. The bitterness in dark chocolate is what you want to balance out with a properly selected wine pairing. Generally, red wines with rich notes of berries and cloves, harmonise well with a dark chocolate. We paired the 70% dark chocolate egg with both a Ruby Port and Chianti.
"Wow" Pairing: The only time of year that Port makes an appearance is Christmas. Let chocolate be the new cheese because this combination totally worked for us!
---
Those are our ultimate chocolate Easter egg and wine pairings, but there are plenty of splendid wines to swig while you chomp on your chocolate eggs this Easter. Whether you are hosting an Easter lunch with all the family or having a quiet evening in this bank holiday, why not host something a little more 'adult' and give some of our combinations a try or even hold a wine and chocolate tasting yourself?
If you're looking for ways to make your usual Easter gifting a little more unique, why not create wine gifts for your loved ones (adults only!) with specially selected wines and expertly picked chocolate eggs to accompany it?
We'd love to know if you've given it a go! What are your ultimate tried and tested chocolate and wine combinations?
Here's an infographic we've created to summarise our blog post: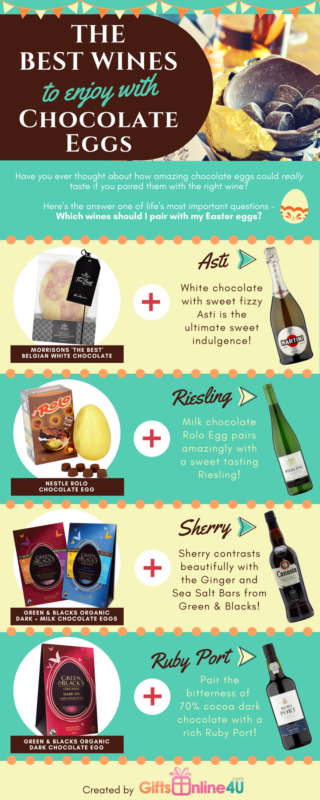 Share this Image On Your Site
Please include attribution to https://www.giftsonline4u.com with this graphic.