Looking for the ultimate gift to make any celebration 'pop'?
Perhaps they're toasting to turning another year older or maybe their celebrating happily ever after.
You need a gift they'll never forget.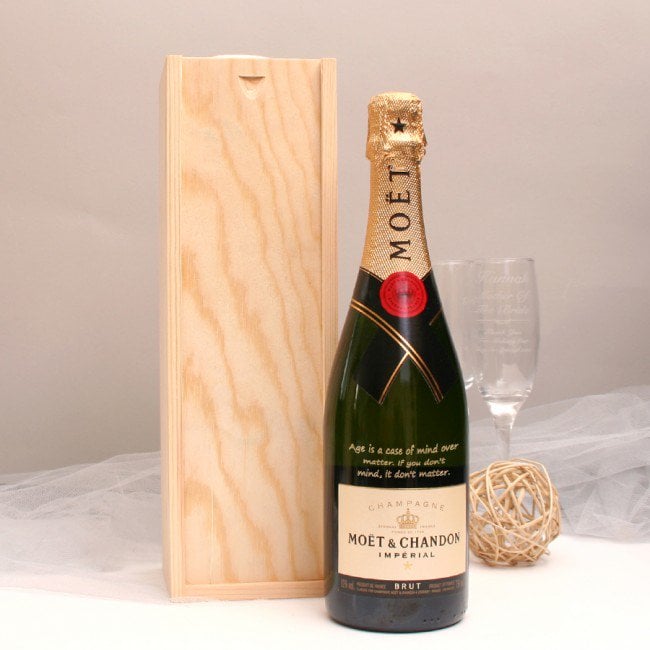 Moët et Chandon is one of the world's largest expansive champagne producers, churning out approximately 28,000,000 bottles of champagne a year! This has got to be one of the most famous Champagnes on the planet, with everyone from royalty to racing car drivers celebrating the good times and toasting with a bottle of Moet.
So, what is it that makes Moët so special?
It is a blend of more than 200 crus of Pinot Noir, Chardonnay and Pinot Meunier for a fresh yet elegant flavour, complete with the finest bubbles for that extra touch of class. In fact, Moët et Chandon even hold a Royal Warrant to supply Queen Elizabeth II with champagne, as well as support the Oscars film awards and International tennis events. It really is that good!
Here at GiftsOnline4U, we are all about creating Personalised and Engraved gifts that make you smile and gifts that really have that 'WOW factor'. So, when we created our Personalised Moet, we weren't surprised that this became one of our most popular and bestselling gifts across the site, with our stunning Engraved Champagne Flutes following closely behind. Using a diamond point cutter, we can engrave any personal message up to 90 characters long across 3 lines, below the neck label and above the main label. And as if, Moet wasn't spectacular enough, the engraving comes up in a stunning gold finish too, that really compliments the gold detailing of the bottle! These luxury bottles are created to last a lifetime long after the champagne has been consumed (because who would throw away a gift so thoughtful and unique?!)
We have a large selection of Moët et Chandon gifts, from the Imperial Brut to Rosé Imperial and Grand Vintage, which means there is a Moët for everyone. But if you want to go a little extra, you can also select any of these in a magnum size – making for a truly luxurious and memorable gift! These are also a massively popular gift option for big milestone occasions, such as landmark birthdays, weddings and especially corporate events.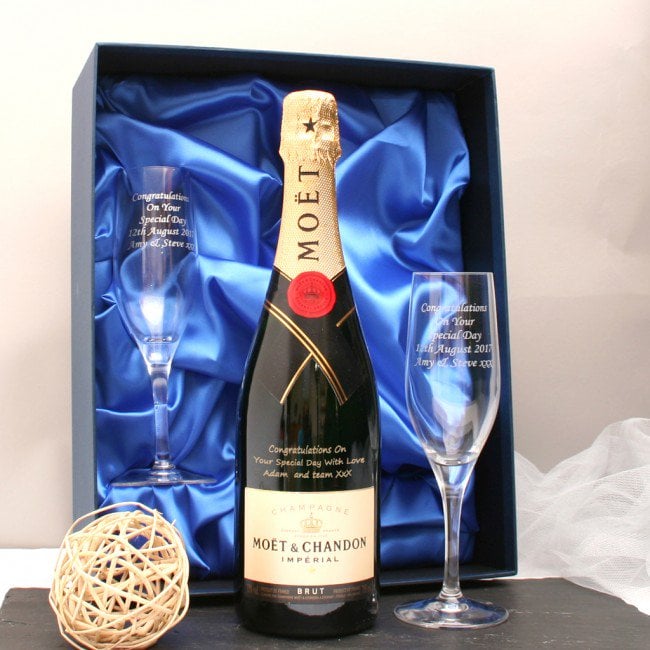 With those special occasions in mind, we have around 35 different Personalised Moet gifts to choose from, so why stop at the just the bottle when you can give amazing Moët gift sets? Perfect for almost any celebration from 'congratulations' to 'happy birthday' or 'happy retirement', there is a gift to suit any occasion. Our personalised champagne gift sets include an engraved bottle alongside a set of two beautifully Engraved Champagne Flutes, which can also be engraved with your own special messages, and come in a stunning satin-lined presentation box for that added luxe feel.
Want something a little more budget friendly? You can still give luxury Personalised Moet gifts that'll make their day truly memorable without breaking the bank, with our Moet Mini Sets starting at just £44.99. Ideal for birthdays, congratulations or as tokens of appreciation – these are equally as wonderful and similarly to the larger gift sets, these come with an engraved 200ml miniature bottle of Moet Imperial along with an engravable champagne flute. Presented in a luxury satin lined gift box, this will be sure to give your gift that impressive quality.
So, if you are looking for engraved gifts to give to friends, family or colleagues as keepsake gifts, then our personalised champagne gifts are exactly what you've been searching for. With gifts that are affordable, of the highest quality and possess that all important 'Wow Factor', then you are sure to make someone's day with personalised gift they'll never forget!
Save