Christenings are traditional, religious ceremonies, that celebrate the start of a new-born's journey through life. While new baby gifts are intended to welcome boys and girls into the world, christening gifts are designed as keepsakes and mementos that can be cherished for the rest of the child's life.
So, you've been invited to a christening, and you're possibly wondering what the etiquette is when it comes to presents and how you can avoid turning up with something that friends and family have also decided to give. We have the answer, and it lies in personalised christening keepsakes that can be made completely unique with engraved name, dates and messages. With traditional items such as Engraved Money Boxes that can been used to wish children a long and happy life for years, as well as some modern gifts such as Engraved Photo Frames and Personalised Wooden Toys, you'll be sure to find perfect personalised presents that will stand out from the crowd, whether you're going to a Christening as a guest or a Godparent.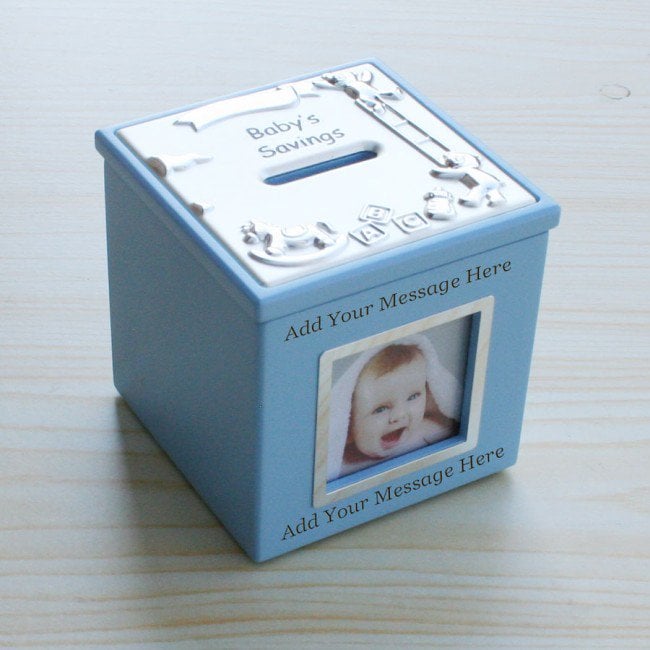 It's usually best to opt for something special, a keepsake that can be cherished forever. A very traditional christening gift is something made of silver. The tradition of giving silver for Christening gifts is as old as the ceremony itself and comes from the time when silver was a form of currency. By giving silver gifts, it was a small savings fund for the baby for later life, and although silver does not hold the same value as it once did, these are still greatly popular gift choices for christenings. Our Engraved Money Boxes are the ideal traditional gift, and engraved with the baby's name, dates or even a special message, this gift will be sure to take pride of place in the little one's room and to will be treasured for a lifetime. Not only a beautiful gift to display, it is a great way to encourage young ones to start saving their pennies from an early age (they'll thank you when they're older!)
Other classic silver gifts include our Personalised Christening Certificate Holders which are also a great feature to any room in the house. These keepsake gifts will no doubt be cherished forever as they will keep the new-borns birth certificate safe for years to come. And of course, these aren't just any 'off the shelf' gifts – have them beautifully engraved with the baby's name and your special well wishes for the future, choosing from a selection of different fonts to create that extra personal touch.
For a more unusual yet timeless gift that brought us all so much joy as a child, pass on the tradition with our Personalised Wooden Toys! A gift that never dates and provides hours of fun and excitement for the little ones; it is sure to be a winner – perfect for new babies, christenings, birthdays and Christmas' too! As a refreshing change from modern day technologies and electronics, these educational toys are fantastic for sensory play too, teaching babies and toddlers hand-eye coordination as well as colour recognition. The front of our engraved toy gifts can be customised with a laser engraved message or name of up to 40 characters over 1 line, making it a personal and truly memorable gift you can be sure will get a lot of use over the years!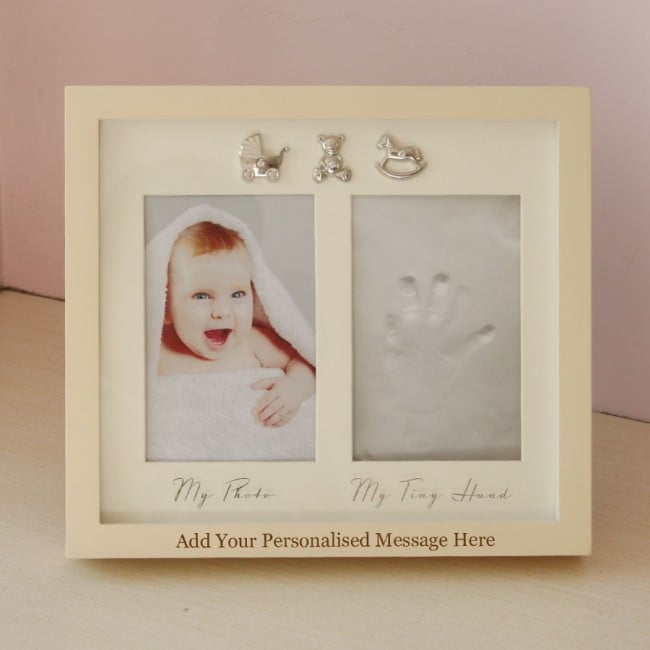 The first picture of the little bundle of joy needs a special frame to mark the occasion – whether a gift for expectant parents, new parents, for the baby shower or the christening, we have Engraved Photo Frames fit for everything milestone. From framing the first scan picture, to the christening day picture, we have a wide selection of photo frames both wooden and silver plated, ornately decorated with baby icons such as teddies, prams and rocking horses. Photo frames are always an appreciated gift especially with a personal touch such as engraved names, dates, baby's weight or a personal message.
When you're buying personalised presents for christenings, don't worry if you've left it a little late. We offer Next Working Day Delivery for just £5, so you can make sure you get your gifts just in time for welcoming that new baby on its journey into the world.