They say a gift is worth a thousand words and in the case of wedding anniversaries, a cheap card just won't cut it. Wedding anniversaries come along once a year and they are very easy to forget if you when you're wrapped up in day to day life, but if you hope to enjoy a long-lasting marriage, it is generally a good idea not to forget your wedding anniversary! Whilst the classic bunch of red roses certainly still has its place, there is something unique and special about personalised anniversary gifts that will be kept and cherished forever. Adding a personalised touch to your anniversary gifts shows that you really have put a lot of effort into buying a gift ahead of time, and that you have put genuine thought into what to buy. Not only that but it can sometimes be hard to say how you truly feel, so take your anniversary as the perfect opportunity to use your heartfelt words to tell your partner in life just how much they mean to you.
Celebrate with champagne gifts, or follow the traditional gift suggestions for finding your perfect anniversary gift and keep reading for a few ideas that you could purchase for your loved one.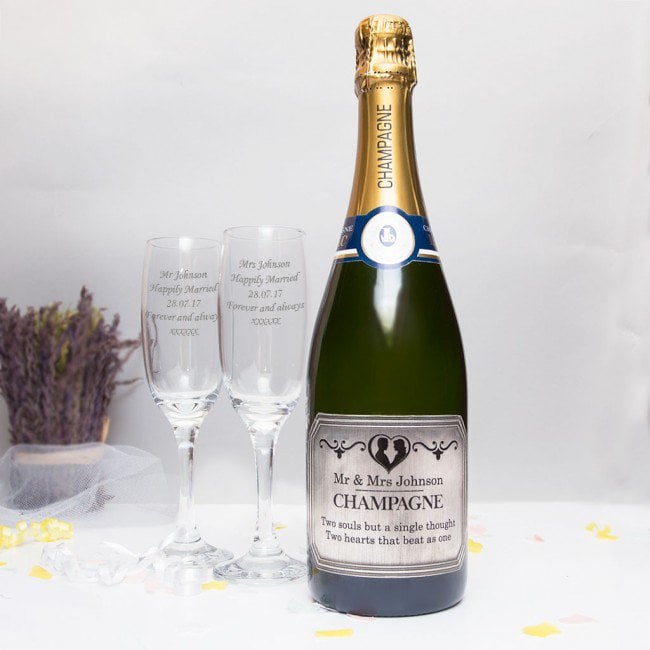 Something you can share together
Unlike other occasions, this special day is not dedicated to just one individual, and is instead to be celebrated as a couple. Some of the best gift ideas, if you're celebrating a wedding anniversary, are the gifts that you can share and enjoy together. Take some time out to yourselves and have a weekend getaway, enjoy a romantic dinner for two or simply a night in on the sofa – whichever you decide to do, toast to the occasion with champagne gifts, raising a glass (or two!) to another year of successful marriage and to the future ahead. Personalising the bottle with your special message means this fantastic gift, once enjoyed can then be kept as a special keepsake. If you're feeling particularly creative, why not turn your empty champagne bottle into a candle holder?
Something traditional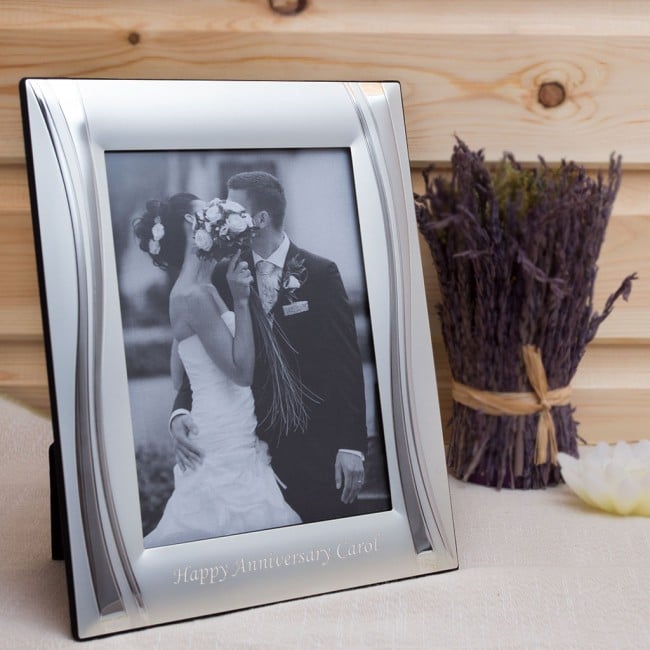 The tradition of giving a specific gift on specific anniversaries dates back to the Middle Ages. Over the years, the list of gift ideas has evolved to meet our more modern way of living and whilst many couples like to come up with their own gift ideas each year, sometimes it's fun to follow the traditional gift suggestions. In the early years, when the romance factor is still strong, it is easy to think of suitable gifts for your loved one. However, as time goes on and your material needs lessen, it can become more difficult to think of an appropriate anniversary gift, which is when the traditional anniversary gift suggestions come in handy!
UK tradition suggests we buy a gift made from different materials to celebrate milestone anniversaries, such as a gift made from paper for the 1st year of marriage, followed by cotton for the 2nd year, leather for the 3rd anniversary and so on. A popular gifting choice for milestone anniversaries such as the 15th wedding anniversary, include gifts made from crystal – a set of Engraved Crystal Wine Glasses, personalised with a special message, names and dates would make the perfect gift for this commemorative day.
Does your loved one have a favourite picture of you both? Perhaps your wedding day, or moments of marital bliss. Pick out the perfect Engraved Silver Photo Frame to celebrate that truly special 25th wedding anniversary and keep that memory safe for years to come. This is a classic idea, but one that has remained popular with couples throughout the decades.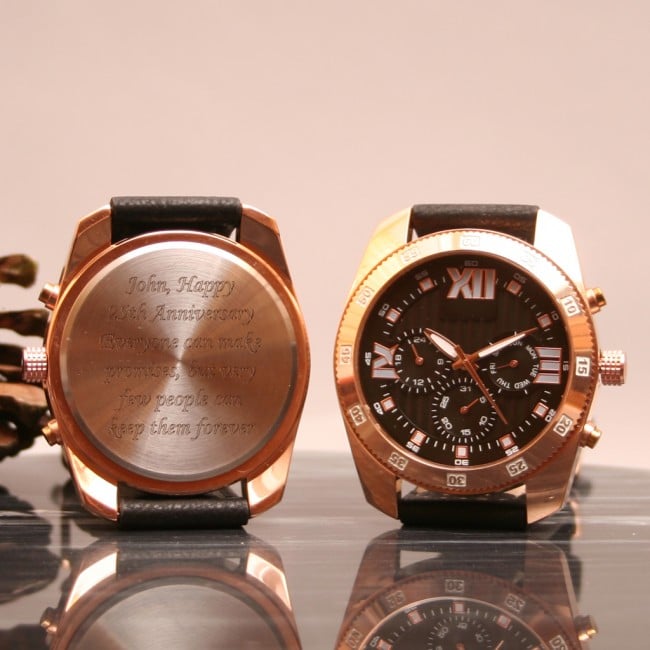 Something they can wear
When many people think of an anniversary, they think of jewellery. Why? It is one of the most sentimental gifts you can buy for someone, but more importantly it takes careful consideration to choose the perfect piece that your significant other will love. Whether you are celebrating 5 years or 50 years together, the perfect piece of jewellery can help you show your loved one just what they mean to you.
When choosing a metal, you could consider your anniversary year. For example, the traditional 8th anniversary gift could include bronze, meaning some of our personalised watches could be the ideal gift and since clocks are a modern gift idea for the first anniversary too, a watch for him or her is a great option. A simple but elegant timepiece doesn't need to cost a fortune, but will be sure to last for many years especially if handed down as family heirlooms in the future too. Other gifts could include personalised jewellery such as a delicate pendant necklace that can be personalised with pet names, initials or a personal message.
Now you may be reading this well in advance of an upcoming anniversary hoping for some gifting inspiration (I hope you found some!), or you could be reading this wondering how you'd forgotten that your anniversary is tomorrow BUT you're not alone. According to new statistics, between 30-40% of men and women, have forgotten an anniversary. *Yikes!*
What's the best or worst wedding anniversary present you've ever received?
Find our infographic below for some rather interesting facts aswell as the yearly traditional and modern gift suggestions if you're stuck for anniversary gift ideas.