The sun is shining and the UK is officially on it's way to seeing garden parties back in full swing. That can only mean one thing.
At the start of every weekend, Dads up and down the country can be found rummaging around in the garden shed, in search of their BBQs.
Let's face it, all it takes for some of us Brits to light up the grill is a spot of sunshine and a slightly warmer than average day. And who can blame us? A delicious BBQ with our family and friends is a great way to spend those long summer evenings. 
But if there's a group of people who love a BBQ more than anyone else, it's our Dads.
They're the first to stake their claim on the novelty apron, and are always leaving the shops laden with the BBQ supplies. Making sure that the classic burgers, hot dogs and kebabs are always flying off the grill, and ice cold drinks are in everyone's hands. 
It's the picture perfect scene, but sometimes our Dads like to mix things up and cause a stir around the BBQ.
As Father's Day approaches , we wanted to celebrate everything that makes our Dads so unique and special.
We turned to the general public, interviewing 2,000 UK residents all about their Dads.
They've shared their funniest BBQ memories of their Dad, and even some of the weirdest things their Dads have tried to grill.
Explore Our Range of Father's Day Gifts
Funny moments
It's clear our Dads are always ready to inject a bit of extra fun into the family BBQ, even if it is at their expense!
Of everyone surveyed, 21% said they have a hilarious memory of their Dad at the grill, and they couldn't wait to let us laugh along with them.
We've all heard of the time the BBQ got a little bit 'out of control'. Whether that's when too much firestarter was added to the grill, or someone refused to let the weather get in the way of their BBQ plans. 
But some Dads have managed to challenge the status quo in some memorable ways. 
The British weather isn't particularly known for sunny skies and warm weather, but that hasn't stopped some of our Dads.
Firing up the grill regardless of weather conditions has made for some hilarious memories for the people we spoke to.
In fact, several people said that their Dad flipped burgers and grilled kebabs in the snow!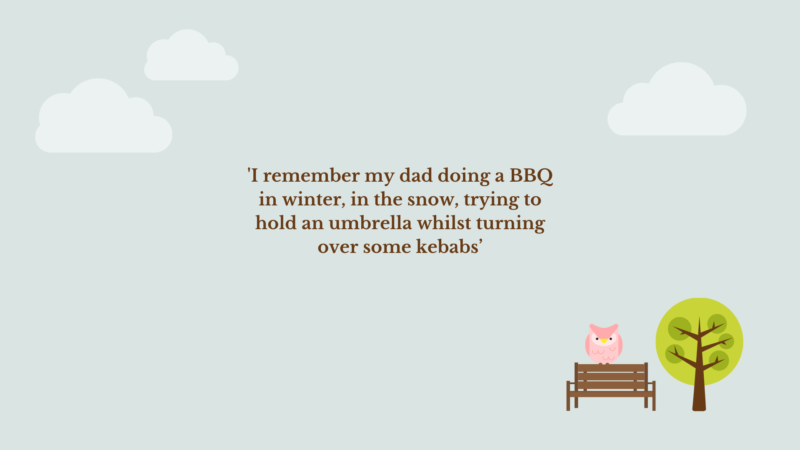 7% told us that their Dad powered through wind and rain, with an umbrella to shield the grill from a downpour of rain. One person even told us that their Dad stayed outside with the BBQ, passing food through the kitchen window. Now that's dedication!
For some of the Dads out there, it's not the weather they need to be worried about.
Some people shared a funny memory of their Dad actually knocking over the BBQ itself! We're not sure if that's due to one too many drinks or a clumsy moment, but we wish we'd been to see it there regardless. 
And some dads are not happy when questioned about when the food's ready!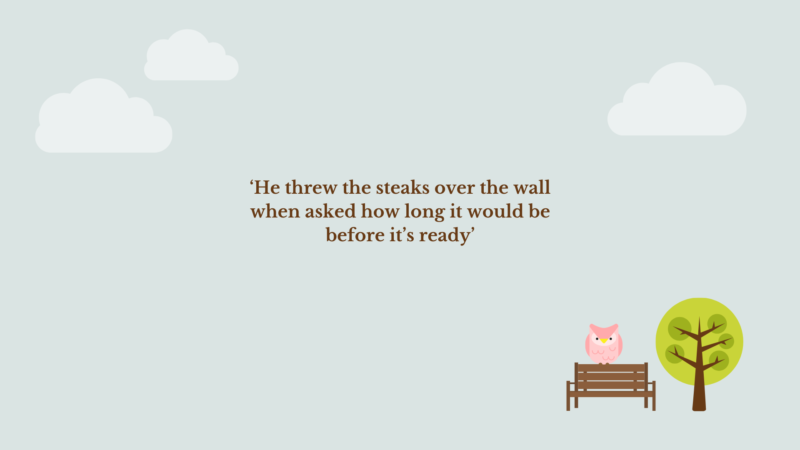 A smooth BBQ experience isn't always guaranteed, and some Dads would definitely agree!
Our survey showed us that 3% Dads couldn't even get the BBQ started, leaving many hungry guests to recount these memories to us. Or on the other hand, some forgot they were cooking. 
But for those that did, 5% actually ended up burning the food. In their response, someone told us a hilarious story about their Dad throwing inedible potatoes onto the roof, perhaps to hide the evidence? 
Another person shared with us that the food was so burnt, their dog wouldn't even eat it. Hopefully, their Dad had a plan B!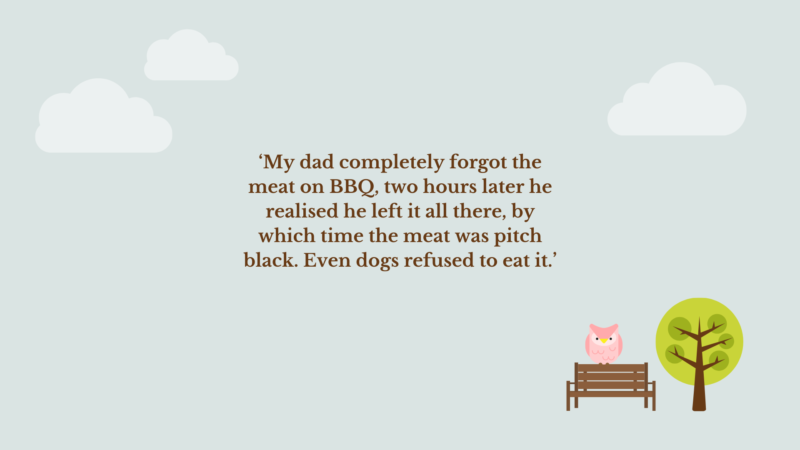 Some Dads have grilled up some delicious foods, but ended up falling at the last hurdle.
Five of the people we spoke to told us that their Dad actually dropped the food! One person recounted the time that their Dad dropped a sausage on the floor, but then got it mixed up with the other sausages.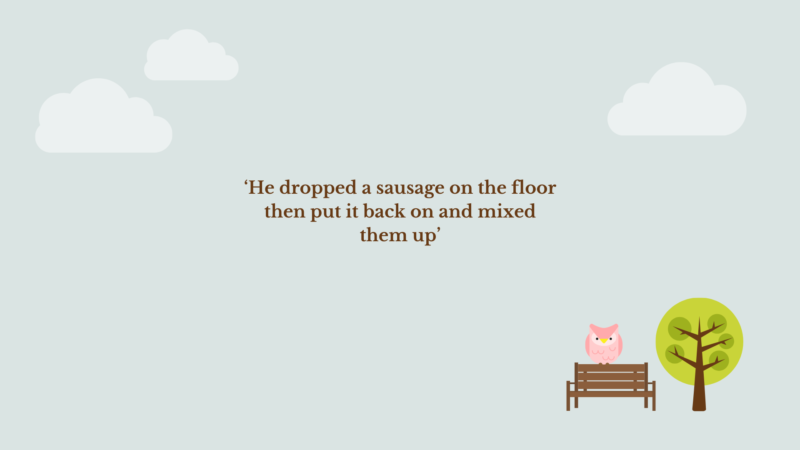 Weird foods
We all love the BBQ staples, like burgers, hotdogs and veggies. But some Dads have really gone the extra mile in the past, shaking things up and adding some pretty random things onto the grill.
We asked people to tell us some of the more obscure food they remember their Dad trying out on the BBQ.
5% people told us that their Dad had grilled a banana! We've never heard of this before, but with so many people sharing this with us, we think we'll have to give it a go.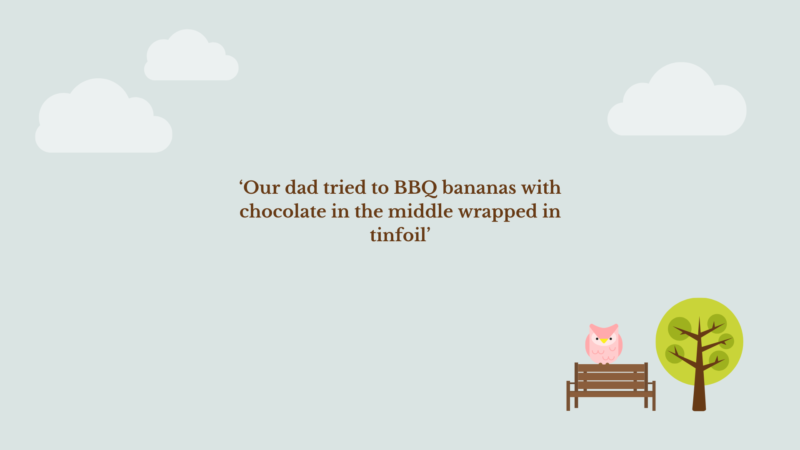 Other fruit managed to make its way to the BBQ thanks to some creative thinking from Dads. Pineapple, grapes and a whole fruit salad were amongst some of the strange responses.
Some Dads really stuck with the British classics, with one Dad trying to BBQ mash, and another grilled up some pork pies.
A few people told us that pizza seems to be a popular choice for their families too, as well as fish fingers and black pudding.
One person told us that their Dad had once opted for snails, dishing up the slimy creatures to their guests. But they quickly realised they weren't real. That's one way to make a memory!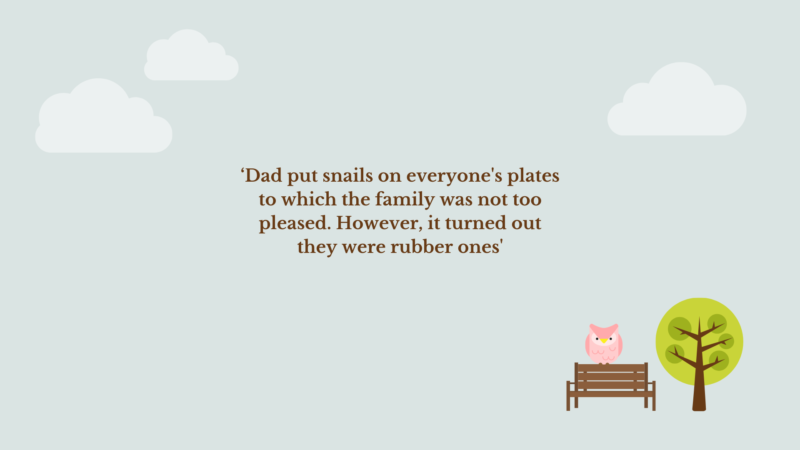 We were very surprised to hear one person tell us about the time their Dad's slippers were once grilled at a family BBQ. 
It's not surprising to hear so many funny stories about Dads making a regular BBQ one to go down in the history books. 
Explore Our Range of Gifts for Dads
We're looking forward to hearing more hilarious moments from this upcoming Father's Day. If you've got a story you want us to hear, make sure you tell us by tagging us on Twitter.