With a little over three months to go until Christmas, we're getting prepared for the countdown already. Yes, you read that right and no we're not crazy! Whilst you may think it's bonkers to start thinking about anything remotely Christmassy when we've not even reached Halloween or Guy Fawkes night yet, there are some seriously good reasons to start getting inspired and planning early.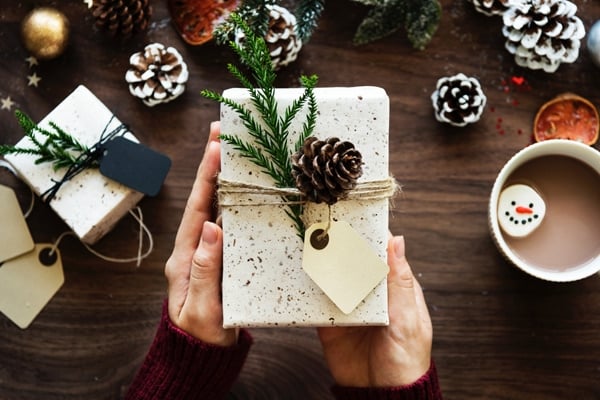 2018 is set to bring back the romance of Christmas and a return to festivity that puts the excitement and an element of surprise back into gifting. With a recent study showing 37% of people having said they had previously received a 'thoughtless' gift; this shows that people are hoping to receive truly thoughtful and more emotive Christmas presents this year. More than ever, this year will be about making memories with family, celebrating togetherness and family traditions.
Ok, so I know we're a little eager, we're here to impart our insider knowledge on the latest gift trends for Xmas 2018 with a sprinkle of festive inspiration for good measure. Read more for stocking stuffer ideas such as personalised compact mirrors for her and personalised whisky glass for him as well as trends in advent calendars, alcohol and much more.
Advent Calendars Trends
Long gone are the days of simply busting open a chocolate advent calendar door for the first 24 days of December – now it's all about alternative and unique ways to count down the advent.
With 2017 seeing a rise in the "luxury" advent calendar, we now find ourselves indulging in calendars full of miniature candles, beauty products, cheese and even alcohol but we know just how pricey these advent calendars can get!
Image Credit (Left to Right): angelattable.blogspot.com | Northstory.ca | Pinterest
Why not create a DIY advent calendar this year for a more personal touch? Include an inventive edible treat, small token or a thoughtful message every day in December to remind the recipient how loved they are. These are great Christmas ideas for children, adults and pets alike as advent is set to be bigger and more popular than ever.
For more inspiration, you can check out our Pinterest board for DIY advent calendar inspiration here.
Stocking Filler Trends
What makes a great stocking filler? Something small, functional and Christmassy. The tradition of giving small prezzies dates back centuries and it's a custom that stays with us no matter how the trends change. It doesn't matter how old we get; stocking presents are still an exciting part of Christmas.
There's also something truly wonderful about giving small gifts to friends and family. It's a little yet meaningful gesture that makes everyone feel special and is an affordable way for everyone to say "I love you" at Christmas time.
Stocking Filler Ideas for Him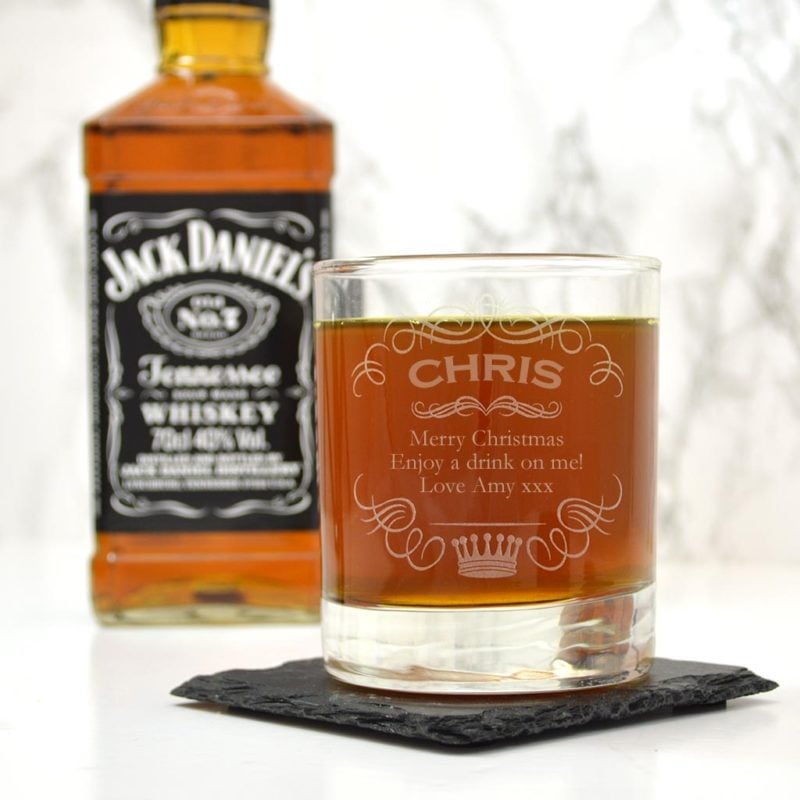 If you're thinking of stocking filler ideas for men, pack his stocking with small-but-mighty presents. Consider functional items such as personalised tools and gadgets for the man who has everything. If he's partial to a whisky, include a personalised whisky glass to enjoy his favourite tipple from.
Stocking Filler Ideas for Her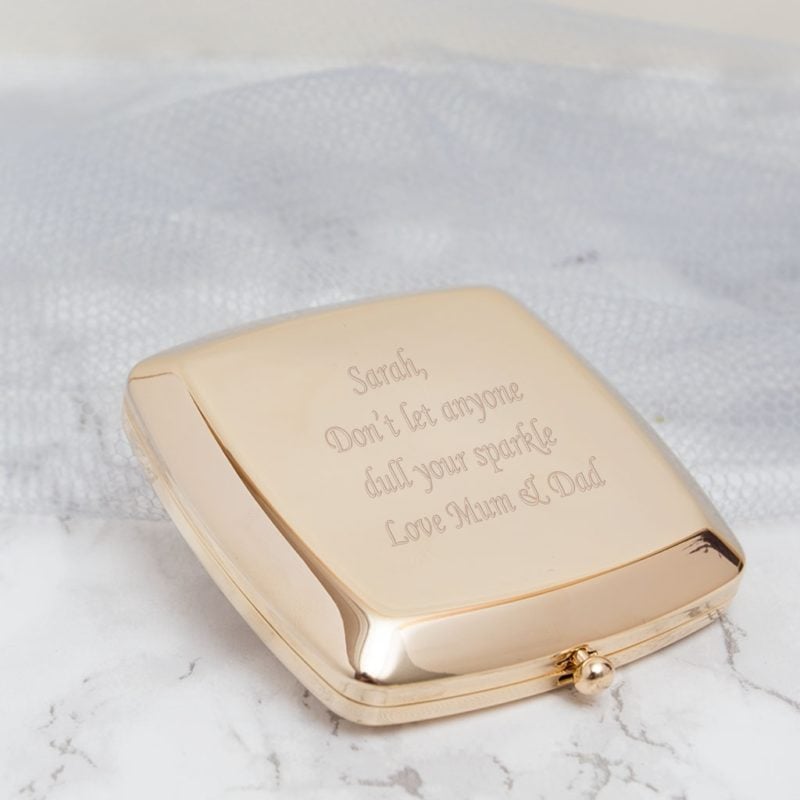 When it comes to stocking fillers for her, it's all about the sentiment and gifts with positive affirmations. We love these Knock Knock Affirmation Cards by Suzi Barrett which inject a little positivity with 50 light-hearted yet inspirational daily affirmations.
Alternatively, small engraved gifts for her such as a personalised compact mirror delicately engraved with an inspirational quote or affirmative message will leave her grinning from ear to ear.
Main Christmas Gifts Trends
Now I don't know about you, but we've always had stocking stuffers and then the "main present/s". These are often the stars of the show; the standout presents that really wow the recipient.
We aren't just saying this, but personalisation is set to be big this year with an emphasis on subtle personalisation, monogramming as well as the sense of 'create your own'. These thoughtful touches will go a long way in showing your loved ones you've put a great deal of thought into their gifts this Christmas.
Christmas Gift Trends for Him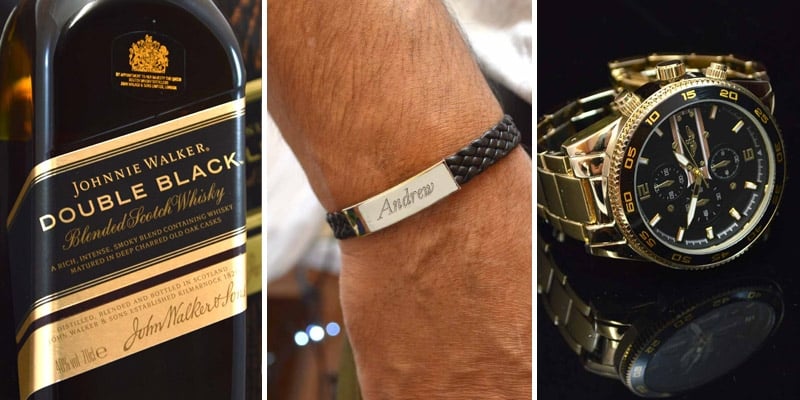 Over the past few years, the UK has seen spirits such as gin and whisky spike in popularity. If the man in your life has followed suit and prefers a tipple of whisky or gin over a beer or cider, then treat him to the drink he loves best.
Add an element of surprise with a personalised whisky, engraved with a special message for a Christmas gift that'll knock his socks off.
Fathers and Sons, Grandfathers and Grandsons, loved ones want sentimental pieces that perfectly capture and celebrate their unique and personal relationships.
Gifts that symbolise family bonds such as family crest gifts or adopt discreet sentimental messaging are set to be popular this Christmas.
Classic and timeless styles that incorporate the latest technology and offer multi-functional purposes are in for 2018. A trend to "create your own" will encourage people to build your own watches which enables you to be a part of the creation process. Personalised photo watches offer the perfect opportunity to upload your own photo, feature your own message and select a watch style – ideal for the guy who has everything!
Visit here for our guide to the Best Christmas Gift Ideas for Boyfriends and Husbands 2018.
Christmas Gift Trends for Her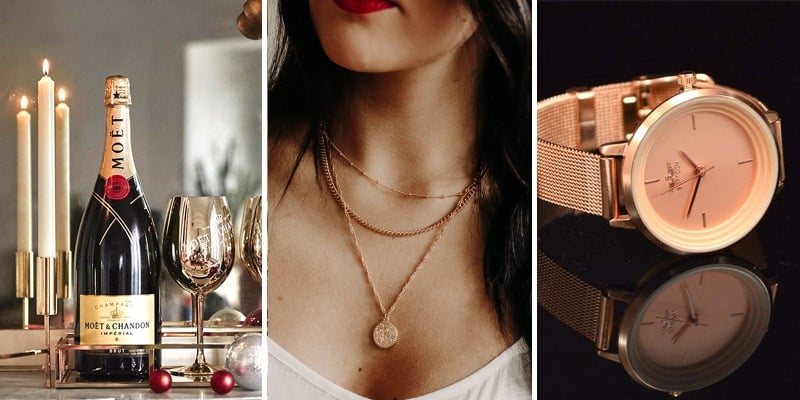 2018 brings the popularity of the drinks trolley or bar cart with them becoming the trend for so many drinks/bar aficionados. People want to demonstrate their knowledge to their guests so adorning the drinks trolleys are a must!
The key point for every alcohol aficionado is to be different and to have a unique array of bottles on display. A bottle of personalised Moet is the perfect accompaniment for any drinks trolley!
Gin is still the "on-trend" drink choice for Christmas 2018 so if the lady in your life enjoys a cheeky G&T, then she is sure to enjoy this personalised gin balloon glass.
What woman doesn't look to receive jewellery at Christmas time? This year is all about thinking outside the box and picking a piece that is truly sentimental to the recipient. Birthstones take on a new dimension incorporating birth flowers and zodiac symbols to create unique engraved gifts for her.
The rose gold watch trend is another women's watch trend that's here to stay. The rosy gold tone is universally flattering and looks great on just about anyone so we're sure she'll be thrilled to receive a personalised rose gold number on Christmas Day.
Whilst we don't expect you'll be posting your Christmas lists to Father Christmas just yet, we hope you have absorbed some insider advice on the gifting trends for Christmas gifts 2018 and hope you feel inspired to create a truly personal Christmas.
Have you started planning for Christmas already?
What Christmas gifts do you think will be a hit for 2018?