Wrist watches have, for some time, due to the advent of the mobile phone lost their appeal but these beautiful time pieces haven't stayed down for long and now are experiencing a resurgence. GiftsOnLine4u.com has a selection of wrist watches which we can now offer you and so we thought that for those who may be interested we could share a little background.
There are conflicting stories about how the wrist watch came into existence, there are those who claim that the first ever wrist watch was made for the Queen of Naples in 1810 and others claim that the first wrist watch was made much later for a countess in Hungary in 1868 by a Swiss watch maker. We think that these recollections are probably inaccurate because there is some information which dates wrist watches as far back as 1571, when they were referred to as arm watches.
It seems that wrist watches were worn more by women than by men, who seemed to prefer pocket watches, but the reason why women favoured the wrist watch was because it could be worn decoratively like jewellery and so they were seen more as bracelets rather than as a means by which to tell the time.
It started to become more popular with men through use by the military for synchronising time during the various wars of the late 19th and early 20th centuries. It seems we have gone through mechanical, electric, quartz, radio controlled and digital or smart watches.
Our preoccupation with time to shop, time to relax, time to work, time to holiday means that wristwatches will probably adorn wrists, male or female for a long while to come.
At GiftsOnLine4u we have gone just a little further with the wrist watch story by introducing the element of personalisation to the giving of wrist watch gifts by engraving a name or short but special message either using a diamond cut mechanism or by using laser engraving methods.
Personalised wrist watches or engraved wrist watches add value and sentiment to this very special item meaning that it makes for a unique and extremely individualised gift. Women often like to accessorize through their shoes or handbags and their jewellery. GiftsOnLine4u now provide wrist watches for ladies which can be functional and can also accessorize particular outfits. If you are in aparty mood then we have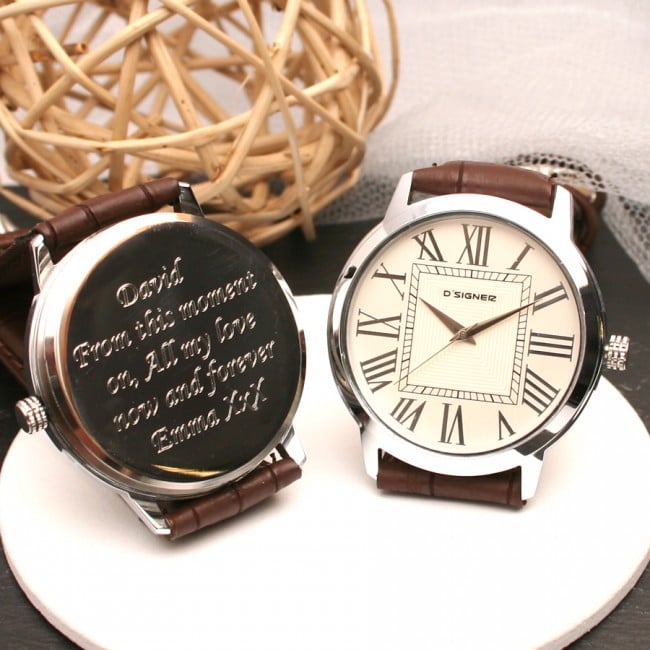 Nowadays more and more men are taking pride in their appearance and we can offer men the ability to accessorize with shirts or suits too with a variety of attractive and elegant designs. There will be a personalised wrist watch or an engraved wrist watch for the man who likes to accessorize time with what he wears. It's not always easy to express in words what a selection of gifts can offer until you see it for yourself so why not browse the personalised gifts and engraved gifts that our company can offer you particularly the personalised wrist watches and engraved wrist watches.