I often have so many problems at Christmas time when it comes to shopping for my loved ones. In fact, it's sometimes so stressful because quite often friends and family can buy what they want themselves and they have the things they could want and need. Recently, I gave a bottle of personalised champagne to a couple and someone I know who recently got married gave their wedding guests personalised photo frames with a photo of them inside – I thought these were great ideas and gave me the inspiration to write this Christmas Gift Guide!
This simple Christmas Gift guide aims to get you to think outside of the box when it comes to gift giving at Christmas by relating the gift to their interests and adding a personalised touch to the Xmas present.
Tip 1: Relate It To Their Interests
What are their hobbies or interests? Normally, if you think about their interests, you will be able to find and give them something that will be suited to them. Perhaps break it down into the following categories and then sub categories, or even consider your own:
Accessories – Lip stick holder, pocket watch, wrist watch
Art – photographs, paintings
Baking – slate boards for presenting cakes
Film – tickets to a West End Show
Food & Drink – wine, champagne, whisky, vodka, brandy, mulled wine, port
Garden & Home – photo frames, gardening tools
Relaxing and Indulging – champagne glasses, chocolates
Music – concert tickets, iTunes vouchers
Sports – money box, mug, teddy, wallet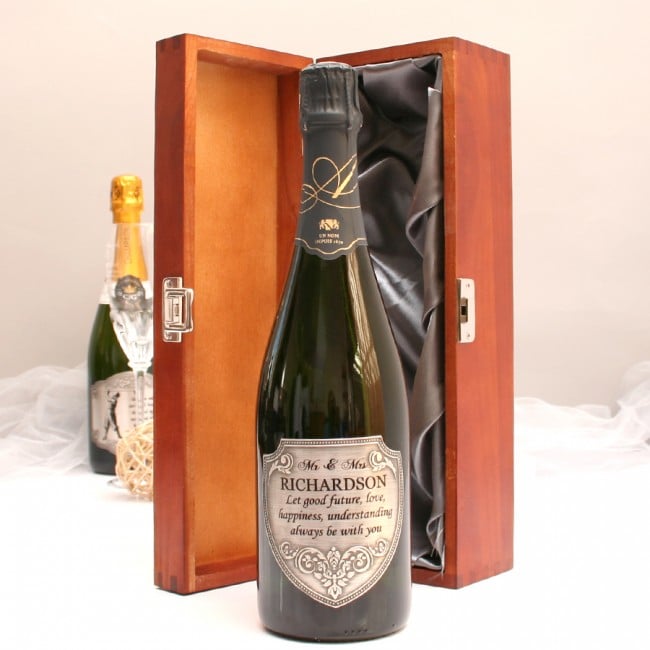 Tip 2: Personalise it!
Okay, so they have everything they could possibly want or need. However, generally, people won't buy themselves something personalised so once you've narrowed down the category and the sub-category of Christmas gifts that you are interested in looking at, it's worth looking for gift that you can add a personalised touch to. For example, rather than just buying a photo frame, go for personalised photo frames which allow you to add a message on to the top, bottom or at the top and bottom. These can often be engraved to give you a long-lasting finish. Instead of just giving a bottle of bubbly from the local supermarket, add your own customised text to the label of the champagne and give a bottle of personalised champagne instead. This can come in many forms. For example, engraved champers – where the message is etched into the front of the bottle for a luxury finish. Or how about added on an intricate pewter label for a truly special Christmas gift? Or as already mentioned, your message can be printed on to a label with images, colour and a photo, perhaps. For men, why not treat them to a personalised pocket watch? Everyone needs to know the time at some point or another, so rather than going for a plain wrist watch or a plain pocket watch, add a customised message onto the lid or back of a pocket watch to create a stunning personalised pocket watch that will not only tell the time but also give them something to remember you by!
Don't know what to write?! Easy – Merry Christmas 2016 would look fab on personalised photo frames and adding something like: Eat, Drink and Be Merry This Xmas Love From All Of Us would work really well on a bottle of personalised champagne
Whether you end up going for a personalised pocket watch, a slate board, concert ticket or money box, consider their interests and then add a personal touch with your own message added to it. Quite often, this is available for free, so take advantage!