Father's Day happens every year but buying for your dear dad doesn't get doesn't get any easier. Dads are notoriously difficult to buy for, so when Father's Day rolls around each June, finding a special gift to top the last can be somewhat tricky.
So, here at GiftsOnline4U, we've taken it upon ourselves to put together a range of our best-selling and most popular gifts for Father's Day 2018, to suit a range of budgets and, more importantly, a range of dads. But first things first…How do you think of the best gift for dad?
Here are our top tips of things to consider when buying for Father's Day:
Budget: If you're stuck for ideas on what to buy for Dad's this Father's Day, remember that showing your appreciation doesn't mean you have to have to break the bank because it really is the thought that counts. Be realistic and set a budget for gifts, particularly if you find yourself celebrating several special men in your life on this special day.
Type of Dad:

What does your dad love? Is he a football fanatic? Consider getting him football themed gift of his favourite team. Is he a DIY buff? Tools and handy gadgets are always a winner. Whatever it is, make sure you take his interests and personality into account whilst you're looking around for ideas. This will make it so much easier to come up with the perfect gift for dad.
Personalised: If you're looking to steer clear of the usual ties and socks, consider a personalised gift to make his day extra special. Whether it's with an engraved message or customised with his name, personalised Fathers Day gifts are a sure way to honour your father and make him feel special.
Last Minute:

We understand. Life gets hectic, time flies and suddenly you're left with no other choice than to get a last-minute gift. Thankfully for you, there's a little thing called online shopping and thanks to next day delivery, there are still plenty of options out there for all of you last-minute shoppers.
So, without further a due, here are our top 10 Father's Day gift ideas:
1. Fathers Day Gifts Personalised Multi Functional Pocket Watch
Dads love functional gifts. Whilst this personalised pocket watch is reliable for telling the time, it is also features a handy magnifying glass in the lid. The lid also transforms into a stand for the pocket watch to stand up on a desk top. Nifty hey?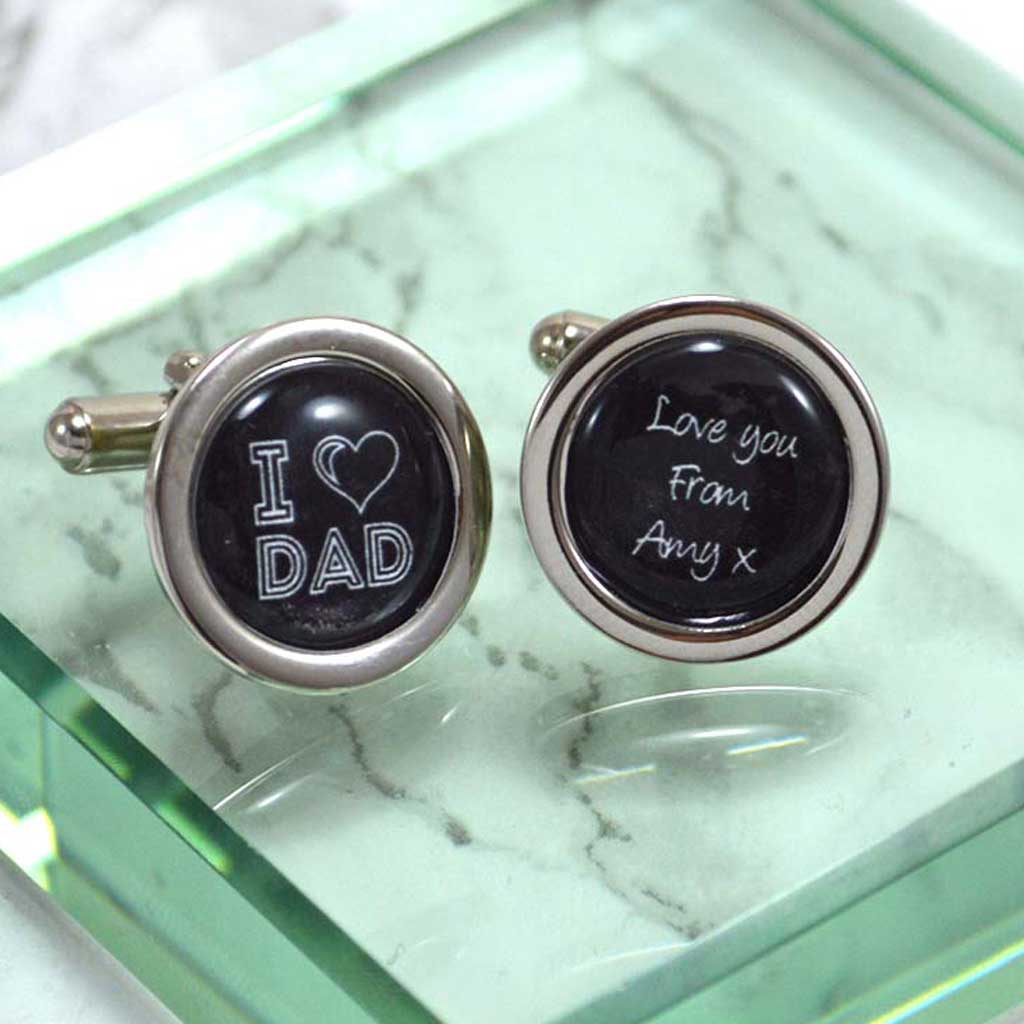 2. Fathers Day Gifts Personalised Cufflinks I Love Dad
Is a suit part of your dad's every day attire? Cufflinks make great gifts for men, but don't go for any ordinary cufflinks. This personalised pair are sure to make dad smile with their 'I Love Dad' design. Complete with dates, names or a message for a truly memorable keepsake gift.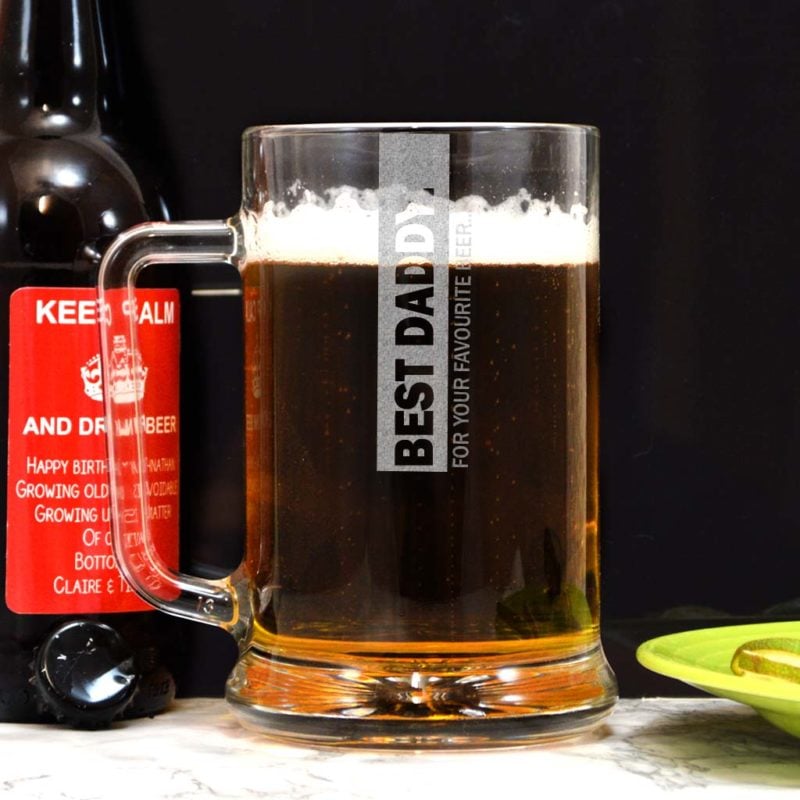 3. Fathers Day Gifts Personalised Tankard
Treat the beer or cider lover in your life to one of our fab personalised pint glasses or engraved tankards. This personalised tankard makes the perfect drinking vessel for beer, cider or stout! Guaranteed to be a well-loved gift that'll carry sentiment for years to come.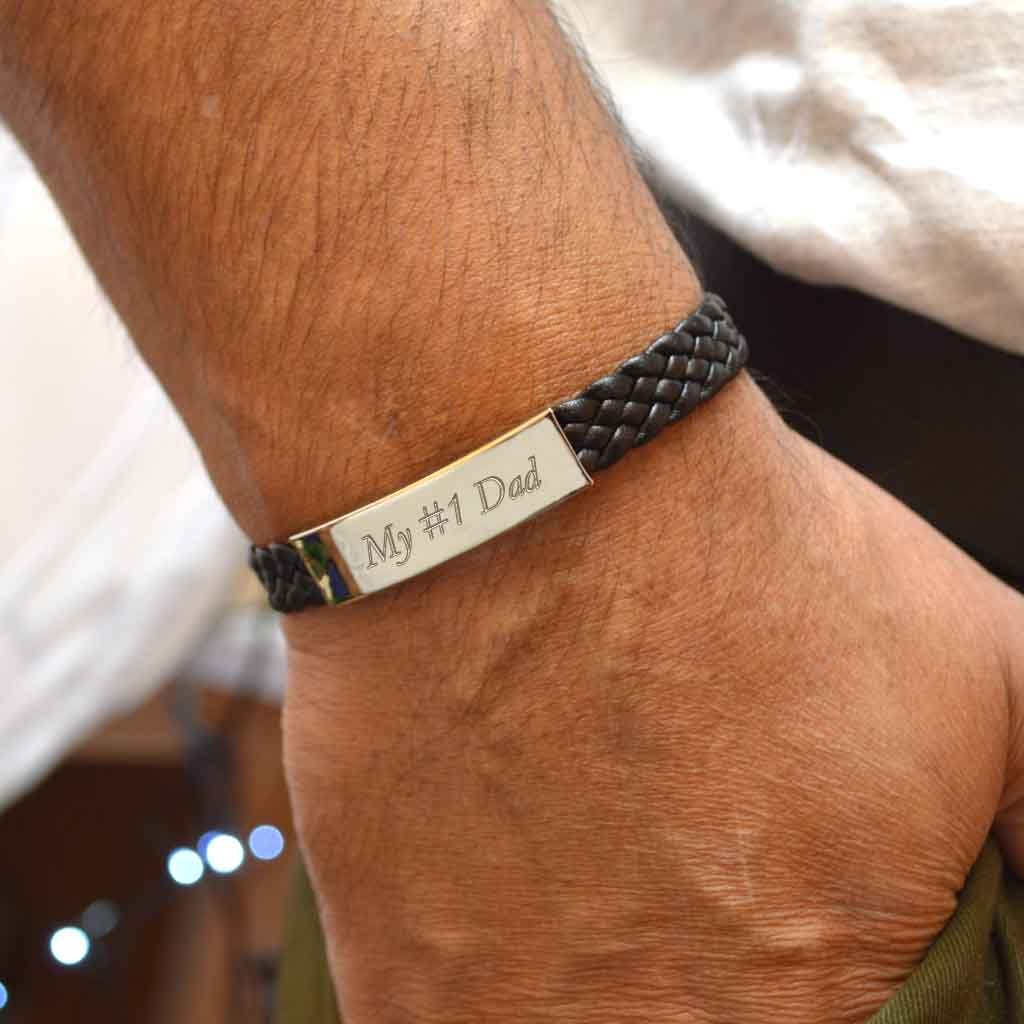 4. Personalised Fathers Day Bracelet Gift
If your dad thinks himself as a bit of a style icon, then this trendy personalised leather bracelet is sure to impress. Featuring an engraving plate, you can add any name, date or custom message to this personalised gift to make it extra special.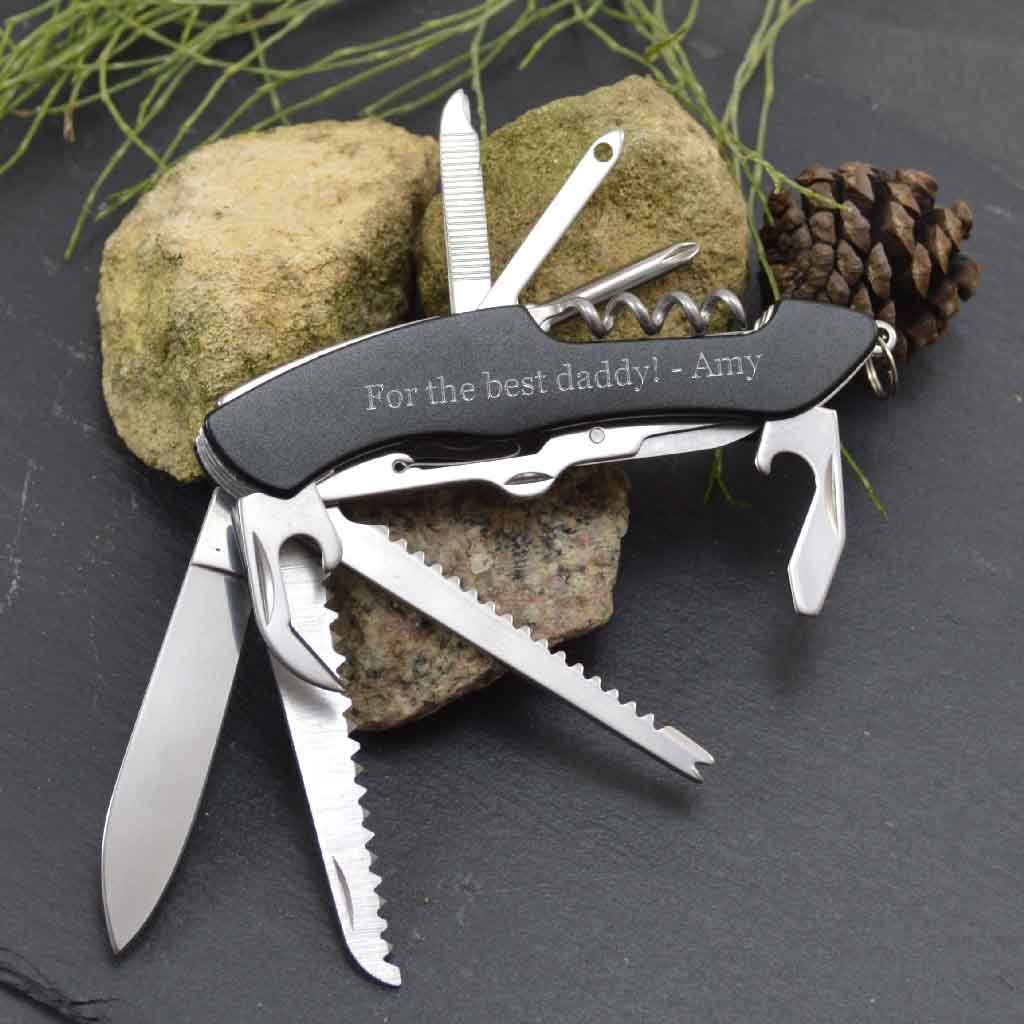 5. Fathers Day Gifts Personalised Multi Tool Penknife
Make sure your dad is ready for anything with a special multi-tool fit for Bear Grylls. This personalised multi tool offers eleven tools including several penknives, bottle opener, corkscrew, screwdriver, scissors, nail file and an awl. Personalise with his name or a message to remind him of you. Suggested messages for engraving are 'Charlie's Daddy Can Fix It' or 'Daddy's Tools Hands Off!'.
6. Fathers Day Gifts Personalised Photo Wrist Watch
Pictures can paint a thousand words and that's what make this personalised photo watch so special. Simply upload your special photo and carefully select your custom message to create the ultimate gift dad will be proud to wear.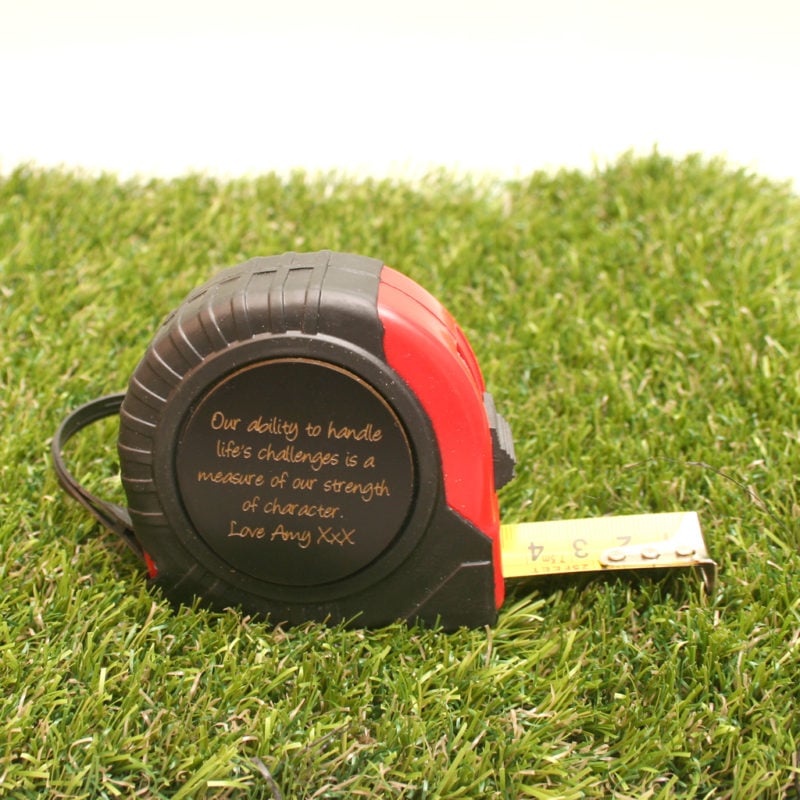 Ever ask your dad for a helping hand when it comes to DIY? Prepare him with his very own personalised tape measure which'll undoubtably become one of the most important tools in his toolbox. Suggested messages for engraving are 'Dad, No one measures up to you!' or 'Dad'll Fix It!'.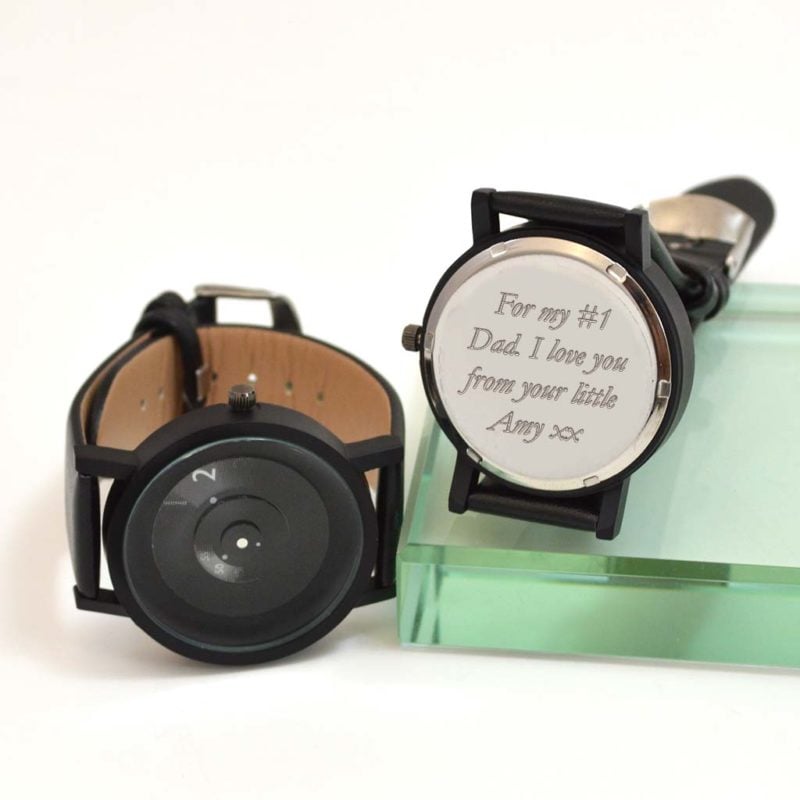 8. Personalised Fathers Day Gifts Watch With No Hands
If he's a bit of a watch collector or likes something unusual, then this is a unique gift idea for Dad. This innovative personalised wrist watch has no hands and instead displays the time using 2 rotating discs with cut outs to show the current minute and hour. Make this watch one-of-a-kind and engrave with your own message on the back.
9. Personalised Whisky Fathers Day Gifts
Father's Day is the perfect excuse to give your dad a bottle of something special. After all, it's not every day your dad will receive a personalised bottle of whisky with his name on it! Transform your very own whisky label with his name and customised message for the most treasured bottle of whisky he'll ever receive.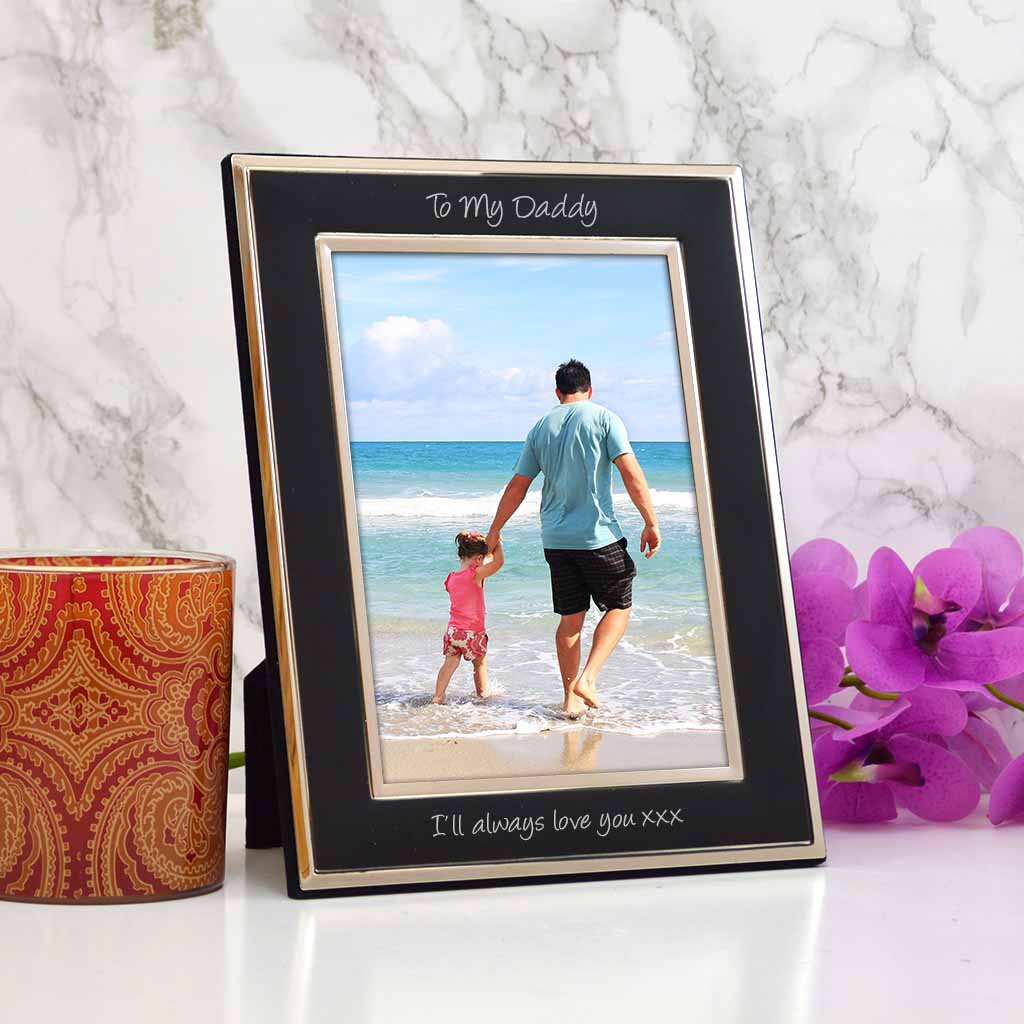 10. Fathers Day Gifts Personalised Photo Frame
Treasure all those special moments with your dad with this personalised photo frame. Select the perfect message to be engraved onto your frame and fit your favourite 6×4 photo of you and dad before gifting this to him on Father's Day.
There we have it – our top 10 personalised Fathers Day gifts carefully selected to offer you a range of gift ideas for all budgets from personalised pint glasses to engraved watches. And don't forget…there is still plenty of time to find the perfect gift for dad with free UK delivery on all orders and next day delivery available on 98% of our personalised gifts (including our photo watches!).