Father's Day is one of the most important dates of the year. It is a time to give Dad a day off and to celebrate all that he has done for you. Here, we look at how Father's Day came about, some of the traditions, and if you're struggling for gift ideas or what to do, advice for the big day.
When is Father's Day in the U.K.?
Father's Day is on Sunday 20th June 2021. It always falls on the third Sunday of June and although this may seem confusing at first, there is a very important reason for this tradition.
The origins of Father's Day go back to the early 1900s. In 1908, in Fairmont, West Virginia, a mining accident killed 362 people, with over 200 being fathers. A lot of wives were left without their husbands and children without their dads, so one resident, Grace Golden Clayton, visited her pastor and tried to initiate a day to honour and remember fathers. 
She chose July 5th as this date was the closest to her own father's birthday, who she missed very much. Unfortunately, the idea didn't take off as it was only a day after the 4th of July celebrations and a local tragedy stopped the church from proclaiming the special day.
Roughly a year after this, a woman from Washington named Sonora Smart Dodd considered that it was time to finally celebrate the impact and importance that fathers have on their children. She lost her mother at 16 and her dad was left to look after her and her four siblings. William Smart was also a Civil War veteran and Sonora felt that he and other hard-working dads deserved recognition, as mothers did.
Explore Our Range of Father's Day Gifts
Why does the date for Father's Day change?
Sonora Smart Dodd received help from the Old Centenary Presbyterian Church, the Ministerial Alliance, and the Spokane YMCA. From this collaboration, the initial Father's Day was celebrated in 1910. She originally wanted June 5th, as this was her dad's birthday, but the pastors needed more time and so the 19th was chosen. This started the tradition of celebrating it on the third Sunday of June. 
For years, they were unsuccessful in helping Father's Day become a national holiday. Where Mother's Day was a huge Christian tradition, the equivalent for dads was mocked and deemed too commercialised. It took over 60 years for it to be officially recognised and it was President Nixon who proclaimed it to be on the third Sunday of every June.
Why is Father's Day different in the UK?
Here in the U.K., we have taken on the American tradition of having Father's Day fall on the third Sunday of June. We are the same in that we give gifts to celebrate the importance of our dads, unlike some other countries such as Russia who have a large-scale parade, or the huge food-based adventures of Brazil. Father's Day gifts can be anything, but personalised, sentimental ones are becoming more popular. Cards are normally given and are generally humorous and contain a personal message. 
How can I make my dad feel special on Father's Day?
Showing appreciation for your dad is something you should do throughout the year, however on one day only, you should go the extra mile and make him feel really special. There are many things you could do to make the big day extraordinary, but here are some. From cool gifts to sentimental present ideas, there is something in our range for everyone.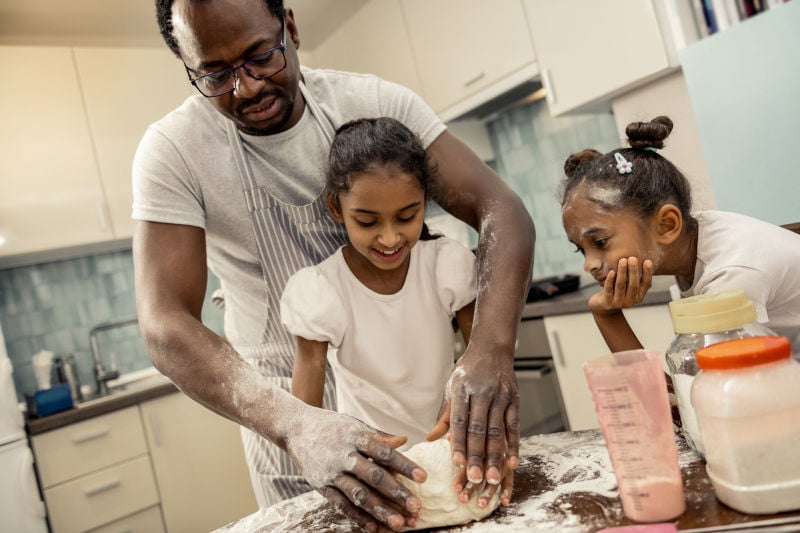 Sit down for a family meal 
The family meal is often an occasion that is never forgotten. Every single one is unique and there is always at least one incident that is remembered forever. Whether it's the time when Dad broke the chair or the infamous "choking" incident, there are always laughs to be had and strong memories to be made. Going to his favourite restaurant or pub and having a meal or just a few drinks, can be some of the most special times. Your dad is there through the hard times and it is these experiences that strengthen the bond that you have with him. Or it could make you realise he is actually quite cool!
A personalised gift
Buying a gift for dad can be difficult. He is the one who always claims he wants nothing, that he has everything. There are some things he won't have, however, and that is something that is extremely personal to him. Something simple like a bottle of his favourite drink, customised with a nice message or just a "Happy Father's Day" greeting. This would go a long way and he is sure to appreciate the thoughtfulness.
Explore Our Range of Father's Day Gifts
A special experience
Time is precious, and nothing is more so than the times shared with your dad. Some of the most memorable when growing up are the times at the cinema together. Those events always feel magical, and the atmosphere is exciting and full of anticipation. Experiencing something as amazing as that together is part of fatherhood and is a memory to hold for years to come. Something really cool, like a driving experience day, would give him an amazing time and would also create great memories to look back on.
A phone call
In these hard times, it may be difficult to see your dad in person. Even with the planned easing of restrictions, it still might not feel safe or be manageable. If this is the case, then picking up the phone and taking the time to talk to him will go a long way. Just a simple chat, whether short or long, will be a unique memory. Why not go the extra mile and teach your dad or grandad how to use video chat software, such as Zoom or FaceTime? Some of the best memories are ones of persevering. Becoming increasingly frustrated at them stumbling on the simplest of hurdles! The "banging your head against the wall" feeling of relief and joy when they finally make it. The rewards make it worth it as new, special memories are made and more will be to come. 
Whatever you choose to do for Father's Day, make it truly personal and show your appreciation to the man who raised you so well! Whether it's a personalised gift or an experience to have together, make him feel as special as he deserves.