Once Christmas has been and gone, the dark nights and bitter cold temperatures of winter are no longer that desirable.
That's why there's no better feeling than waving goodbye to the colder seasons, and saying hello to cherry blossoms, sunnier skies and lovely days outdoors.
The warmer weather really opens up so much more for us to get involved in. Breaking that Netflix habit might be difficult when the weather outside is miserable. But, it's much easier to turn off your devices and get out of the house when it's bright and (slightly) warm outdoors. 
Long walks, picnics in the park and relaxing in the garden are just a few of the things we can finally spend our time doing, and it's much deserved after a winter stuck indoors.
But, before you invite over your loved ones for a garden party, you'll have to tame your overgrown plants and weed out the effects of winter. Spring is, after all, about new beginnings. 
To help you get in the mood for Spring, we've put together the perfect list of our gardening gifts, as well as a handy guide for when to plant popular flowers, shrubs and food. 
So, whether you're a beginner, or you're a seasoned expert, you'll find everything you need in our gardening collection.
Grab your shovel, your favourite flowers and some protective gloves and get ready to garden with our personalised tools and seasonal guide!
Oh, and don't forget to stock up on hayfever tablets.
Personalised Seeds
You can't have a lovely garden without beautiful plants dotted around your flower beds. But why settle for regular old flowers, when you can have personalised seeds that sprout into wonderful plants?
We've created some unique seeds that will make your garden stand out amongst your neighbours, and wow your friends and family when they come to visit.
These unusual seeds can have any message you'd like, printed on each bean. 
Simply plant them into your garden, and in less than two weeks it will grow with the text still on the plant!
We've even got the option to add compost pellets to your order, so as soon as your seeds arrive you can get to putting them in their new home.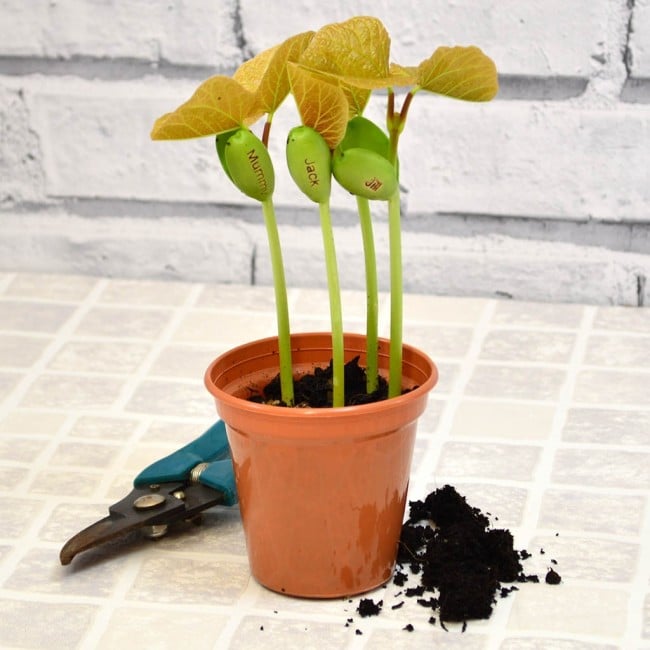 Personalised dibber
Of course, you'll need a handy tool to plant your brand new seeds, and we've got just the thing.
Anyone with a green thumb will love this personalised dibber. If you're brand new to the gardening world, you might have no idea how to use a dibber, but it'll soon become your best friend when planting seeds.
Use the end of the dibber to make holes in the soil for seeds, and pat down the soil firmly. This way you can keep your plantings even and consistent, making for an even more beautiful flower bed!
Our dibber has two options to choose from, both completely personalisable. One is decorated with a floral pattern, whilst the other lets everyone know that they're a Number 1 Gardener!
Both have a ten centimetre measurement too, so you can accurately measure how deep your seeds will be planted, for maximum efficiency. 
You don't have to stop decorating there though!
Once you have your seeds planted, and your beautiful blooming flowers, you can add a sign to stake your claim on your gorgeous garden. 
We've decorated ours for our Dads, but if you fancy something more generic, or even a special message for your loved ones they visit, take advantage of our personalisation options.
This simple design would make a lovely rustic addition to your outdoor space, with 90 characters to play with over three lines for the ultimate customisation. 
If you're after something with a more complicated design, why not grab this water can shaped, personalised shed sign?
Just like the simple sign, this unique garden decoration is completely customisable, with four lines of text with 15 characters each! There's no better way to complete your garden, ready for Spring get together and Summer barbecues with your friends and family. 
They can be hung from any surface, whether that's your house or a trellis, adorned with flowers and plants. 
Seasonal guide for planting flowers
As the weather gets warmer, it's time to get ready for some al fresco dining in your beautifully decorated garden. But, why put any old vegetables on the barbecue?
Your garden doesn't just have to be for flowers, utilising your outdoor space to grow delicious vegetables makes for homegrown produce, perfect for grilling, tossing into a salad, or just munching on for a snack!
To make it easier for you, we've put together a handy guide of the best seasons to plant some of the most popular vegetables. 
You don't have to be a natural in the garden, to be able to grow great things to enjoy. These products and our seasonal guide will give you the head start you need to go into summer, feeling confident that your garden is the best outdoor space to relax in. 
If you're a gardening expert, make sure to share your tips and tricks this Spring, encouraging your family and friends to get back into the great outdoors. Once you've gotten your garden into full swing, make sure you tag us in a picture on Twitter, and enjoy all the hard work you've put in.