It's typical for the lands of France and Italy to be referred to as the most romantic locations in the world – but we don't do too badly for ourselves either! You might be surprised to learn about the UK's track record when it comes to l'amour.
In this article, we look at the United Kingdom's most "loved up" places – the areas of our land where you're most likely to hear wedding bells on any given day. So where exactly are these marriage meccas?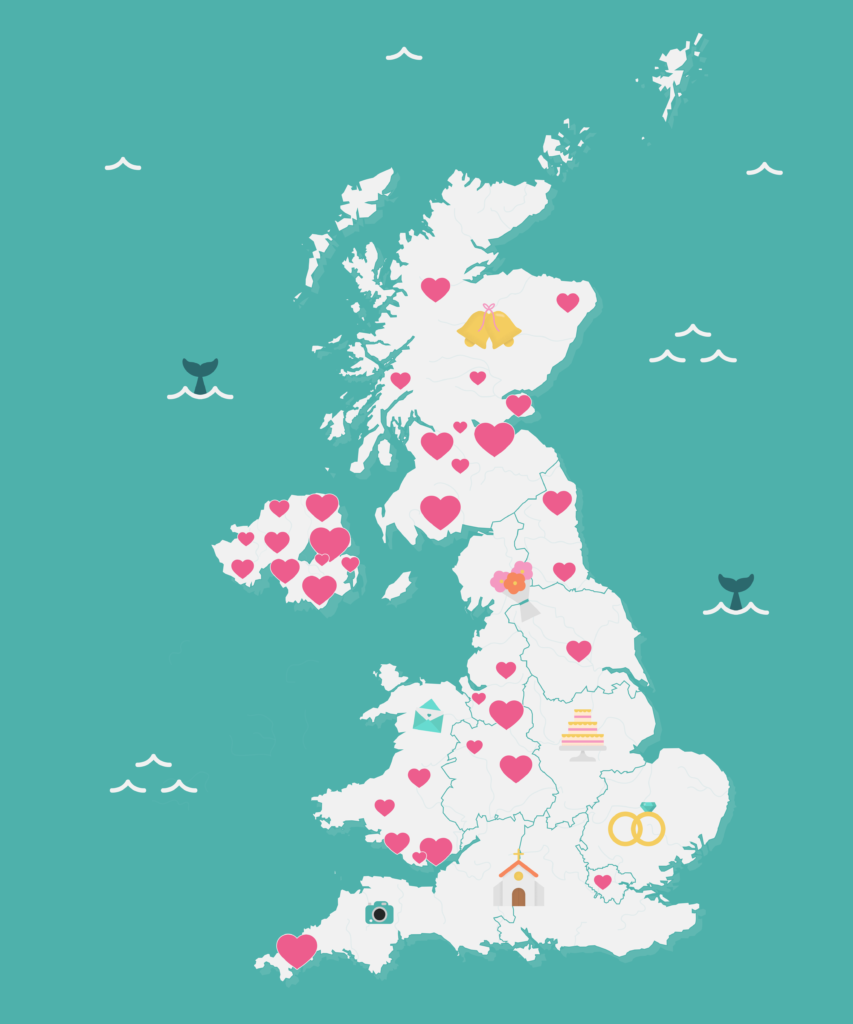 The Most Loved-Up Places in England and Wales
England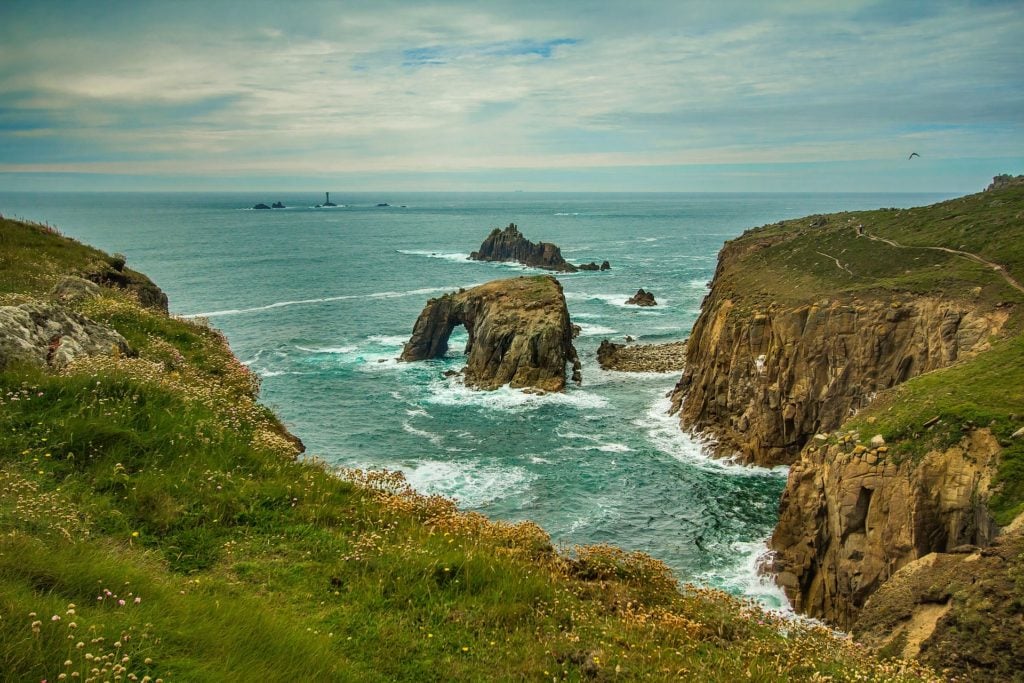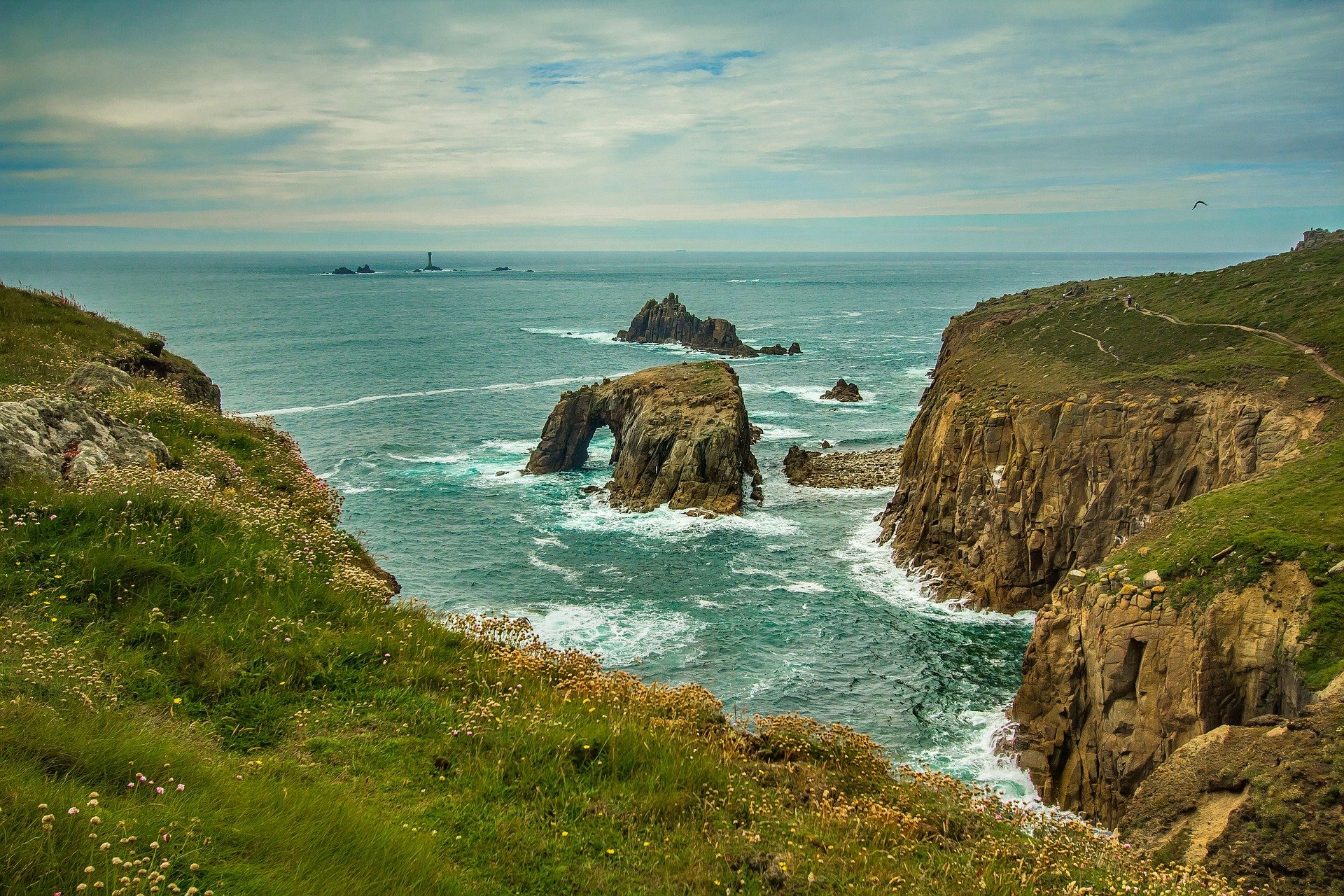 Our research, chiefly taken from the Office of National Statistics, shows that Leeds – the largest city in Yorkshire is fifth most loved-up spot in the country.
With a fascinating combination of classical and modern architecture and never far from gorgeous rural landscapes, it's no wonder that Leeds is a highly popular place to tie the knot!
Next up is Northumberland. This historic region is the northernmost county in England and makes up part of the country's east coast. It's scattered with ancient castles, lovely local market towns and some of the most astonishing scenery around. We bet the wedding photos are hard to beat!
Appropriately located right in England's heart, Birmingham takes the third spot. Often known as an urban industrial centre, the city has some stunning surprises in store! It has more miles of canal than romantic hotspot Venice, and is the official UK home of chocolate thanks to the Cadbury's factory!
Back to the north again for number two – Cheshire East is perhaps a less surprising addition to the list! Incorporating the astonishing views of the Peak District, and featuring numerous ancient towns, stately homes and country estates, lovebirds can take their pick of memorable venues.
The most popular spot in the country to get hitched, however, is Cornwall and the Isles of Scilly. It's among the locations in the UK where you're most likely to experience great weather – and, with its rolling sandy beaches, romantic cliffs and gorgeous seafront towns, couples have dozens of options!
| | |
| --- | --- |
| Location | Number of weddings |
| Cornwall and the Isles of Scilly | 4,002 |
| Cheshire East | 2,593 |
| Birmingham | 2,451 |
| Northumberland | 2,304 |
| Leeds | 2,294 |
Wales
The Vale of Glamorgan takes the fifth spot in famously beautiful Wales. Incorporating the southernmost tip of the country, the area boasts medieval castles, astonishing rural landscapes and some truly amazing beaches.
Coming in fourth is Carmarthenshire. Another ancient southern town, romantic architecture abounds in the gorgeous county town of Carmarthen – and the area is also home to the Gower peninsula with its stunning sea views and the rolling Brecon Beacons National Park.
Powys is next up. The Brecon Beacons also spill out into this romantic Mid-Wales county. With its ancient country houses, manors and lodges, the locals are clearly spoilt for choice when it comes to gorgeous venues.
Leading the way are the two largest Welsh cities. Swansea comes in at number two on our list, and Cardiff number one.
Looking out over beautiful Swansea Bay, there's plenty to do and see in the southern city of Swansea. You'll find amazing historical architecture, museums and galleries, beaches, parks and great transport links between them – enabling family members to easily get to the church on time!
Just a little way along the south coast is our number 1 loved-up spot in Wales – Cardiff. 
As the capital of Wales, there is plenty to see and do here, along with some truly unique venues – from castles to barns to museums and even Royal Welsh College of Music and Drama!
| | |
| --- | --- |
| Location | Number of weddings |
| Cardiff | 1645 |
| Swansea | 1233 |
| Powys | 835 |
| Carmarthen | 716 |
| Vale of Glamorgan | 680 |
The Most Loved-Up Places in Scotland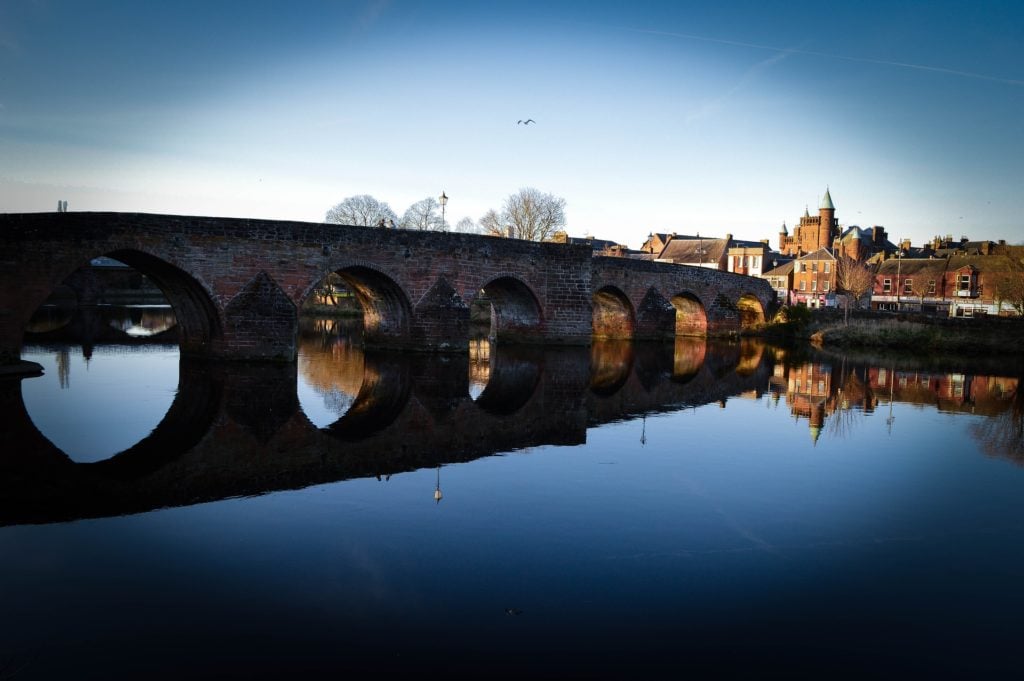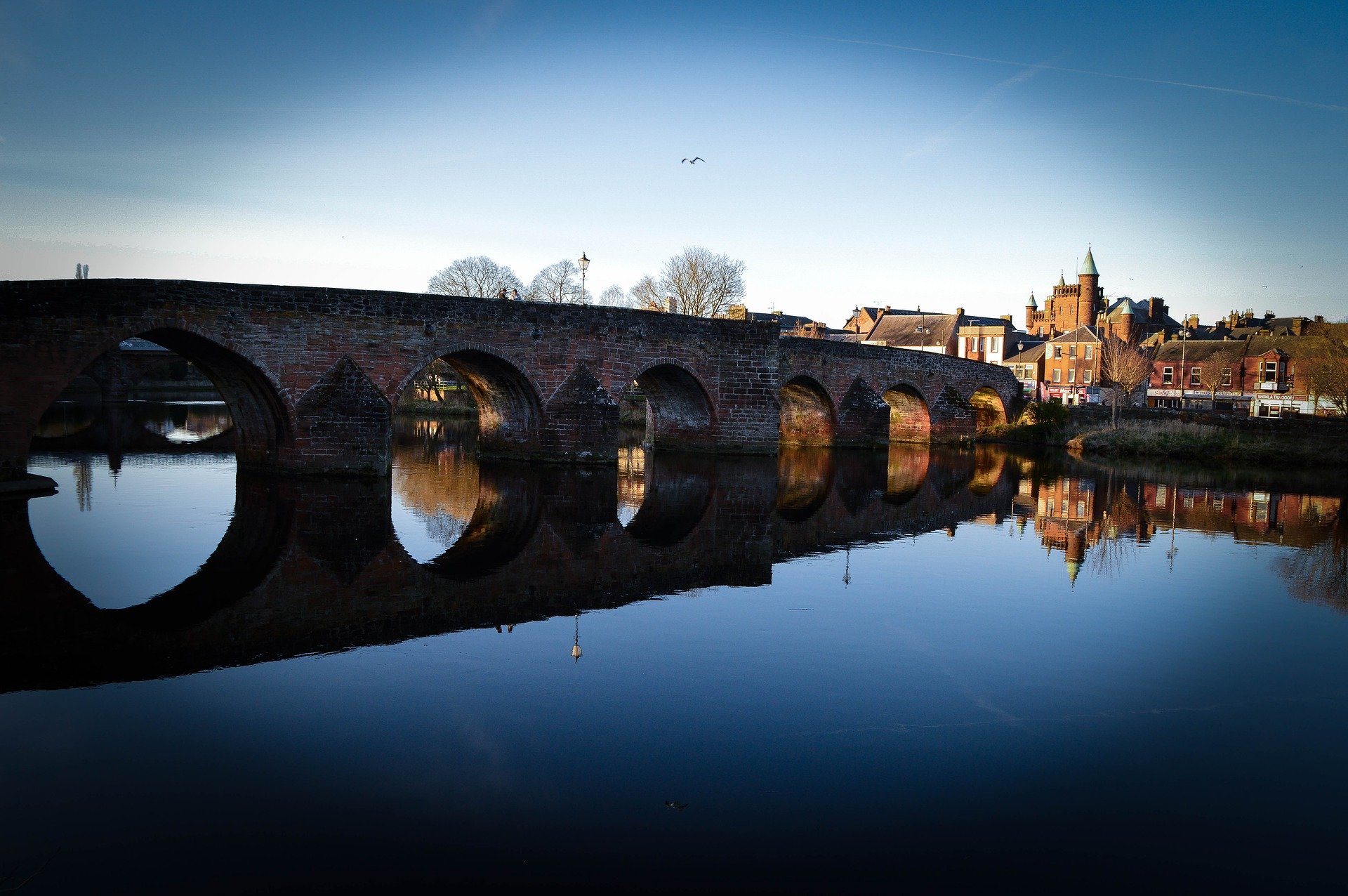 Fife is number five in our round-up of the most loved-up places in Scotland. Home to romantic fishing villages that have barely changed in centuries and looking out over the rolling North Sea, points of interest in the "Kingdom of Fife" include the famous Forth Bridge and many ancient abbeys and castles.
Who would have doubted that the Highlands would make it onto our list? They're at number four! Many a fairytale is told about this area, known for its dramatic landscape, featuring wild moorland and mysterious lochs. The Highlands are home to the iconic Eilean Donan castle and other stunning venues.
Glasgow is up next, boasting picturesque art nouveau and Victorian architecture. With the River Clyde running through the centre and plenty of attractions and activities to be enjoyed – including the famous Botanic Gardens – this major Scottish city has all the ingredients for a memorable wedding day!
Scotland's other major city – its capital, Edinburgh, is number two on our list. Famous for its arts scene and crowned by the ancient Edinburgh Castle, the city is also surrounded by a landscape littered with iconic features – including Arthur's Seat, the perfect spot to watch the sunrise.
Leading our selection is Dumfries and Galloway. That's no surprise, as this region is home to the famous Gretna Green, the elopement capital of the UK! Whether its locals decide to have their hands bound over the iconic anvil or choose a more modern approach, the area remains supremely romantic.
| | |
| --- | --- |
| Location | Number of weddings |
| Dumfries and Galloway | 4,291 |
| Edinburgh | 2,949 |
| Glasgow | 2,457 |
| Highland | 1,632 |
| Fife | 1,568 |
The Most Loved-Up Places in Northern Ireland
Despite being a newly-named region (formed in 2015 by the merging of three other districts), Mid Ulster is our fifth most loved-up Northern Irish spot. With breathtaking locations, from the wild Lough Neagh to the stunning Drum Manor Forest Park, there really is something magical about this place.
Armagh City, Banbridge and Craigavon, fourth on our Northern Irish list, sits to the east of Mid Ulster. It's an area exceptionally proud of its cultural heritage, featuring galleries, arts centres and a rich apple and cider industry! The area is popular among those seeking a quirky and unique location.
Mid and East Antrim is up next. The wonderful gardens in Carnfunnock Country Park, coupled with an astonishingly beautiful coastal route known as "The Gobbins" and a collection of glorious ports, harbours and marinas make this region wildly romantic.
From the opulent Narrow Water Castle to the beautiful Forest Park at Slieve Gullion mountain, and from ancient neolithic sites to the museums and galleries that grace the area, there is something mysterious and alluring about Newry, Mourne and Down, Northern Ireland's second favourite spot for weddings.
Belfast leads the group! The Titanic – the subject of one of the most romantic films ever created – was built here, and the imposing Cave Hill offers amazing views right across the city. Belfast is home to Georgian and Victiorian architecture along with sharp modern buildings and many great entertainment and leisure venues!
| | |
| --- | --- |
| Location | Number of weddings |
| Belfast | 1499 |
| Newry, Mourne and Down | 1009 |
| Mid and East Antrim | 804 |
| Armagh City, Banbridge and Craigavon | 728 |
| Mid Ulster | 712 |
The Most Loved-Up Days of the Year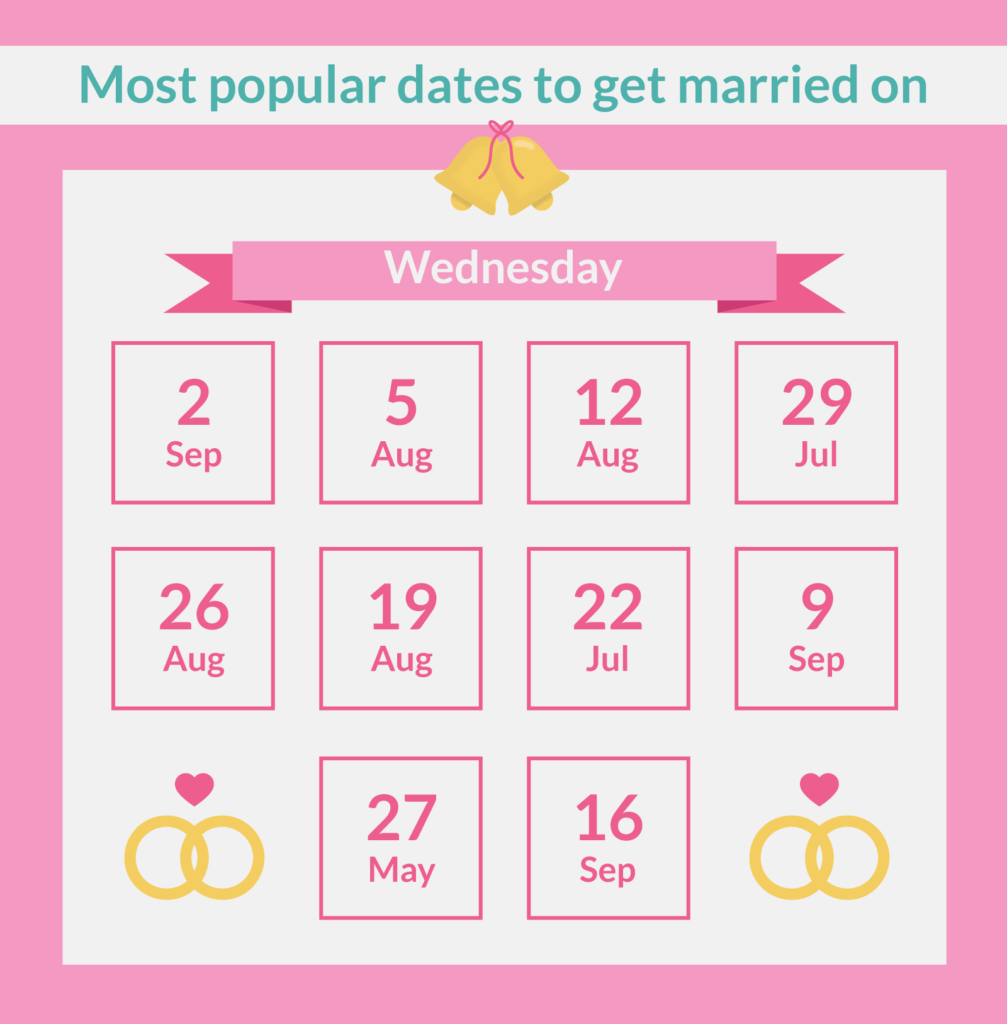 Now you know the most popular UK cities, counties and regions for weddings – but when are the most popular days to tie the knot? 
We weren't surprised to find that couples are most likely to opt for a mid-to-late summer wedding, with Wednesday the 26th August coming in fifth, 29th July fourth, 12th August third, 5th August second and 2nd of September coming out on top as the most sought-after date for nuptials.
So, you might be interested to learn that if you live in one of the regions mentioned above, you're significantly more likely to get hitched! It's also very probable that, sooner or later, a good number of your friends and neighbours will be tying the knot too.
How many happy couples do you know who have married – or plan to marry – on one of the popular days listed above?
Methodology:
GiftsOnline4U analysed the latest available marriage statistics from England & Wales (2017) matching with 2017 Scottish marriage statistics and Northern Ireland marriage statistics (2017).
Wedding dates are from England & Wales marriage statistics (2017 – latest available).
England & Wales statistics cover Unitary Authorities, Metropolitan Districts and London Boroughs. Scottish Statistics cover Council Areas and Northern Ireland statistics are broken down by Local Government District Boundaries.