Pocket watches first made their appearance in the early 16th century, where they were the most popular timepieces for both ladies and gentlemen. The earliest versions of these watches were originally drum shaped and known as 'watch clocks'. Many of the first pocket watches produced were created with an hour hand only, with the minute hand being introduced almost a century later in the 17th century.
For both men and women, these watches were traditionally an engraved pocket watch and were often ornamented, being frequently worn as a pendant or attached to garments. This was until the late 17th century, when the design was adapted to the modern-day pocket watch style. Whilst women continued to wear their timepieces as pendants, the men began to wear their watches as an attachment to their garments and stored them in their pockets, as the trend occurred when Charles II of England introduced the waistcoat. The design adapted from a bulky accessory to flattened and sleek statement pieces and were considered highly luxurious items in the 18th century, often featuring in newspaper advertisements with large rewards for stolen pocket watches.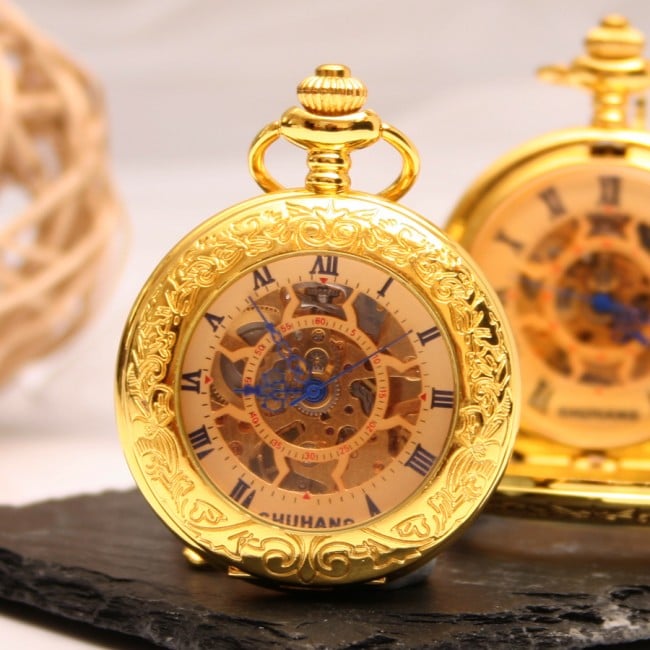 The pocket watch popularity continued with widespread use in the 19th century where they were used in railroading as well as military professions, as their accuracy was second to none – making them great for occupations where schedules and timekeeping were important. The pocket watch varied in style, with open face watches being the required pocket watch for railroader's and the hunter-case watches being popular with English fox hunters, from which its name originated. The half-hunter also being a popular choice as the centre of the front lid would be cut out or had a glass casing so you could still tell the time without opening it.
Although popularity diminished once the wrist watch was introduced in the early 1900's, they are still widely popular within modern society with people wearing pocket watches for special occasions or gifting a personalised pocket watch for special occasions. There are many traditions based on giving watches or pocket watches as gifts, some of which you may not have thought of.
In the UK and USA, there is a tradition that is less universal, with the idea of a woman gifting her fiancé an engagement watch. It is a tradition popular amongst aristocracy including the Royal Family, as it is rumoured that Kate Middleton gifted Prince William a gold pocket watch as an engagement present. Similarly, it is often a fantastic gift for 15th wedding anniversaries, with the traditional gifting option being crystal but the modern gifting tradition being watches. A personalised pocket watch with names and the dates to commemorate that special day, would make the perfect gift to your loved one!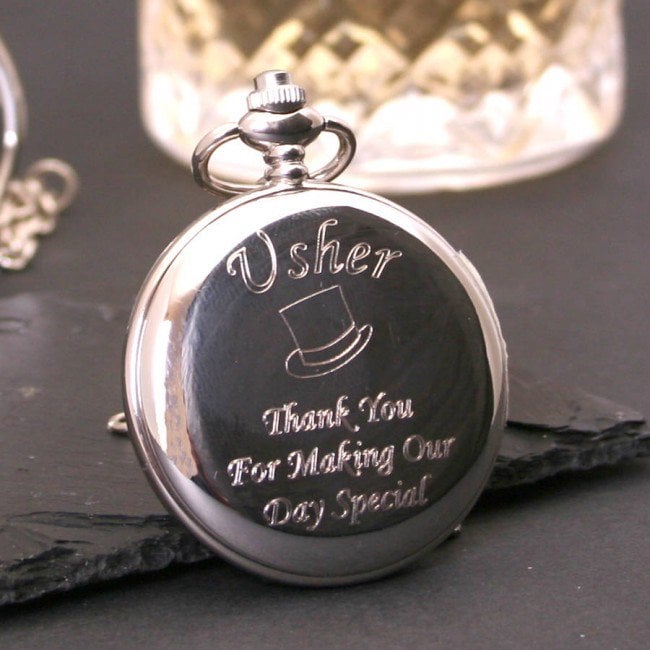 These sentimental gifts are often given as 'thank you' gifts to members of the wedding party, for example the groomsmen, the best man and the fathers of the bride and groom. They are the ideal way to say thank you for being a part of our big day as well as making classic accessories – the perfect suit and watch combo!
An Engraved Pocket Watches is often given as personalised graduation gifts as they are meant to symbolise the start of a new chapter, as well as a 'set up for life' gift with the purpose of possessing good time keeping making meetings and appointments on time. Not only this, but they are something to be worn with pride and can become a family heirloom that is passed down for generations to come. Pocket watches engraved with names, dates and special messages will keep memories lasting a lifetime and are incredible keepsake gifts that will last if they are passed down from generation to generation.
If you're looking for that special gift for that special someone, whether they've just graduated, turned a milestone age or even if it's for their wedding day, this is one of the most valuables gift that they'll treasure forever.