It's no secret that buying something for your other half can be tricky. After all, they either have no idea what they want for Christmas or they know exactly what they want and are just too stubborn to tell you. *Sigh*. And although you probably know them better than anyone else, finding them the perfect gift that you know they'll love (and will find useful) can be difficult. Let's face it, a lot of us can admit that most men in our lives can be quite picky when it comes to gifts… but fear not.
Here are some thoughtful Christmas present ideas for him and engraved gifts for men from personalised port to fun gadgets that'll have him tearing at the wrapping paper come Christmas Day.
Best Fashion and Styling Gifts
Personalised Wrist Watch Silver Grey Design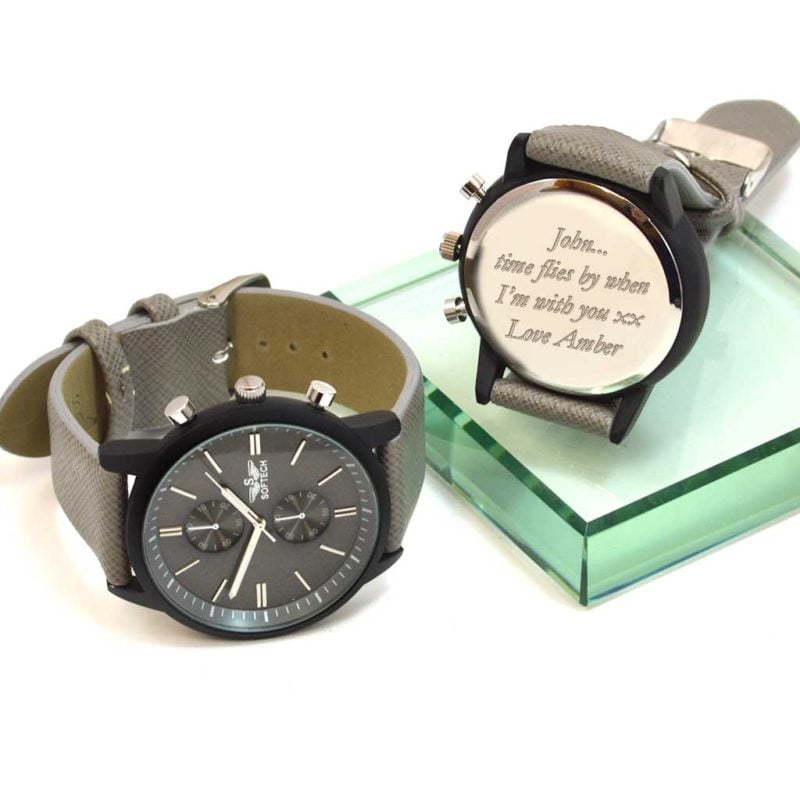 Watches are also one of the most timeless and memorable gifts you can give. If you want to make a big impression without breaking the bank, an engraved men's watch is the perfect solution. This sleek and stylish wrist watch in grey with silver and matt black features is the ideal timepiece for the fashion savvy guy.
To Buy: £44.99 – Notonthehighstreet.com
Men's Razor Subscription Box Gift Set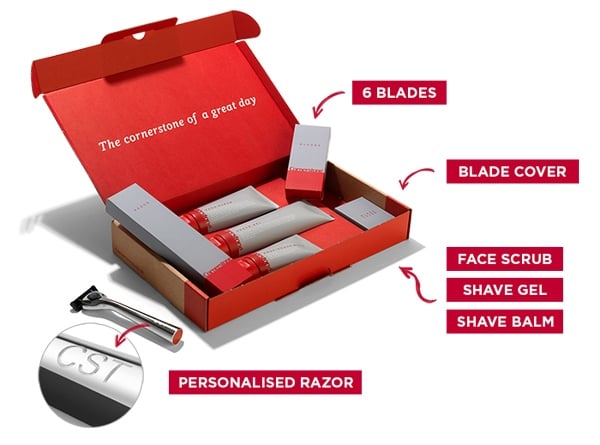 Does your man have to shave every day to keep himself looking handsome and tidy? Give him everything he needs for a better shave right to his doorstep with a razor subscription box. Including a brilliant range of unique shaving products and accessories, this gift box contains the essential must-haves for the well-groomed gent.
To Buy: £30 + Free Delivery – Cornerstone.co.uk
Personalised Photo Dial Wrist Watch for Boyfriend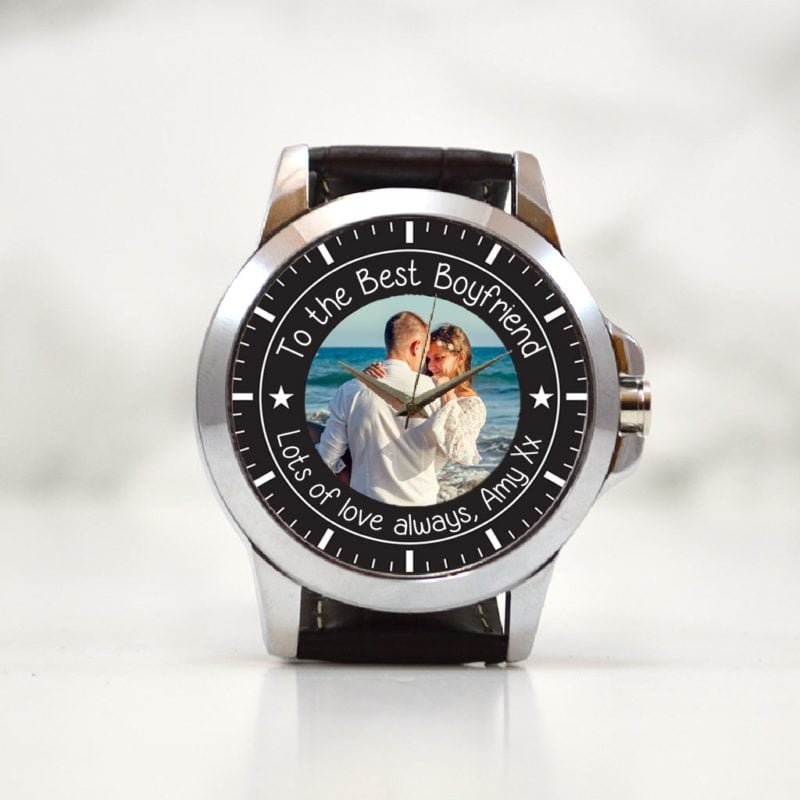 Want to remind him of a special time or place? Perhaps this is your 1st Christmas together or one of many Christmases – this personalised photo watch will make an unforgettable present nonetheless. Bring your favourite memory to life with a one-of-a-kind gift for boyfriends.
To Buy: £59.99 + Free Delivery – GiftsOnline4U.com
Best Sport Gifts
Personalised Golf Multi Pocket Tool Gift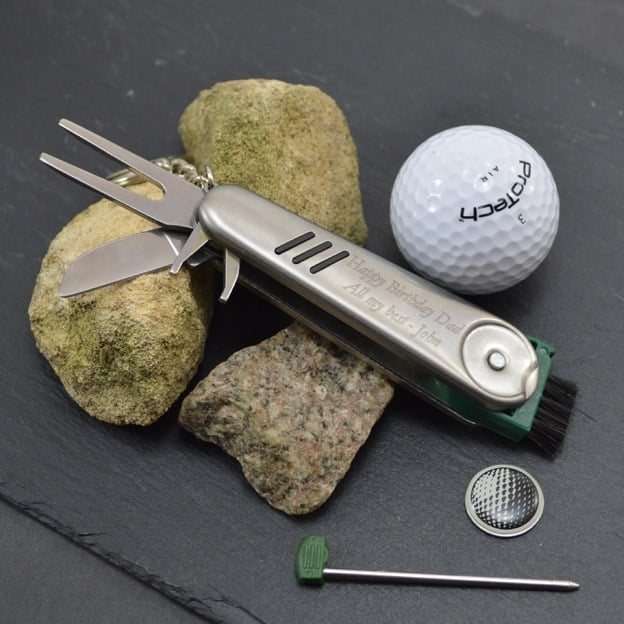 If you know someone who spends most of their time at the golf course, then golf gadgets are a sure-fire way to their heart. This engraved gift for men features divot tool, brush, ball marker, spike wrench, knife and ballpoint pen all in one! What better than a personalised multi-purpose tool for their golfing assistance!
To Buy: £22.99 + Free Delivery – GiftsOnline4U.com
Sony NW-WS413 Waterproof All-in-One MP3 Player – 4GB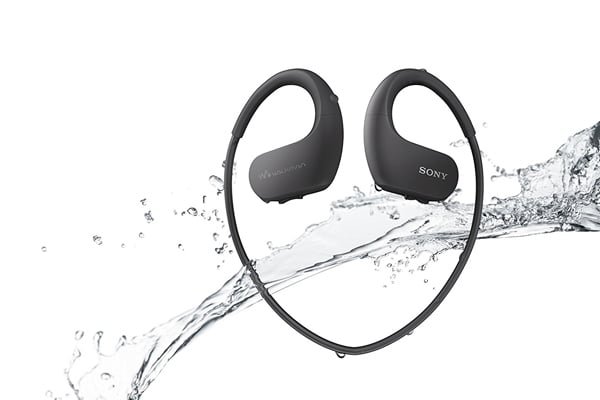 Does he love exercise and fitness? For the active boyfriend or husband, treat him to these compact all-in-one headphones with inbuilt MP3 player. Designed specifically to endure a range of sporting conditions, these are waterproof, dustproof and suitable to use in climates of up to 45 degrees Celsius. With 4BG of storage, this is perfect for their entire workout playlist!
To Buy: £54.99* – Amazon.co.uk
Best Tech/Gadget Gifts
Amazon Echo Dot (2nd Generation) with Alexa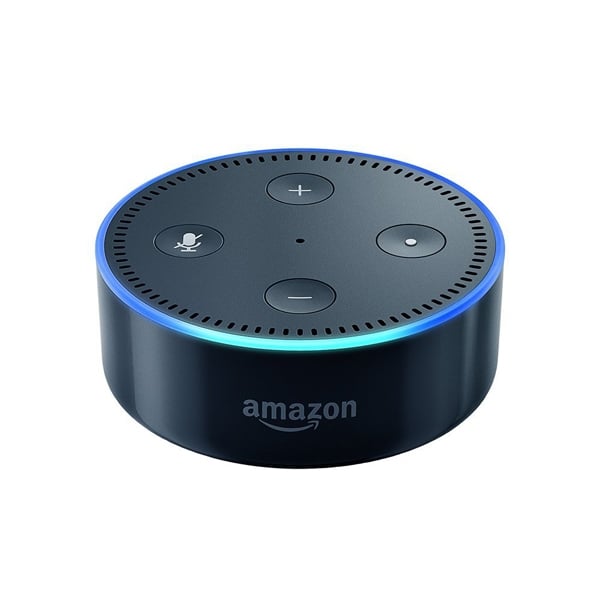 The Christmas gift he didn't know he needed comes in the form of the Amazon Echo Dot. Both hands-free and voice controlled, Alexa will play music, answer your questions, call or message, control your home devices and much more.
To Buy: £49.99* – Amazon.co.uk
Tile Combo Pack – Key Finder. Phone Finder. Anything Finder – 2-pack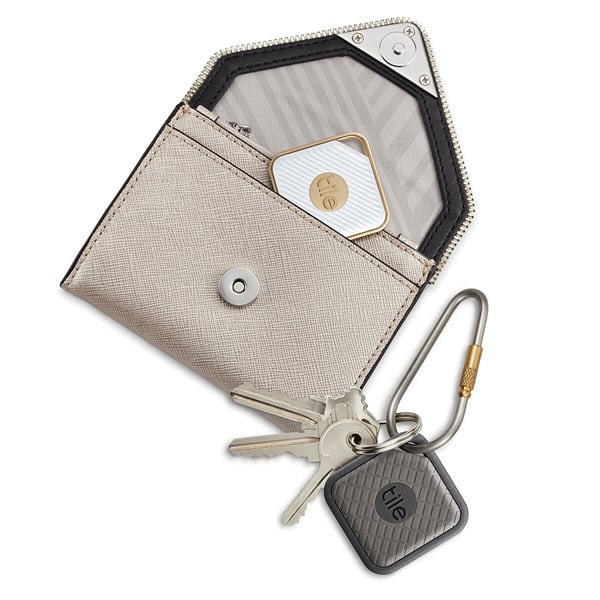 If they're forever losing their phone, keys or wallet, then this is the perfect present for him! Simple store your tile in your wallet or on your key and use your phone app to immediately 'ring' your lost stuff, locate it on the map and more. This version covers 200 feet and is made elegant and durable to fit in with your lifestyle. This pack-of-2 is uber-stylish and is a fantastic gadget gift for him!
To Buy: £39.99* – Amazon.co.uk
Best Drinks Gifts
Personalised Special Reserve Port Gift in Decanter Style Bottle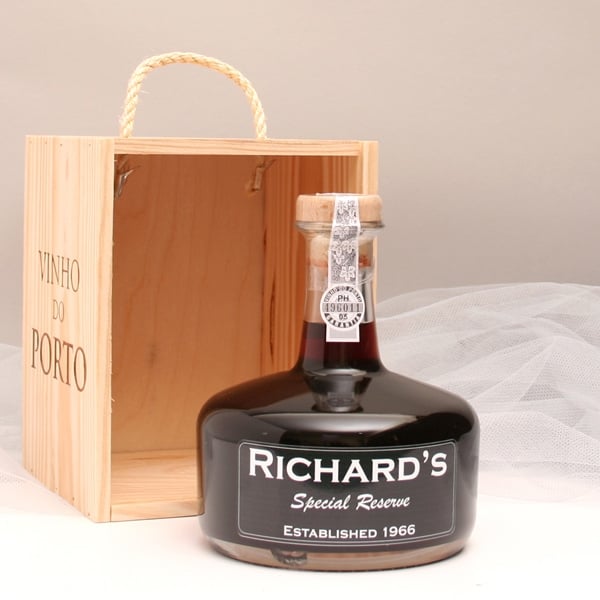 Is your boyfriend or husband a wine lover? Opt for this festive personalised port to make the perfect accompaniment to a cheese board. A special reserve with a luxurious taste is sure to not disappoint, with wooden rope handled box too!
To Buy: £59.99 – GiftsOnline4U.com
Best Boyfriend Personalised Spirit Gift Set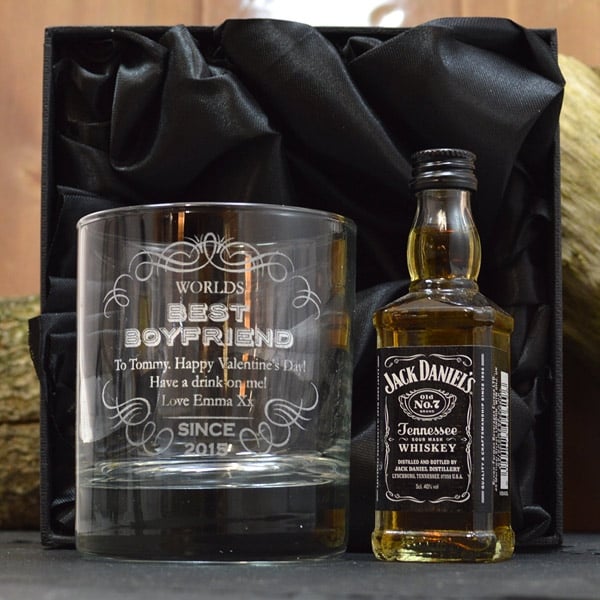 Let's face it, we all have a man in our life that's super tricky to buy for. You've resorted to buying them their favourite booze on every gift-giving occasion, so why not go against the grain with this personalised spirit set for boyfriends? Select a spirit to accompany their fantastic engraved whisky tumbler with your special message on it for the ideal Christmas gift for boyfriends.
To Buy: £26.99 – Notonthehighstreet.com
Nespresso Inissia Coffee Machine by Magimix – Black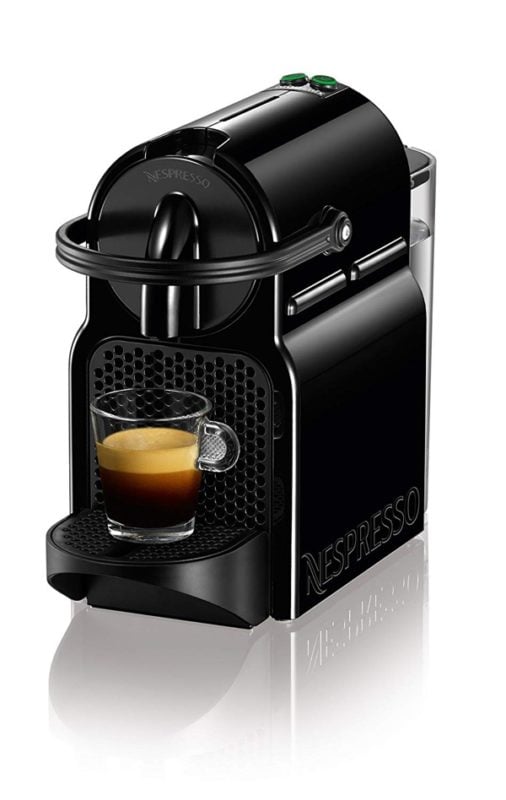 What guy doesn't enjoy a barista-style coffee? The compact Nespresso Inissia is a smart little coffee machine perfect for their every coffee need, and with hundreds of different coffee pods to choose from, your man will never get tired of the limitless coffee options.
To Buy: £89.99* – Amazon.co.uk
If you're still looking for gift inspiration and don't know where to start, check out our Ultimate Guide on How to Shop Gift Ideas for Boyfriends.