Ask a crowd of wine lovers to name an Italian fizz starting with the letter 'P' and almost everyone will shout 'prosecco!'. Is it me or do you barely hear the word champagne anymore? Perhaps its lost its sparkle!
There isn't any wonder that prosecco has become the No. 1 party drink of choice, knocking champagne of the top spot for most favoured bottle of fizz (Fun fact: they only introduced the 'fizz' in the 19th century!). In fact, due to its light, refreshing and easy drinking qualities, us brits consumed a third of all prosecco produced last year alone – that's more than any other country including the Italians themselves!
With this popular bottle of fizz taking the world by storm costing just a fraction of the cost of your average champagne, it's easy to see why Prosecco has gained in popularity, making it a more affordable gifting option for all occasions too! Whilst keeping costs down, it still makes for an easy yet equally luxurious present that is sure to please any recipient that is lucky enough to receive it. And that's where our Personalised Prosecco Gifts come in – with personalised label designs varying for occasion from birthdays, to weddings, from the I love you's to the congratulations too. And don't forget our large selection of Personalised Champagne Flutes too!
Are you in need of prosecco gift inspiration for that special occasion? Whether you're buying for a someone else or you love prosecco yourself, this is exactly where you need to be.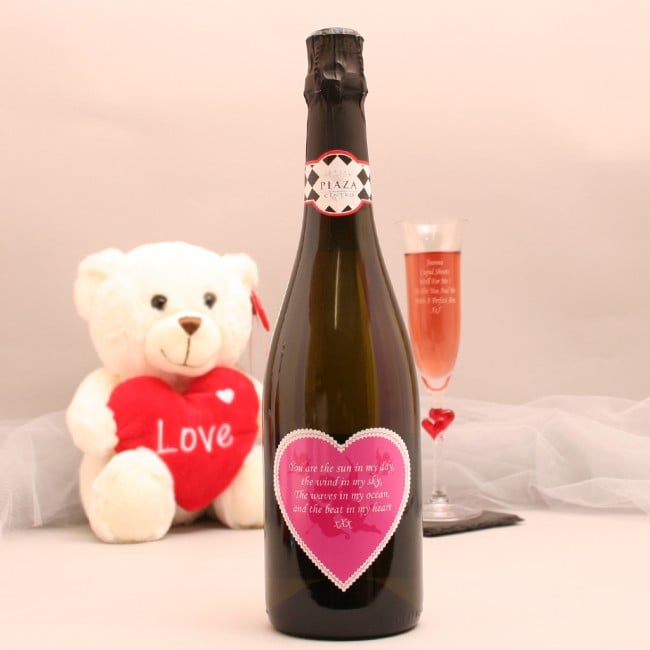 Personalised Prosecco is the way to any prosecco lovers heart – especially with this Personalised Prosecco with Pink Heart Label! This is a fantastic gift for that special person in your life or for someone you want to share your love with. Adorned with our unique heart shaped pink label embellished with cupids; this label can be specially printed with your personal message with up to 5 lines of text. That's more than enough to fit on those soppy words you've been meaning to say! But if you're thinking of occasions this would be best for, then try this gift idea for Valentine's Day, anniversaries or on your wedding day.
But if you're looking for a gift for the guys, then this is the perfect prosecco gift! Whilst men are generally (I find) more difficult to buy for, this is a truly unique and stand out gift which would be ideal for birthdays, graduations or as a congratulations present. With a monogrammed logo printed onto the luxurious pewter label, you can personalise this with the recipient's name, initial and important message. You can even select a chosen font in which you want your message displaying!
Unsure if your recipient is a big prosecco drinker? Test the waters with one of our miniature gift sets! They are super affordable with sets costing just £29.99 for a miniature bottle of prosecco and a personalised champagne flute, which both come beautifully presented in a satin lined presentation box. I always think half the fun of gifting, is to make sure the presentation of your present really stands out and gives the wow factor. This gift idea really is great for every occasion and every recipient.
Want to top your personalised prosecco gifts off with a little extra sparkle? We've got all the added extras too! For me, gift giving its always about 'the big reveal', going to town with ribbons, gift wrap, gift boxes and gift cards. So why not top of the personalisation of your prosecco gift with Engraved Bottle Boxes?
And if you feel like making your gift extra extra special, you could create your own gift set with a personalised bottle of fizz, personalised champagne flute and an engraved box! Now that really would make the ultimate personalised gift!