100 Photo Gift Ideas for Your Dad on Father's Day.
Sometimes, when we look for a gift – we don't just want the standard one size fits all gift; sometimes we want something so emotional that it stands the test of time. Father's Day is one of those occasions, when a gift that really shows 'our feelings' is what we want to give but with Father's Day coming around every year…sometimes the gifts that we give are tired and have less value because they feel like they are more token gifts because of the occasion rather than sentimental. We thought it might be worth telling you that according to Statista, the annual retail spending on Father's Day in the United Kingdom (UK) was estimated at £986 million in 2022, compared to £743 million in 2017 so a nation we are spending a lot more on those special men in our lives. BUT are we spending on the right gift? Interestingly as well, the average that we will spend over Father's Day has increased as well from £20 to £24.
We know that's it's very hard to find a great gift for dads on Father's day and we also know that there are lots of options out there; finding the right present can feel overwhelming and time consuming. We want to created a gift guide to help you; we wanted to help you find that gift that really creates that feeling of 'wow' when your dad opens it up. This guide primarily focus on the use of photos and incorporating them into the gift that you are giving.
By using a photo it shows you have taken the time to find the perfect memory that means something to both of you. Have a read of our gift guide below and see if one of these gift ideas fits the bill and can be personalised with a really meaningful photo.
The list below covers different interests and passions because we know that all dad's come in different shapes and sizes with a whole range of hobbies. All of the selected presents can use images and photos – some are quite standard and obvious gifts while others are a little bit more out there and creative.
Choosing the perfect image, picture, or photo:
When choosing a photo, consider using a photograph that holds special meaning, moment, or memory that you both share together. Also, use high-quality images to ensure the best possible print quality; a grainy image could really distract from a truly beautiful and thoughtful gift.
Presentation:
In addition to the gift itself, consider how you will present the gift. You could include a handwritten note or card expressing your feelings. If he has a hobby or particular passion then why not go all out and wrap the gift in a themed wrapping paper. We also believe whole heartedly in wrapping presents! There is nothing better than tearing off the paper to find something truly unexpected. It all adds to the sense of excitment too. We've created lots of videos on how to wrap gifts but if you end up choosing a personalised photo wine gift, then our how to wrap a bottle is the perfect companion for you!
Budget:
We talk more about budget later on but before you start your gift search – think carefully about how much you want to spend. If you have a limited budget, some of the gift ideas listed below may be more feasible than others. There are still loads of great photo gifts that you could give, even if you are on a budget.
Photo Frames and Albums
Let's start with the obvious. Capture memories with the simplest yet timeless photo gift – photo frames and albums. Photo albums are great because you're not limited to one or two photos and they give you the ability to create visual memory books. Photo frame are also brilliant too because there are a variety of sizes and styles which mean that you can create a really striking and visually beautiful gift.
Photo frames and albums make great photo gifts because they allow you to showcase your favourite memories in a tangible way. You can pick up and look at these any time – essentially, they are both meaningful and functional. The list is endless when it comes to this category.
Photo Frame With Message – choose a special photo and then have the frame engraved with a message of your choice.
Photo Album – pick a photo album and have a range of photos printed and arrange them into the photo album to tell your own story.
Photo Canvas – create a piece of wall art with this choice, something that can have pride of place on any wall in your dad's home.
Wooden Photo Cube – this is a great 'desk gift' for the office dad. Something to re-focus his mind if he's having a bad day because he'll be reminded of the ones he loves.
Glass Photo Frame – there's a lot of different photo frames out there. Depending on your dad's style he may prefer glass over any other material.
Wooden Photo Album – a great idea if your dad loves a tactile and environmentally friendly gift.
3D Crystal Block – these are brilliant because you can create a 3D rendering of a photo inside a glass block and they act as a great display piece or paperweight.
Photo Book – similar to an album but a photo book gives you the ability to design your own pages and add more than the 'standard album' number of photos.
Acrylic Photo Block – this is similar to the 3D crystal block but allows you to use a 2D colour photo sealed within an acrylic block. It's a unique take on a photo frame.
Photo Collage Canvas – rather than just having a single image, create a story of images via a collage.
Photo Slate or Stone – You don't just have to use the standard frame or album option. It's now possible to print or engraved images onto a range of materials such as slate.
Barware and Drink Accessories
This is a great category because you can choose a practical gift that also leans into something social that he enjoys. This collection offers a unique and personalised way to help your dad enjoy a tipple or two. From personalised tankards and wine glasses to shot glasses and coasters, you can choose from a variety of products that can be customised with your dad's favourite image.
These items make excellent photo gifts because they add a personal touch to drinking; every time he uses this item he will be reminded of you. The great thing about them as well is that they are not just decorative – they're also functional. So, whether your dad enjoys a cold beer or a glass of red wine, these personalised barware and drink accessories are the perfect addition to his collection.
Bar Sign – spruce up his personal bar area with a sign that shows off how much your dad enjoys being social with his friends and family.
Whiskey Barrel – while these can't always be personalised with an image, combined with a photo greetings card and a signature blend, this could be a magical gift.
Beer Tankard – lots of tankards can be personalised with an image of something your dad loves.
Wine Box – get an image with an personalised message printed onto a wooden box and add it as an accessory to a bottle of wine.
Coaster Set – design a unique range of coasters for your dad with special photos of memories that he really treasures.
Personalised Bottle Opener –  Engrave a photo or custom message onto a bottle opener to create a gift that is both practical and sentimental.
A personalised hip flask – a little hidden gem for your dad to keep in his jacket pocket. Add a photo or etched imaged onto the flask to create a really unique gift.
Bar runner – a great addition to your dad's in home bar. Create a personalised bar runner with photos of his loved ones to remind him of enjoyable and special moments.
Personalised cocktail stirrers – add a range of memorable photos to these to create a fun and quirky gift that can be used to entertain guests too!
Edible drinks toppers – these could be personalised with photos and added to special 'dad' cocktails on Father's Day!
Drink Experiences
We've talked about accessories and barware but what about your dad's favourite tipple of choice? If your dad is a lover of a specific type of drink then why not choose to get him that and then make it extra special by personalising it? You could for example, choose a bottle of his favourite wine and then design a label with a photo and message? This is a great idea to create a keepsake gift. You could even buy a few bottles and give your dad a gift that lasts for a few months or years.
Choose from:
Fine Wines such as Chateauneuf du Pape or Barolo
Gin
Vodka
Brandy
Sambuca
Wines (Red, White or Rose)
Prosecco
Champagne
Another option would be to go on a cocktail making class or whisky experience with your father and then create a photo book or photo album full of these memories!
Watches and Jewellery
Gifts that you can wear especially watches and jewellery can really stand the test of time especially if there is a sentimental touch of them. Essentially, these are timeless keepsake gifts – some watches and jewellery pieces can be personalised with photos and messages and because of this, they are a good gift when it comes to capturing special memories and milestones For example; giving a personalised watch to a new dad with a photo of their new born baby and including the baby's birth date as an engraved message on the reverse of the watch. The lovely thing about watches is that you've got so many options and styles that suit a range of taste and for the older dad or for someone who likes a statement piece – a pocket watch is a great time piece to receive.
Below we've listed out ten different wearable gift ideas that we feel are incredibly sentimental:
Photo Wristwatch – the perfect companion for any watch lover. They can wear it for special occasions or a daily time piece.
Photo Pocket Watch – this is a great gift idea and is especially unique. A pocket watch is a statement piece and is a fantastic idea for older dad's and grandads or in fact anyone who is a lover of the more traditional style watches.
Photo Locket Necklace – though these might seem more applicable as a feminine gift, there are lots of locket styles that have been designed with the modern man in mind! Lockets are a classic photo jewellery item as they can be worn close to the heart.
Photo Cufflinks – perfect for the suit wearing gift or ideal for dad's to use on special occasions when the day calls for a pair cufflinks!
Photo Keychain – though technically not a piece of jewellery, key chains are one of the most useful gifts out there – we all need somewhere to keep our keys and we use them daily.
Photo Bracelet – similar to the photo locket necklace, in this modern day and age there are so many variations of bracelets that are designed for men; so why not make them extra special and include a photo?
Photo Dog Tag – photos can be etched on dog tags and they are a great alternative to using a standard photo.
Photo Necklace – similar to the dog tag, pendants can be an ideal alternative to a locket as you can also etch photos onto them.
Photo Ring – why not replace a signet or seal in a ring with an inset photo and sealed with either resin or glass? Every time your dad looks down at his hands, he'll be reminded of the ones he loves. A wonderful way to keep cherished memories close by.
Photo Tie Pin or Lapel Pin – another one for the suit wearer. This is a great way to personalised quite a practical item with something incredibly sentimental.
Clothing and Accessories
Clothing and accessories are a great way to add personalisation. You can add images or photos to create a unique piece of apparel. The best part? They can be worn on daily basis which would be a great way to remind your Father of you. Personalised clothing is brilliant for those dad's who love a slogan tee or printed clothing because they align to their sense of style.
When it comes to clothing and accessories though, there are so many options to choose from so if your dad is into formal wear, you could go for something as simple as a tie or a pair of socks. If he's more casual, then you've got hats, t-shirts, jumpers and all sorts to choose from! With this list below, you can add an image or photo to any of them – transforming them from just a 'standard' item of clothing into something unique and one of a kind! Pick from:
T-shirts
Hoodies
Socks
Hats
Ties
Cufflinks
A Wristwatch
Jogging Bottoms
Wallet
Wearable Keychain
Home Decor
While we talked about some of the printed photo items you could give earlier until the frames and albums sections.. there are lots of home decor items that can be customised with imagery to make something bespoke and one of a kind. Soft furnishings transform a house into a home so why not add a bit more sentimentality by creating home decor out of the memories you've made with your dad?
From personalised canvas prints, wall art, throw pillows to photo blankets, there is a wide range of options to choose from. You can also add meaningful quotes, or even his initials to make him a truly one-of-a-kind gift.The best part is that these items can be appreciated by the whole family, making them a gift that everyone can enjoy. Here are a few ideas to choose from:
Metal Wall Art – similar to a canvas, you can a photo or of collage of images printed onto metal to create something really unusual.
Wooden Sign – as with the metal wall art, wood is another great medium to print on and often offers beautiful textures to imagery.
Throw Pillow – add a bit of comfort and familial love with a pillow adorned with a beautiful image that means something to your dad.
Doormat – a great way to show the 'world' what you mean to your dad, when the first thing they see is a photo of his loved ones.
Coasters – a simple gift idea but really useful with a touch of love. Personalise with photos and special memories that remind your father of times together when he sits down to enjoy a nice hot or cold drink!
Wall Clock – we all need to know the time at some point in the day. What a great way to remind your father of the things that matter most time whenever he checks the time.
Slate Plaque – another opportunity to use a textured surface for printing. Creating a really stand out piece of home decor.
Calendar – personalised calendars are lovely gift idea because your dad can use it continually throughout the year and in fact will probably look at it everyday.
Photo Frame – we've talked about these already but there's so many options out there to choose from that will suit any style or taste.
Fridge Magnets – if your dad is one to keep his special memories on the fridge then a magnet is ideal!
Kitchen and Cooking Accessories
Does your dad love to cook and spending time in the kitchen? If so, use one his photos to create a personalised accessory that will make any budding chef jealous! There are lots of options to choose from include chopping boards, aprons and oven gloves. Not only will these items add a personal touch to the kitchen, but we hope will also make cooking more fun and enjoyable. Every time he uses one of these gifts, he'll be reminded of you. The great thing is that they are also practical too!
The list below includes a few ideas that you can personalise with a photo and message of your choice:
Chopping Board
Personalised Apron
Oven Gloves
Cheese Board
Serving Tray
Recipe Box
Kitchen Mat
Tea Towels
Photo Coasters
Photo Mug
Office Accessories
Does your dad work from home or does he head to the office most days? Either way, it doesn't really matter. Photos are the perfect way to personalise any work space and what's even better is when one of those photos is transformed into a practical and useful gift that he can use to brighten up his work day! You've got an array of options to choose from when it comes to office based gifts including mouse mats, desk organisers, personalised diaries, calendars, pen holders as well as business card holders. Personalise anything to create a lovely keepsake for any dad at work.
These items are functional gifts but they can also make the workspace more organised and homely. Overall, office accessories are a thoughtful and practical gift that can be really helpful. Here's a few ideas to choose from:
Mouse Pad
Desk Organiser
Pen Holder
Personalised Diary
Photo Calendar
Business Card Holder
Desk Plaque
Paperweight
Personalised Notebook
Letter Opener
Outdoor and Sports Accessories
If your dad loves spending time outdoors or enjoys playing sports then this might be the perfect category for you to choose your dad's Father's Day gift from. You'll be able to bring a personal touch to his favourite hobbies and make them even more enjoyable with a sentimental photo gift. Think about your dad's favourite outdoor pursuit and then peruse the list below and see what fits. All of these can be personalised with a photo and/or a message too so will be a lovely keepsake for him as well as a practical gift.
Golf Balls
Water Bottle
Sports Towel
Camping Mug
Camping Chair
Golf Towel
Photo Golf Glove
Photo Sports Bag Tag
Personalised Yoga Mat
Personalised Golf Ball Marker
Travel Accessories
If your dad enjoys traveling and is forever looking for his next adventure, then travel accessories can be a great gift idea. A simple gift yet a lovely sentimental idea and a unique way for your dad to take you with him!
Luggage Tag
Passport Holder
Travel Pillow
Toiletry Bag
Luggage strap
Travel Journal
Photo Travel Mug
Beach Tote Bag
Weekender Bag
Laptop Sleeve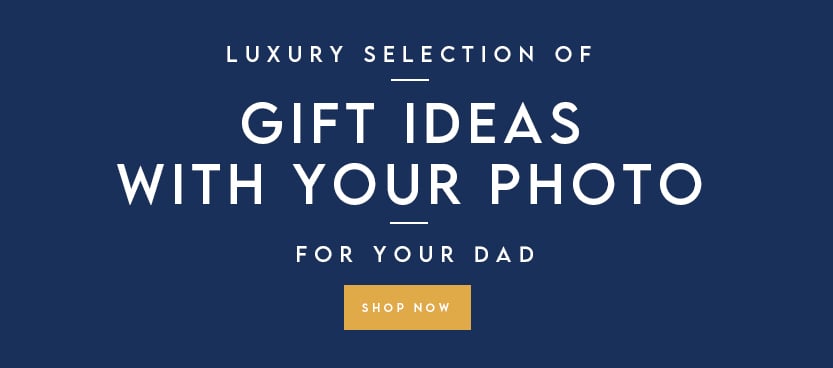 Budget:
Budgeting is always important when you're planning for a special event or buying a gift. You shouldn't feel pressured to buy something that is just not affordable for you right now – that just creates unnecessary anxiety and stress and takes away from the joy of giving a gift. In fact, when you spend what you don't have to make someone feel valued, it can often have the opposite effect because you may feel resentful about spending the money. We know that Father's Day is a special occasion and that you will want to get something special for the day and so giving something sentimental is often a better choice because it won't break the bank. Below are ten simple tips which will help you to stick within your budget:
Set a budget: think about how much you want to spend and stick to it. A lot of people nowadays use budgeting tools or spreadsheets to work out their monthly costs. By knowing what you have to spend and the impact on your budget if you overspend – you'll feel comfortable that you're spending what you can truly afford.
DIY gifts: Create a handmade gift or card for that sentimental and personal touch. DIY gifts are often the ones that are kept as special mementos and keepsakes.
Shop early: Look for deals and discounts ahead of time to avoid last-minute price increases or finding that the gift you wanted to give is out of stock. There is nothing wrong with being prepared. By spreading your gift purchases throughout the year – it makes it easier on the purse strings.
Compare prices: Make sure that you research the same or similar products from different retailers to find the best deal whether that is in store or online.
Shop online: Online retailers often offer better prices and discounts compared to brick and mortar stores.
Consider gifting as a group: By grouping together, you'll be able to create a bigger pot of money for the gift you want to give. If you're all stuck for ideas then this can be a great way to get something that might be out of reach unless you were purchasing as a group.
Use Vouchers and discount codes: Look for discount codes or vouchers that can be applied to your purchase. Make sure you search online for deals across voucher code sites as they can have some exclusive deals that no one else has!
Opt for 'known' winners: If you know that your dad loves a particular type of food, why not gift him that rather than giving him something you aren't 100% sure about.
Think about experiences: Consider these, such as a virtual cooking class or wine tasting, instead of physical items. These can often be done together as well, extending the value of the gift because you're creating a memory with your loved one.
Use reward programs: Check if your credit card offers a rewards or cash back programme on purchases that can be applied to future gifts. This is a great way to build up points or funds for purchases later down the line.
In conclusion, finding the perfect gift for Father's Day can be difficult and giving a gift that stands out can be really hard. However, when you use your photos, your gift is elevated because it has that personal touch. We hope that our 100 tips and gift ideas listed in this guide will help you to find the most suitable and memorable option for your Father figure. Most importantly remember to choose a photo that holds special meaning to you both and consider your budget and make sure you choose a gift which is affordable. The whole point of giving a personalised photo gift is so that the value is the sentimentality of the gift and not how much money you've parted with. Gifting is supposed to be heartfelt and there is something about a photo gift that really does feel like it comes from the heart.
Here are some additional guides which we hope will help you find the perfect gifts for fathers day.
Unique Fathers Day Gifts For Dad
Fathers Day Gifts From The Bump
Father's Day Gifts From Daughter