With wine being produced and consumed for thousands of years, it has long been the drink of choice for many people. In 2015 alone, we consumed a staggering 240 million hectolitres of wine worldwide, so there is no wonder wine is such a popular gift choice. Whether you're buying for yourself, family and friends or for a particular occasion or celebration such as a wedding, a dinner party or birthday – wine gifts always make perfect sense when a celebration is called for!
When you're thinking of wine gifts to buy for those people in your life who love a tipple, it can be difficult selecting a particular wine. With thousands of brands, colours and grape varieties to choose from, you might find yourself asking, do I go for a specific brand of wine? Do I go for the Pinot Grigio or the Châteauneuf-du-Pape? What wine do they even like? Unless you know the recipients particular taste in wine, you could find it difficult knowing what to buy a wine lover. But rest assure here are 5 of our Top Personalised Gifts – Ideal for any wine enthusiast!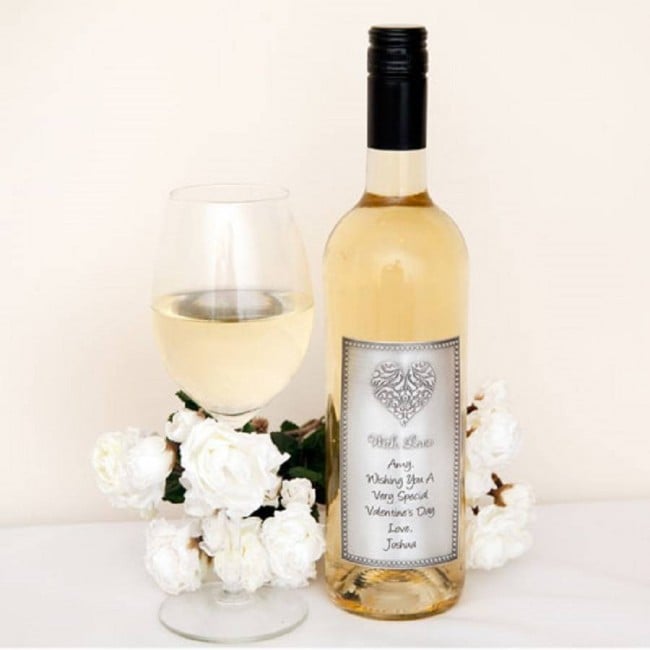 Personalised Wine
What better way to say thank-you, I love you, well done or congratulations, than with a bottle of personalised wine. When choosing a wine as a gift, it is important to find a bottle that looks the part – personalised wine gifts do just that! Not only can they look fantastic, but they can get across that important message too, and really show you've put a lot of thought and effort into finding something unique and special. Give them a wine that really stands out from all the rest, and makes for a fantastic keepsake gift too!
There are loads of varieties to choose from Merlot, Chardonnay, Pinot Grigio, Sauvignon Blanc, Cabernet, as well as Shiraz for example from France, Italy, Australia, Chile, as well as a White Zinfandel Rose from California along with a selection of fine wines, such as Barolo, Chablis, Margaux, Châteauneuf-du-Pape and Chianti Classico. There is bound to be a wine to suit anyone's taste and preference.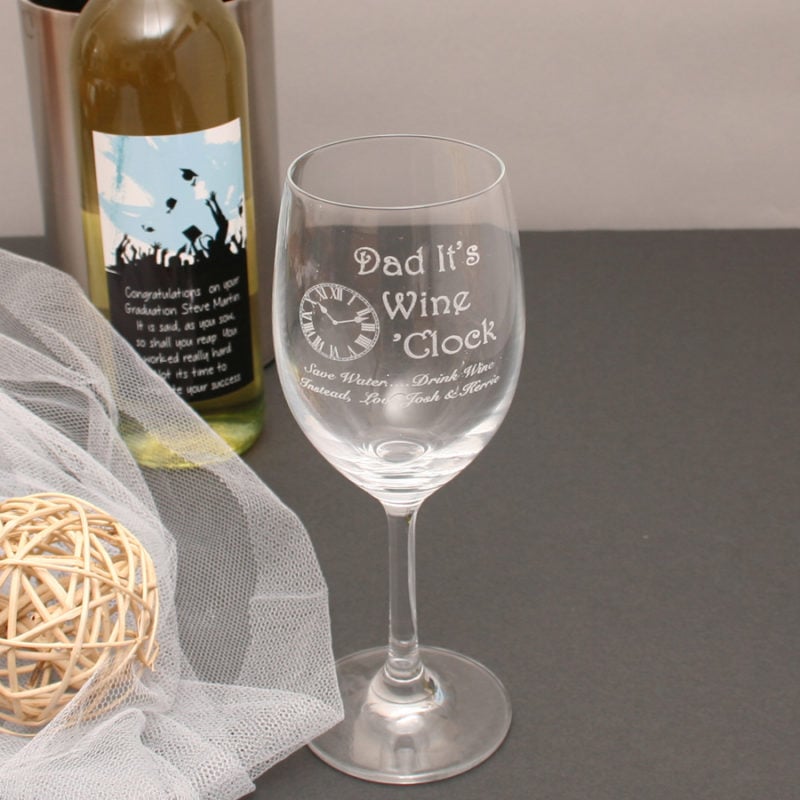 Personalised Wine Glasses
So you've been buying them wine forever, and perhaps you want to gift them something a little different this time. How about personalised wine glasses? Every wine lover needs a particular wine glass to turn to when they crack open their fav bottle of wine! This wine related gift makes for wonderful gift ideas for couples, particularly for an engagement, wedding, anniversary, or at Christmas. They are also great to give to individuals on a retirement, as a thank you gift, or for any other occasion. Have their names, a personal message or even a funny quote engraved into personalised wine glasses as a unique and charming gift, making the perfect addition to a bottle of wine.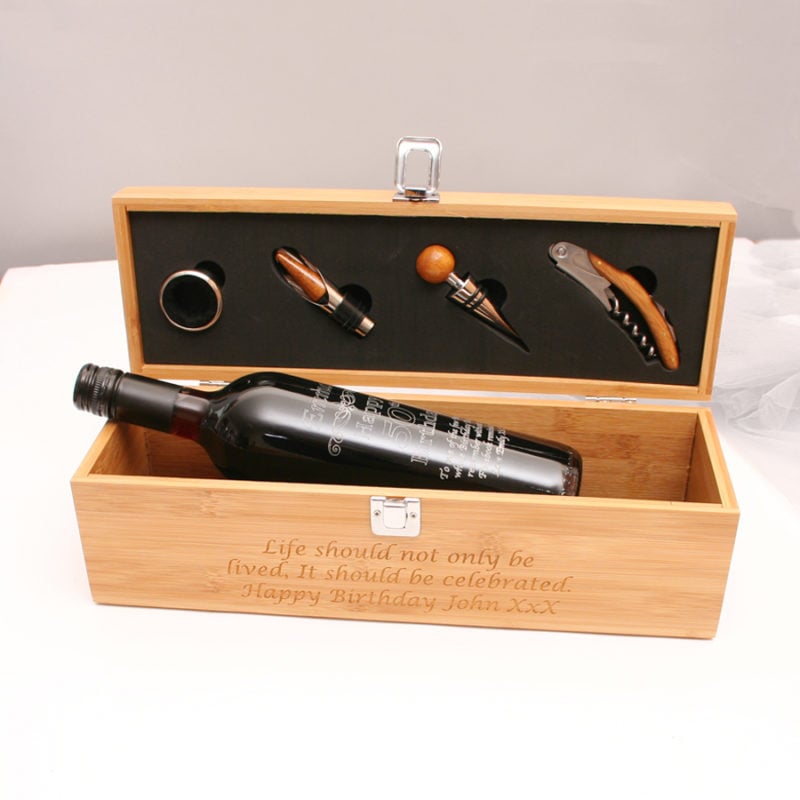 Personalised Wooden Wine Box
You've got the wine and now you're looking for a lovely way to present your gift and give it a bit more WOW factor – A Personalised Wooden Wine Box is what you need, particularly if the recipient is lacking in wine accessories! Our wooden wine box comes with 5 wine accessories presented in the lid, including a thermometer, a waiter's friend, a wine stopper, a wine pourer and a drip stopper. These fantastic boxes look truly stunning when presenting that special gift to that special person – especially when these too are engraved with a custom message. This really is the gift that keeps on giving, as it can be used long after that initial wine has been consumed, to store various other special wines or just to have on display in the home.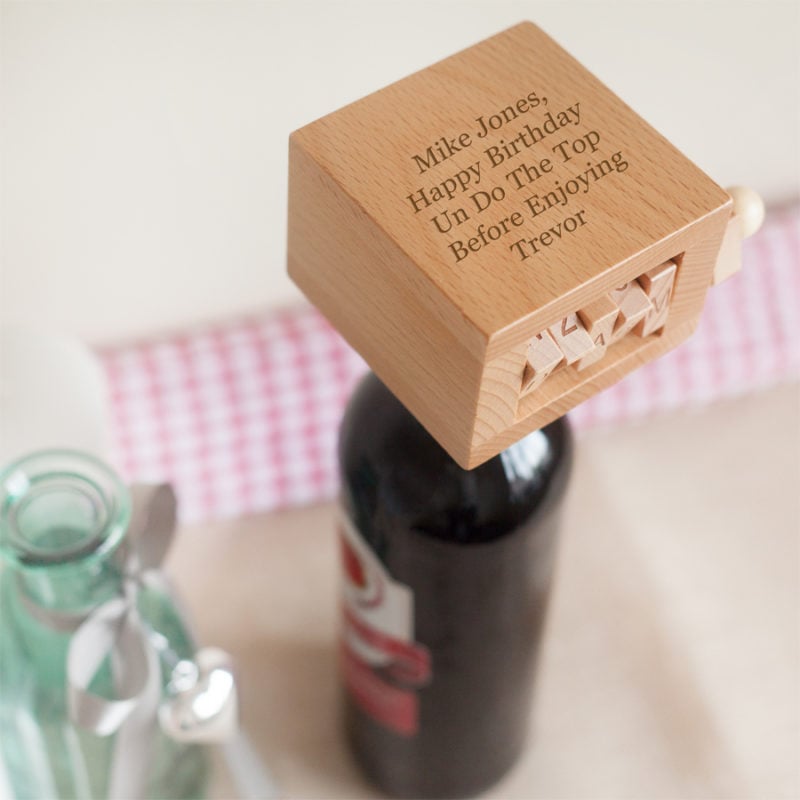 Engraved Bottle Topper Wine Puzzle
If you are a bit of a joker, love to play pranks or purely love to watch people struggle, this is a fun and frustrating wine gift to a wine lover. Let them work for their wine, as they have to crack the puzzle before any cracking open of wine can be done! Alternatively, it is a great trick to keep guests entertained at dinner parties. This ingenious mechanism fits over the top of the wine bottle and has a combination type lock that has to be solved before it can be removed. And just in case you wanted a little more recognition for your fantastic puzzle gift, engrave the top with your own personal message, signed off with your name.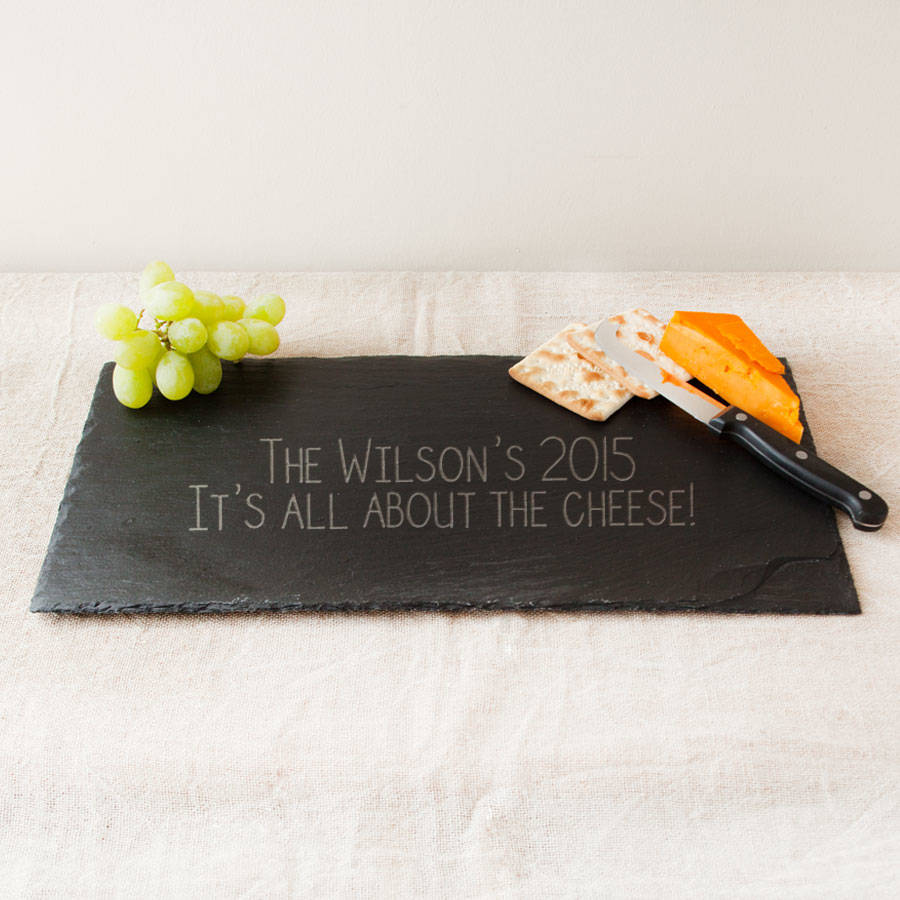 Personalised Slate Cheese Board
Nothing makes a better combination than cheese and wine as it is one of life's simple pleasures. Once you've chosen a wine, a board to present a handful of delicious cheese choices makes a fantastic accompaniment gift for wine lovers. Again, these can be personalised with a names, dates, a personal message or even a family crest, which can make fantastic gifts for the home to any recipients for all occasions.
Hopefully this inspired you for some unusual personalised wine gifts – Ideal for those wine lovers in your life!