The summer is coming to an end and it's time to get into gear and start preparing for the kids to go back to school. After what seems to have been an incredibly quick 6 weeks holiday, the thought of going back to school can be a bit depressing (for the kids anyway!) Need a helping hand with last minute back to school purchases? We've created a little gift guide of Personalised Gifts to make sure your little ones are ready to kick start their new school year off right!
A specially selected gift can go a long way when trying to set a positive outlook for the academic year ahead. The secret is to choose a special and unique gift that is not only fun, but functional and guaranteed to get the kids excited about going back to school. Why not gear up the kids for going back to school with cool gifts for the classroom? Even Personalised Photo Frames can be fun, with specially engraved messages showing off those important school moments.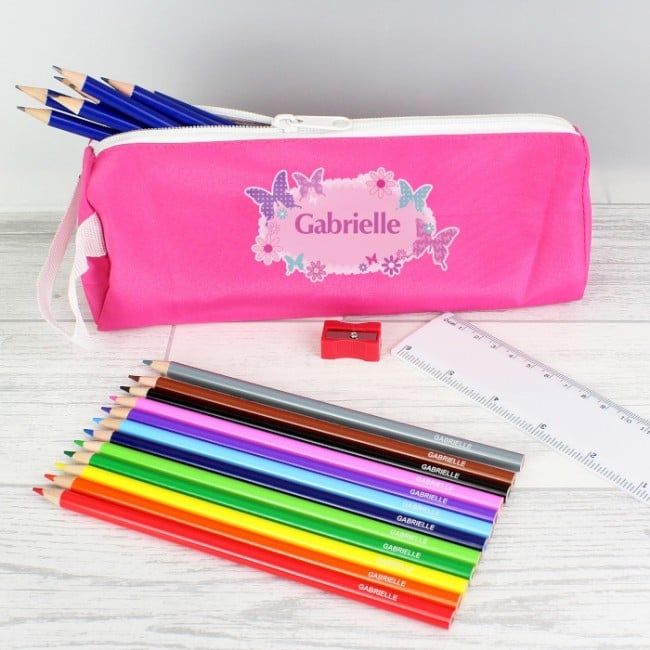 One thing I remember looking forward to about going back to school, was choosing a brand-new pencil case ready for the start of every academic year. I always tried to choose one that was completely different – one that wouldn't get mixed up with other pupil's pencil cases, and would normally involve me inscribing it with my name to make sure there was no confusion as to who it belonged to. Nowadays, writing your name on your school supplies is a thing of the past with many fantastic back-to-school goodies on offer with free personalisation!
Our brand-new range of Personalised Pencil Cases are the perfect gift for helping the kids get excited about going back to school. This pretty in pink Personalised Pencil Case with butterfly design comes with a set of both personalised pencils & coloured crayons engraved with their name – not only that but a small ruler and sharpener too! Not forgetting the little guys, we have the same set in red with a pirate themed skull and cross bone design to set sail on their new adventures with.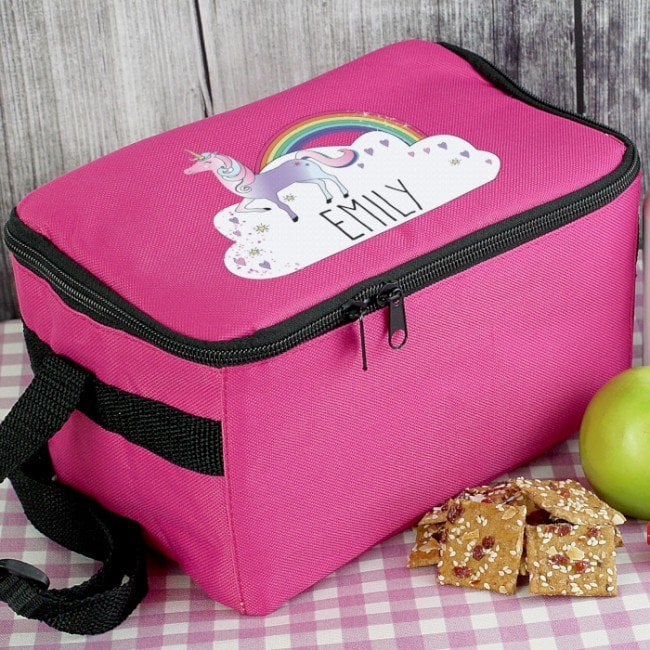 We all love a functional gift and kids are no different, as lunch bags are a must for every child during the school term. Your child will love their very own personalised lunch bag with several designs available from a cutesy unicorn print to a cool little monster design – making the perfect lunch time accessory and a gift they'll be eager to show off! These super cool kids lunch bags come with an adjustable shoulder strap which at its longest measures 122cm and features a white wipe-able insulated lining making it nice and easy to clean up any leaks or spills. Not only are these great for school, but for all year round too – perfect for picnics in the park or days out to the seaside!
Know a young sports fan who'd love a stylish new bag? We've got just the trick with our personalised backpacks, holdalls and drawstring bags with official football club crests! The backpacks are the perfect size for carrying all their essential school supplies and the holdalls and drawstring bags make fantastic P.E. kit bags. Choose from top football clubs such as Manchester City, Tottenham Hotspur and West Ham with the option to have both first and last names printed on the bag. There's sure to be no confusion of who the bag belongs to making it less likely to be lost or misplaced!
Other personalised gift ideas include Personalised Photo Frames – perfect for framing a photo of that momentous day from the 'first day at school' photo to the 'first big achievement' photo. You could even frame any special certificates in a specially engraved frame that shows off their fantastic achievements and moments to be really proud of!
It's time to show your little ones just how proud you are of them and get them excited for the new term with unique gifts that'll leave them raring to go for the fun-filled year ahead.