When was the last time you expressed your gratitude for something someone had done for you?
Are you struggling to recall the last time you sent a gift or a letter as acknowledgement of an act of kindness?
Unfortunately, with the fast-paced nature of our busy lives, it's easy to misplace our gratitude and forget to thank someone who has helped us out. With card and letter writing a lost art, technology seems to have taken over, and in this digital age it is common to thank someone via social media. Sure, you can send a quick emoji-laden text or pop a quick message to a friend on Facebook but where is the real sentiment in that? Nothing has quite the same impact as a carefully selected gift that someone has taken the time to choose – thoughtful personalised thank you gifts that will always be fondly remembered.
To celebrate World Gratitude Day on the 21st September 2017, we have created a guide to 4 simple ways you can express your gratitude on this day. However, it is important to remember gratitude doesn't always need reserving for momentous occasions, and should be shown year-round expressing your appreciation for the little things, the important people that do so much to support you and even to the people who frequently go unnoticed in your life. Sometimes the best gifts are given just because! Why not say thanks with bubbles? Send a bottle of personalised champagne in a personalised champagne box to that friend who helped you get your living room painted! There are plenty of ways you can express your gratitude this World Gratitude Day, so let us share with you our top ways to celebrate thankfulness and gratitude in your everyday life.
Be Kind and Say Thank You
Kindness and gratitude go hand in hand. If you begin to prioritize gratitude and recognize the things you appreciate, you can in turn reflect kindness to others by ensuring you are thankful for things others do for you. A simple 'thank you' to someone holding the door open for you, or to the postman for delivering your post, is sure to brighten their day and make you feel great too.
Leave a 'Thank You' note
How often do you say thank you for the little things? It's easy to become complacent and take those little things someone does for you, for granted. Why not leave a little 'thanks for all you do!' note for your mum, or 'thank you for picking up on that paperwork!' to a colleague or even a 'thanks for supporting me!' to a good friend.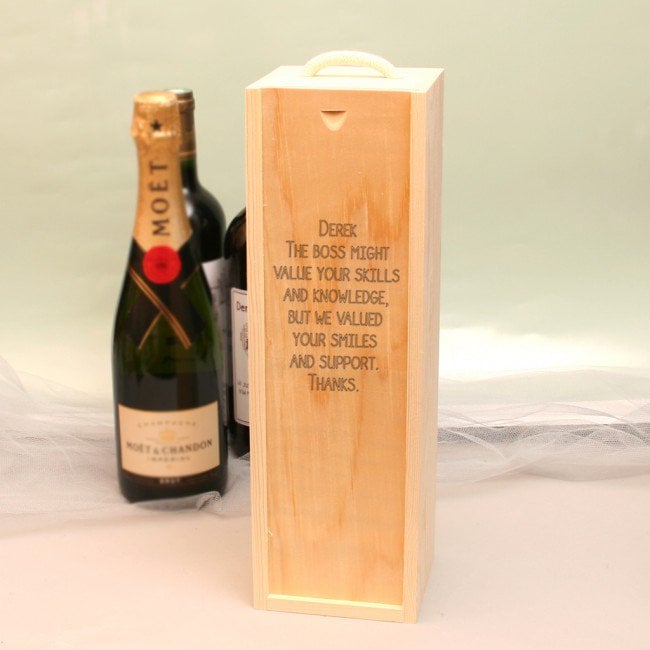 Send a surprise 'Thank You' Gift
Whether you find it hard to say thank you or you just want to surprise someone with a little something, sending a gift to someone is always well received. Our personalised thank you gifts are perfect to send to friends, family or loved ones to really show your appreciation and to put smiles on their faces once they've read your warm words of gratitude.
Personalised Champagne gifts are among our bestselling ranges for sending thanks to loved ones – because who wouldn't want to receive a bottle of bubbly? But it's not just the champagne that can be personalised. A personalised champagne box to deliver your gift in, engraved with heartfelt words, will be the first thing the recipient sees when they unbox their gift. This is sure to give your gift the real wow factor!
Give back
Someone helped you recently? It's time to repay the favour and help them out too! Offer to help them get their chores done, or run some errands for them. Or better yet, give them your time. As the quote suggests 'The greatest gift you can give someone is your time. Because when you give your time, you're giving a portion of your life you'll never get back'. Sometimes it's important to give back the time someone has given to you.
Gratitude should be expressed year-round from giving personalised thank you gifts, leaving little notes of gratitude to just offering your time to a loved one. Because when we say, "thank you" we're delivering a little bit of happiness, showing someone how much we care and helping to brightening up their day.